It's over Blues. He's not coming. It's not happening.
After a draining transfer saga, Alexis Sanchez has signed for Manchester United, not Manchester City. He's Mourinho's man, not Pep's. He's red, not blue.
It's customary, that in the grim aftermath of such an ugly episode, hypocrisy spirals. "We didn't want him anyway". "I've never really liked him as a player". "I'd rather have Phil Foden".
Let's not kid ourselves here. Many of us wanted him. Badly.
That blissful combination of Sanchez, decked flawlessly in City blue, with De Bruyne, Aguero, Silva – to name just a few – is the stuff dreams are made of. Seeing him, just one time, in United red, has corrupted that perfect image forever. From now on, my crippling delusion will never allow me to think positively of him again.
But, before I pin his picture to my dartboard, I feel like I should take a step backwards, calmly, and assess the situation with a clear head – or at least try to, before the bias kicks in. And, having thought about it for a while now, consciously trying to avoid potholes of excuse-making I mentioned before, it doesn't seem to be as much of a disaster as we first thought.
That's not to say his United move is a good thing. It most definitely is not. Just, I don't think we should run around with our hands on our heads screaming just yet. I, for one, have seen enough people making full use of Twitter's recent-ish character extension.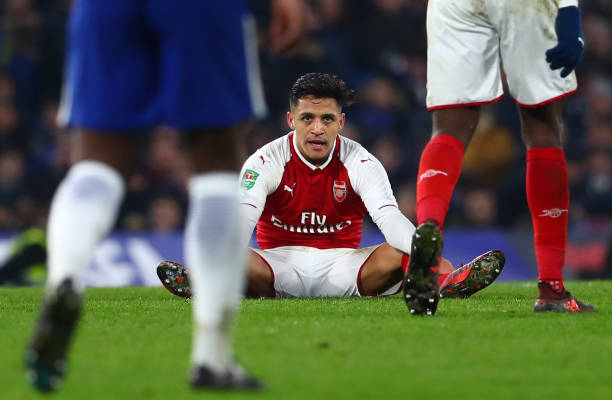 One thing I will say though, is that as far as Mourinho is concerned, this coup will do everything that he wants it to do. Social media will explode, a no doubt eye-roll-inducing hashtag will be slapped on to the end of every tweet about him, and they'll probably get him to do a little dance, or something.
It will make a lot of fans, just like it would have if he would have signed for City, very, very excited. Manchester United, and especially Mourinho, are very good at making their fans believe. Remember the uproar when Di Maria, Ibrahimovic and Pogba signed, to name a few.
The Twitter storm will bring the deluded together as I quickly scroll past the barrage of "We're going to win the quadruple" tweets. It will even, understandably, get the more level-headed, sensible United fans dreaming. Everything will be happy and rosy. Bristol City, the 0-0s and the dreadful football, leading to recent boos at Old Trafford, will be quickly forgotten.
I'm not saying that Mourinho has gone all out to sign him, simply to paper over the cracks. This would be wrong. Alexis Sanchez is a fantastic footballer who will score bundles of goals at Old Trafford – which is of course a massive factor. But I do think that, even if it is only a small part of his reasoning, Mourinho is very much conscious of reputation preservation. Some will argue that this is nonsense, as the transfer fee is so low for such a high-quality player. But, if reports are to be believed, throwing £400,000-plus a week at him is a bit out of character for Mourinho. He does seem, one has to admit, slightly agitated. Possibly even desperate.
Which brings me on to my next point, money.
Yes, I am fully aware that I support a club that has spent a lot of money over the last few years. And yes, I fully understand that the players who wear my beloved badge on their chest earn more money in a week than I'm likely to earn in my life time. It's disgusting. I know.
But nothing confuses me more than when a player, in such a position in Sanchez's, is swayed by extra cash. The amount of money in his bank account right now must be almost incomprehensible – think about all those years of being paid over £100,000 a week. It must be more than he knows what to do with. For me anyway, it would be far too much.
So, when given a choice of two clubs, both offering to pay handsomely, I fail to understand why wages are such a key factor. I don't understand what it is that he needs a pay-rise to be able to afford. No matter what happens, he comes out of this inexplicably rich.
City are playing some of the greatest football the league has ever seen, and have one of the best squads in the world. Bar a calamitous collapse – which being a City fan, I still fear – the Premier League will be ours. We're on course for the Carabao Cup final, and we're still fighting for the FA Cup and the Champions League. Surely, I can't be accused of being biased when I say City's chances of trophies in the near future, and maybe even longer-term, is much better than Manchester United's. As is, at least currently, the style of football.
Of course, I understand that it is simply human nature to chase after money. But in this case, I feel as if he's made a sacrifice for it. He's sacrificed playing in one of the most exciting teams in recent times, seemingly with his only reason behind it being so that he can add a bit of extra cash to a pile of banknotes that is already far too big.
I don't understand this, but it is what it is. As people have been quick to point out, it seems that Pep, despite having the power to do so, has opted out of meeting his wage demands, presumably in order to preserve squad harmony. Imagine if at work one day, a newcomer strolls into the office and tells you he's on double your wages – I don't think you'd be best pleased. We've got something special going on at City, so it makes sense, on Pep's part, to pull out of a deal that would probably unsettle and upset some of his key workmen.
Not only this, but it gives people like Bernardo Silva, as well as Sterling and Sané, more opportunities to shine. We have some amazing young attacking players putting in some incredibly mature, yet incredibly exciting performances week in week out. And yes, while throwing Sanchez into the mix, one of the best players in the league, would be a mouth-watering prospect, it could be quite detrimental to the development of such players, if let's say, they become consistently demoted. I imagine it would be quite demoralising if, despite being in the form of your life, you're warming the bench every matchday.
Going with head over heart, sticking with younger players and allowing them to flourish and offer long-term rewards, rather than putting them on the bench while an already proven player provides short-term joy, probably makes more sense. While a temporary boost in the form of the 29-year-old Sanchez would be nice, I don't think it's worth the risk of stifling the development of the players we already have, who will be able to offer a lot more in years to come.
It's fine saying all of this, but at the end of the day, we have missed out on a quality player. What's more, he's gone to our bitter rivals. It's not good.
So yes, it's understandable to be disappointed, angry, annoyed. But let's make that feeling only last a few days. Let's get over it quickly. We still have an outstanding squad with a world-class manager, and we're going places. We also, if Pep sees fit, have a summer transfer window to add other top-quality players, of the ilk of Sanchez, to our squad. Perhaps a younger, even more exciting player will end up in City Blue next season. Who knows?
We're having the best season anyone could have hoped for. Just like how the team responds to a blip on the pitch – by demolishing the very next team they face – us fans need to respond to this blip off the pitch, with similar defiance and determination to the team.
It's a minor setback, and that's all it is. No overreactions please.
Let's continue to sit back and enjoy the movie, because it's a really good one. Just forget about that annoying guy on the row behind who won't shut up talking. He'll need to do a lot more than that if he wants to provoke a reaction, because us Blues are having too good of a time to take notice of the inane chatter we can hear from back there.