There seems to be an element of greed surrounding the English media. No longer is one of the big dogs winning the title sexy enough to sell papers – or rather clicks nowadays – but there always has to be a twist to the story, something extra to make this season unique. With City seeing in the new year 15 points clear, a select number of pundits and commentators have declared this year's title race done and dusted – with one or two even stating that it's been 'boring'. So what's a good way to get the public excited enough to read again? Well it seems that it's to titillate readers with the prospect of another invincible side or even the first ever quadruple winners. Many a time has Pep's pressers been dotted with badgering questions about an unbeaten season with 4 major trophies to boast. Pep's answer has literally been to 'forget about it' and for good reason.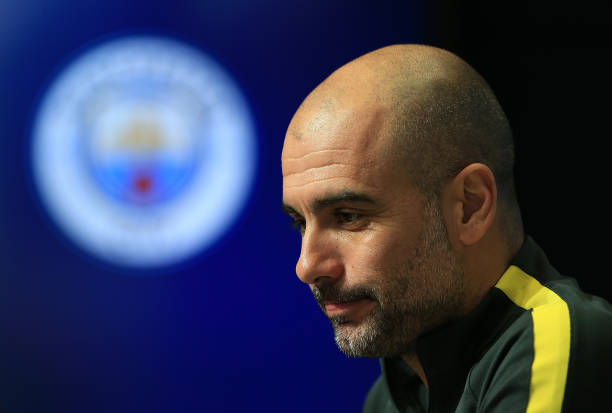 Now I'm not saying that this season is finished or boring in any way whatsoever because if you were say a Stoke fan, for example, you'd probably be filled with the unfamiliar feeling of hope right now. Hope for a better future under a fresh faced manager who hasn't yet been broken by the monotonous reality that is living in, well…Stoke. Even for us City fans, this season is the furthest thing from boring imaginable. It's incredible. We're winning games for fun and watching some of the best football we've ever seen and the phrase 'typical City' now seems to be used predominantly by that team over in Salford when Raheem Sterling scores yet another late winner for us. With all this success though, you'd have a hard time finding a City fan who realistically entertains the idea of going unbeaten in the league or winning 'the quadruple'. So why is it such a big talking point in the media?
My main theory on this is that people, football fans especially (including myself here), have a relatively short attention span. Your team won 3-0 last week? So what, they lost 4-0 today and everything looks bleak again. An extreme example but you get my point. The sports news outlets reflect this too. Outside of transfer windows, aside from when teams play, there's not too much to report around football and this could be a big problem when you have entire TV channels and news outlets dedicated to reporting what's going on in the Premier League. So pundits/producers/fans/whomever have to come up with their own talking points much of the time to produce airtime and articles (the irony isn't lost on me). That's what the whole 'Invincibles' and 'quadruple' line of questioning and discussion is about really, a way to get people to consume. It happened to Pellegrini in his final season after we won five whole games in a row and so anything less than four trophies was a failure, which in honesty that season was, and it's happening to Pep now albeit in reality a near impossible ask.
Now obviously I say 'near impossible' because as we all know Arsenal did in fact go unbeaten in the 2003/04 season in the most competitive modern league in the world, the Premier League. A record that is rightly so still looked back on as one of the most remarkable achievements in league history. It seems a bit ludicrous now but back then Wenger turned Arsenal into one of the most feared and dominating teams in the league that in the early 2000s were able to match Fergie's United. However, for all the success that the league brought Arsenal by the end of the 03/04 campaign, the rest of the competitions managed to elude them. First Arsenal got knocked out of the semi-final of the League Cup after failing to beat Middlesbrough over two legs. After that they lost another semi-final, this time the FA Cup, against United at Highbury, and then a few days later were knocked out of the Champions League by Claudio Ranieri's Chelsea in the quarters.
It must have been strange being an Arsenal fan in May of 2004. A league title and an invincible season but at the same time knocked out of every other competition by teams who failed to best them in the league. As well as this the Invincibles accumulated a hefty 12 drawn games during that season to opposition including Portsmouth, Everton, Leicester and Tottenham, all of whom finished in the bottom half of the table that year. No team is perfect, mistakes and one-off 'giant killing' results do happen, but 12 draws for a team that's looked back on as one of the best to ever grace the league by many? It doesn't exactly paint the picture of the most ruthless teams in modern history is all I'm saying. To put this in perspective City are currently unbeaten in the league and having played 22 games, have only drawn 2 of them. It would take something of an absolute calamity of the second half of the season for us to get anywhere near even 10 draws with the way things are going for us now. So even if we lost a game or two, you'd at least expect us to beat the points total of the Invincibles (90) come May – possibly even the record of 95 set by Chelsea the following year.
There are a few similarities between this City team and the Invincibles; a heap of the league's best players, a foreign manager with a new way of thinking and the will to destroy Manchester United. What's important though, is what makes the teams different and one of these key differences is City's ruthlessness under Pep Guardiola. Pep came to England with a philosophy. A philosophy that was born in Barcelona, bettered in Bavaria and now, it seems, is being mastered in Manchester. That philosophy is what we see on the pitch every week and the simplest way that for me to understand it is to interpret as control the game and attack. In games where we take the lead, we always look to push on for more. When a 3-0 winning margin suddenly turns into 3-2, we don't shore up defensively but look to press on even more and win the game 7-2. Pep's determination to play his way, the way he truly believes in, is the reason we've had so much joy so far this year and his ruthlessness to kill games off with high-scoring margins has ensured we don't often drop points with draws.
It's not all been perfect though. We have drawn two games, scraped through on penalties twice in the cup and remember when we lost that game to Shakhtar? With everything seemingly going right at the moment it's very difficult to spot our downfalls and ultimately this will probably be the reason for us losing in the league. The game we lost and the games where penalties have decided it for us have something in common. They all featured quite a heavily rotated team, our 'B-team' essentially. Bravo, Mangala, Danilo, Zinchenko, Foden, Tosin, Diaz and others are all the ones we usually call upon for the lowest priority of games – the dead rubber in Ukraine and the Carabao 'Micky Mouse' Cup fixtures.
Now with City still in all four competitions, and there's a serious argument for us to be favourites in each of them, it's possible that we're going to have a lot of games coming towards the end of the season and if the points gap stays the same or even increases then we could, COULD have a fair few dead rubbers in the league whilst still competing in the FA Cup and Champions League. We've proven we can beat anyone around us with dominating performances against United, Chelsea, Liverpool and Spurs already this season but it's a different challenge if Pep is resting players for other games. He's shown already that he's willing to do this and although he'll still desperately want to win these games that he considers a low priority – see the celebrations after the Leicester shootout – his team choice might not always allow him to do that. The possibility of seeing a second string City team face up against teams like Swansea, West Ham and Huddersfield around May – when they could be fighting for their lives in the league – just doesn't sit well with me, especially as we have no Fellaini-esque plan B. The team he puts out will be expected to move the ball around with the precision and pace of the best in the squad and the reality is that if you ask that of players like Mangala and even the inexperienced youngsters, then they will make mistakes.
Let's say I'm wrong and Pep deploys a strong team for all of our games at the end of the year, rotated but still considered mainly our best team, there would still be that subconscious reluctance to throw your body into the game as you would usually do. Without thinking coherently about it, players could back out of that 50/50 challenge, not overstretch to keep the ball in play etc. because they don't want to injure themselves for the big semi-final at the weekend – or thinking more long term the World Cup over the summer. This has happened to Pep before. In his first season at Bayern he wrapped up the league after 27 games (the Bundesliga has 34 match days compared to 38 in the Premier League) and after a record breaking 19 wins on the bounce, they drew 1 and lost 2 of the next 3 games. It's natural to lose some of that intensity when you know that you can't really gain anything from league games and have your sights now set on other competitions. This, combined with the possibility of a weakened team facing up against some relegation threatened candidates might just prove too much to avoid a loss.
It's because I think we'll do more on all fronts than the 'Invincibles' that we won't match them and if we win two or more trophies anyway then who really cares. For me we've shown that this team is worth remembering years down the line for what they do on the pitch as it is and sacrificing our unbeaten record for a greater chance at more honours elsewhere makes sense to me. Or we could lose our next game away at Liverpool and I could have written all this for nothing.