Manchester City have officially had the best start to a season of any club in the top five leagues in Europe for more than a generation. After a summer of well-documented plundering and renewal within the squad, things look perfect. We have a sizeable gap between ourselves and our domestic competitors, we are fighting on four fronts for titles and look in unbelievable shape. Despite the summer purchases we are quick to forget that we missed out on a few targets, like Dani Alves and Alexis Sánchez. The former of that duo has settled in nicely at Paris Saint-Germain, who look to be one of our biggest rivals for the Champions League, but there are still some questions over the future of the latter.
We were told in the days after the window closed that City would go after Alexis again in January.
City told Alexis Sanchez last night that they will try to sign him in January. He does not want to play for Arsenal again. [@Sammy_Goal]

— City Watch (@City_Watch) September 1, 2017
However, as the season has gone on the need has seemed less and less prescient for the Chilean and this has been reflected in the news reports, which have suggested City were now willing to wait until they could claim Alexis on a free transfer over the summer.
There is one key reason for this receding need. The form of Leroy Sané and Raheem Sterling has been unbelievable in terms of both their performances and their numbers in all competitions – Leroy has 8 goals and 10 assists, meaning a direct contribution for every 90.7 minutes he plays, and Raheem has 17 goals and 4 assists, a direct contribution every 82.8 minutes. These are outstanding statistics are indicative of the unbelievable players that these two budding stars are maturing into. If they keep on track and stay together they'll become legendary, not to mention the presence of Gabriel Jesus et al.
The need for Alexis has been severely diminished by the rise and rise of Raheem and Leroy. Moreover, his form and attitude this season has been interesting sphere of debate. It would be hard for him to replicate the pure brilliance of last season, but some have wondered if his start to this season has been befitting a player of his calibre, and if his form means City shouldn't sign him for fear that he'll affect the positive feeling around City at the moment – not to mention what the repercussions would be for Sergio Agüero, though I think that takes a bit of a backseat here. Whatever your feelings on Sergio, I think it is obvious to state that from now Raheem and Leroy have more to give City than Sergio does, purely on account of their respective ages. To put it plainly, should City sign Alexis we'd have five or six players, depending on where you place Bernardo Silva, fighting for three spaces. Both this and the emerging form of Leroy and Raheem; as well as the recent upturn in form for Bernardo Silva would be the main reasons City shouldn't sign Alexis Sánchez.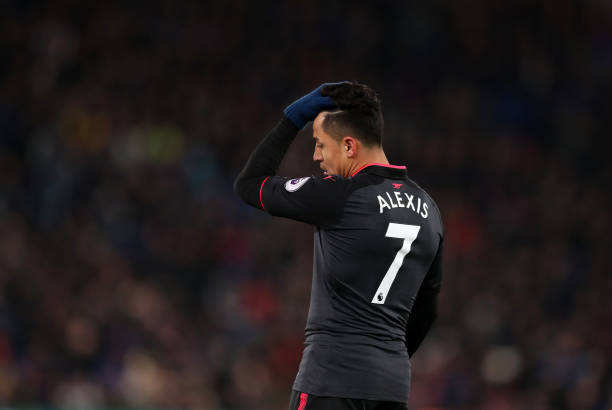 Yet there is cause to not dismiss the possibility out of hand, we should not be too hasty in leaving Alexis to fight for fourth place at Arsenal – especially with Gabriel Jesus now out for up to two months through injury.
As we all know, the Champions League is the ultimate prize for our owners. And, as has been mentioned, this season Leroy and Raheem have been excellent. A key aspect of their excellence has been their ability to show up in big games. Both were good against United; Leroy hit goals against Liverpool from the bench and got two assists against Tottenham in the same game were Raheem scored twice, in addition to him grabbing a goal home and away against Napoli, and putting in an excellent performance at Stamford Bridge earlier in the season. Raheem has come to be defined by big moments too – I'm thinking of Everton, Bournemouth, Huddersfield, Southampton, Newcastle and so on and for me he's been our best player this season. Despite they have seemed to drift in and out of form at different times, never seemingly combining to be brilliant at the same time. This may be a good thing, it's better to at least have one in form than both out form for long spells, yet it's a small worry that we have at the back of our minds.
Alexis Sánchez is a player who when happy is always in form. In fact, even when he is unhappy, as has been hinted at, he is excellent. He's scored eight league goals this year in what some have suggested is a poor season for him, and has still been giving his all for a club he desperately wants to leave. I disagree with his detractors that Alexis has been in poor form this season on the grounds that he's only one league goal behind Arsenal's top scorer, Alex Lacazette. His undoubted ability would be a key asset in City's Champions League charge, his knack of consistently running, his tenacity, he is the perfect Pep player – a fact that has never been in doubt. Should Raheem or Leroy be out of form come the big boys in the Champions League, or worse, injured, what happens? Is all our progress this year for naught? Football is a ruthless business, not least at the very top where sentimentality means nothing. Alexis would serve as a signing for the next eighteen to twenty-four months and then likely be moved on when Leroy and Raheem are hitting their peaks.
I think the whole equation boils down to your moral stance on the issue of how Leroy and Raheem would deal with the signing of Alexis Sánchez. If the overwhelming answer to the question 'Would the signing Alexis hurt the growth of Leroy Sané and Raheem Sterling?' is yes – then City should not sign Alexis Sanchez, I feel both will peak at a higher level than Alexis ever has been. Pep will do what he believes is best, as he always does, and the way this season is going you'd be foolish not to put your faith in him. But both sides have their pros and cons, and like everything else in life, no one can answer the age-old question – what is to be done?