Last season was one to forget for Manchester City goalkeepers after Pep Guardiola's arrival at the club.
One of the first things the Catalan did was take City goalkeeping hero Joe Hart out of the squad altogether and replace him with Chilean shot stopper Claudio Bravo.
The former Barcelona keeper looked like a suitable replacement, however, his first season was one to forget. A lack of confidence from Bravo led to constant errors which made City fans nervous whenever his name was in the starting eleven.
As soon as the 2016/17 season came to an end, City went out to get another goalkeeper and this time they brought Benfica's Ederson for £35 million. It was a bold move from Guardiola as he was putting a lot of pressure onto the shoulders of the then 23-year-old Brazilian.
However, the heavily tattooed goalkeeper has handled this pressure with ease.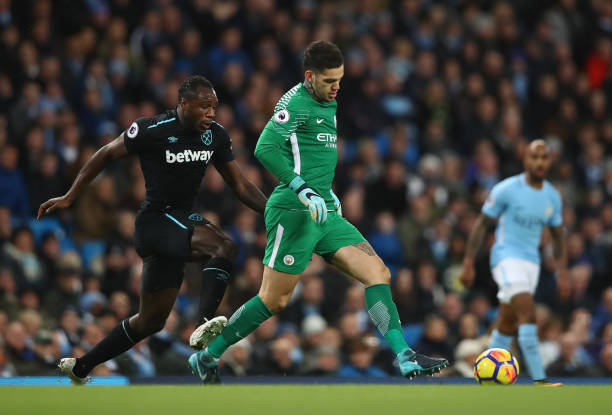 Ever since the first Premier League game of the season at Brighton, very rarely has Ederson looked nervous in City's goal.
Even at the halfway stage of the season, City's latest goalkeeping acquisition has been involved in some iconic moments.
That high challenge from Liverpool's Sadio Mane which saw Ederson get kicked in the face at The Etihad back in September was a sign of how tough the Brazilian international actually is. Despite being stretchered off and needing stitches, he was seen on the City touchline at the end of the game and was back between the sticks just a few days later against Feyenoord in the Champions League group stage opener.
Distribution was not Hart or Bravo's best skill and with a City team now managed by Pep Guardiola, a goalkeeper's distribution are often the starts of any attacking move. Luckily Ederson has that. His pinpoint kicks have wowed City fans and pundits to the extent so Guardiola has nothing to worry about when it comes to a goalkeeper who can play with his feet.
There is also Ederson's reflex saves which have just left City fans bemused this season, most notably his double saves from the Manchester Derby at Old Trafford.
The man has everything a goalkeeper needs, bravery, good distribution and great reflexes and the fact he has all of this at the tender age of 24 means that he will only get better and better!
Being covered head to toe in tattoos, you would think Ederson is going to be someone with a big ego, however, he does his talking on the pitch and is quiet off it which has become the City way of doing things. (Except if your Jose Mourinho, then you think City are loud off the pitch)
Ederson has been an unbelievable buy for City and it looks like he is already on the road to becoming one of the club's best ever goalkeepers and here is one more bold claim.
The Brazilian could eventually become the best goalkeeper in the Premier League.