Discourse, as understood by Michel Foucault, is the way in which understanding is both reproduced and permeated into our worlds through the interactions of reciprocal and antagonistic agents. In simpler terms, it is a method through which we understand the world around us. It can be applied to anything. For instance, our understandings of the past are laced by our biases today – some may be proud of their country's history at certain times based on feelings of nationalism. Discourses are reflexive and subjective, aiming to produce a value consensus and be all-enveloping. Football, like everything else, is shaped by discourse. An example of this in action is the particularly poisonous flow of discourse flowing today that the mythical 'Modern Football' is a divergent aberration, representing a break from a past which never really existed, dated from no particular time and seen in tangible, real-world occurrences like players having dirty cars or having blankets on the bench because they have the temerity to be cold.
Today I want to identify a new reflex of discourse which has emerged in the past few weeks and seems to be saturating all levels of the footballing sphere, from the fans to the elitist commentariat. When Pep Guardiola was announced as the next manager of Bayern Munich, some wondered if this was simply another easy job for a man who only takes easy jobs, conveniently ignoring his work at Barca B. Pep had supposedly joined a league with no competition, not like the brilliant Premier League which was definitely the best in the world. The end result was the complete pacification and domestication of the Bundesliga, which many believed anyone could do, again, conveniently ignoring the fact that Bayern hadn't won the Bundesliga twice in a row since 2006, and hadn't won it three times in a row, as Pep did with relative ease, since 2001. To critics, he failed in Europe so he failed at Bayern. Again, brushing away the dangling thread which would unravel the obvious truth – Bayern have had to rehire retired manager Jupp Heynckes after the mess elite manager Carlo Ancelotti left Pep's elite Bayern side in, so clearly, it wasn't that easy.
When it was announced in February 2016 that Pep Guardiola would become manager of Manchester City, the discourse continued. Though he was coming to the über-competitive Premier League, it was still understood as Pep taking yet another easy job. City are backed by innumerable funds and the squad was almost reified as one of the best in the world. People murmured that Pep might not be able to 'do it' on that fabled, non-existent, rainy cold night in Stoke, since Stoke is a special, primitive and daunting place that cannot be replicated in the utopias of Germany and Spain, as we all know them to be. Even if he did, members of the football sphere chided, he'd have to change his style and become a pragmatist, for there is no room for any of this 'passing the ball' nonsense they have on the continent in the elite Premier League.
After the first few weeks of smooth sailing, City hit choppy waves and the season ended in more-or-less failure. No trophies, some players had had good seasons but it wasn't enough. The murmurs had intensified, and left Pep, a man who won a sextuple and presided over the greatest team in footballing history, labelled a fraud. He came, he saw, he had been conquered. But quite like Zlatan Ibrahimovic's claims to have conquered England after a 6th place finish and the winning of the most irrelevant trophies outside of the Checkatrade Trophy and the Wythenshawe under-12s Annual Spelling Bee, it was a charge which was flimsy at best and this latest trend in discourse was unsustainable.
In the summer, vast portions of the supposed great squad Pep had inherited was let go. The squad age dropped dramatically as much of the old-guard were allowed to run down their deals and City spent big on their replacements. Big spending Pep, cheque-booking his way out of a bad situation. Pep the fraud couldn't handle the Premier League, with his full-backs with a combined age of over nine thousand and one goalkeeper who David Moyes won't even play and another, admittedly Pep's mistake, who is just dreadful at several of the basic things needed to be a goalkeeper. The discourse ran riot.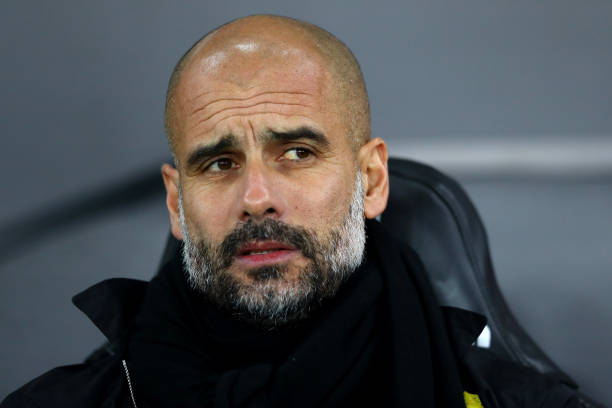 Fast forward to now. Manchester City have been the best team in the entire world. We have won 17 out of 18 games in sublime, pure Pep style, often blowing teams away, not least United and Chelsea on their once formidable home turfs, and putting four past Tottenham and five past Liverpool in stunning fashion. I do not need to dedicate any more column inches to lather City with superlatives, we are beyond words and perhaps comprehension.
So, the inherent reflexivity of discourse would mean that maybe, just maybe, people would admit they were wrong about Pep?… or not. In fact, it must be something else completely alienated from City's mercurial form this season. The discourse has bent backwards upon itself, illogically. The rising trend is that the Premier League, after years of being the best, is now apparently a weak league. Pep's team, who thunder eleven points clear of their closest rivals, are simply the best of a bad bunch. Everyone else has simply depreciated in quality, and City have merely capitalised.
Testament to this weakening, apparently, is the fact Burnley are doing well. Because no team outside the top 6 have ever had an excellent first few months in the Premier League, free from the chains of draining European football. A startling absence of memory on the basic history of the Premier League has proved fertile ground for this new strand of discourse to germinate, allowing for people to believe and understand basically anything that would mean that Pep's City aren't blowing the league away, all the while playing beautiful football which many thought impossible to deliver in the rough and ready Premier League.
How has this decline just come about? Did everyone have a terrible, frugal summer, going away as the best of the best and coming back losers, primed whipping boys for Pep's fraudulent mercenaries? Of course not. The obvious example to break down this critique with even the slightest push is last year's Champions, who are now playing as many games as the rest of the title contenders, this year do not have that extra freshness and subsequently lie fourteen points behind City in mid-December. Speaking of Europe, the arena in which the best fight it out amongst themselves, it is very interesting to note the English dominance of the competition this season, the likes of which we have not seen for some time. City, United, Liverpool and Tottenham all topped their respective groups, Chelsea coming in second in theirs to a talented Roma. It is the first time in history that five English teams have progressed into the knock-out stages of Europe's elite competition. But remember, the Premier League is weak, because City are romping it and the Burnley are doing well. It's interesting to think about how one team leading the league so dominantly, which is happening in most of the top European leagues this year, implies weakness.
The question must be, what makes a league strong, if not European success? A clear class hierarchy between the elite few and those who make up the numbers within the league? Because that sounds simply like the yearning for the good old days of the classic top 4; Chelsea, Arsenal, Liverpool and Manchester United, a desire perhaps inflamed by a big-club friendly media and wistful nostalgia for the recent past. Here, I have made efforts to understand and identify the recent discourse which has shifted from mocking Pep's continental genius to self-depreciating ourselves and our football to explain away why Pep's City are revolutionising our game, as those who knew him said it would. I want to make it clear that I don't necessarily believe the Premier League is the strongest league, but the point being is that if it is weak this year then it has always been weak. There has been no over-summer drop in quality. But unfortunately, and fairly obviously, this current round of discourse stems from a deeply entrenched, misguided and misunderstood view of the past, though reflexive in its superstructure. City will continue to march on and on, and the discourse will develop and continually flip back and forth to fit the narrative of deflating whatever Pep does, as it has done for his entire career thus far. Pep the fraud, Pep the exploiter of a weak league. Pep the Champion.