Nicolas Otamendi. You know, the one who plays for City. Tattoos, cool beard, salutes when he scores. But he can't defend. Always sliding in, exposing his teammates, he's useless without Kompany there to babysit him. An overpaid, overrated waste of £30m. He doesn't pass well, goes to ground too often, can't contribute to the attack, can't keep his shape, can't play out from the back.
In short, he's just not a 'Pep' player. Whatever that means.
Why do so many people think like that? The general view from neutrals on Otamendi seems to be that he's nowhere near the level Manchester City requires. And yet, almost every statistic going indicates that he's one of the best central defenders in the world. And he has a cool beard.
Let me explain. First, some background information: Otamendi made his professional debut in Argentina's first division for Club Atlético Vélez Sarsfield of capital city Buenos Aires. The date was 10 May 2008 and Otamendi was just twenty years old. In his forty appearances for the club, he caught the eye of Portuguese side FC Porto, who signed him for around £3.5m in 2010. After a successful spell in Portugal, in which he scored seven goals, he completed a £10.5m move to Valencia in early 2014. There, he scored six league goals in a single season as he helped Los Che qualify for the Champions League for the first time in six years. Manchester City, possibly with Pep Guardiola's arrival in mind, swooped in and captured the defender for £28.5 million, snubbing Manchester United in the process (but we're not supposed to mention that). Otamendi arrived on 20 August, 2015, making his debut against Juventus and scoring his first goal the next month in a win over Norwich City. He played in the League Cup final later that season, which City of course won on penalties thanks to the heroics of his compatriot Willy Caballero in goal.
Now, over two years after his arrival, Otamendi is a vital cog in the City wheel. He's made more passes than any other defender in the league, played more top-flight minutes than any other defender in his team and has made more headed clearances than any other City player. He is the highest-scoring defender in the league this season, with as many goals in the competition as the likes of Marcus Rashford, Philippe Coutinho, Sadio Mane and Riyad Mahrez (4), and bagged the crucial equaliser for his team in a 4-2 away win over Napoli. So why is he still so unappreciated?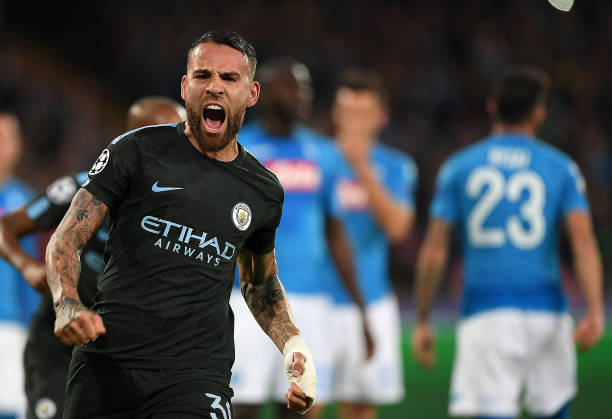 In fact, some people even suggested Guardiola wanted rid of the Argentine in the summer. When Otamendi missed the first few days of pre-season training with injury in July, reports were rife linking him with Real Madrid, among other clubs. But he stayed to fight for his place, which is looking increasingly like a very good decision indeed – not just for Otamendi, but for the whole team. Would City, for example, have won the recent derby without him? Or the crucial match in Naples that left them clear at the top of the Champions League group table? Or the early-December scrap against West Ham United in which he scored the equaliser? With Vincent Kompany and John Stones suffering from injuries, Otamendi is not, as was being suggested, struggling for game time in Manchester. Even when both were fit, he played brilliantly as part of a back three. His attitude and desire to earn a spot in this most illustrious of teams is commendable.
Making the WhoScored European Team of the Season is no mean feat – and yet Otamendi managed it this season. This year he has the highest average rating of any centre-back in the league, behind only James Tarkowski of Burnley. His passing accuracy of 91.1% ranks him sixth in the competition, and he averages more than three aerial duels won per game. I've already mentioned his goal threat; no other defender in the Premier League has more than 3 goals in all competitions this campaign while Otamendi has five. Five. In twenty appearances. That's a better ratio than Christian Eriksen, Thomas Muller and City's own Kevin De Bruyne, among others.
He still has his doubters, but I don't know where we'd be without him. Take, for example, his colossal performance against Burnley, who are currently (let's remember) a top-six team. City were looking somewhat tired for much of that day, devoid of creativity, but the pressure was taken off by the work of Otamendi, who was on hand to sniff out any threat the visitors posed before doubling City's lead with a towering header in the second half. For all of John Stones' ability, or Vincent Kompany's prodigious talent, or Eliaquim Mangala's impressive strength, this felt like a distinctly 'Otamendi' performance, breaking the lines with his much-improved passing and winning just about every duel he faced with a fiery passion.
And then there's last week's derby, in which he 'bullied' and 'dominated' Romelu Lukaku (Alan Shearer's words, not mine). Lukaku is exactly the kind of strong, tall, quick striker that Otamendi has struggled against in the past (Diego Costa, anyone?) but this time he was intelligent in his play and strong in the tackle. The hunger he showed to score in both games is also notable, and serves as a reminder of how far he's come since his first season, in which he was constantly scrutinised and scored just one goal.
Here, I think, lies the problem: most of the football world are set in their ways when it comes to Otamendi. They had made their minds up by the turn of 2016 that he was an overrated, vain player who wasn't cut out for the Premier League. He's been proving them wrong ever since, but it seems only City fans have been watching. Now, Otamendi is almost thirty years old. Age isn't exactly on his side. And yet it feels like only once we win the league, or maybe even the Champions League, will the Porteño find a platform to show what we all know already: that he has become one of the finest centre-backs in world football – and, funnily enough, the perfect 'Pep' player.