When former Arsenal striker Eduardo was asked about Manchester City's signing of Fernandinho in 2013, he called the Brazilian 'one of the best midfielders in Europe', and had no doubts that his compatriot would be a bigger hit than he was in the Premier League. I remember his comments being ridiculed by many, with the classic line of 'if he is so good, why has he spent half a decade playing in Ukraine' being trotted out by overpaid and ignorant pundits. However, even for the most optimistic City fans, Eduardo's comments seemed like a stretch, as that was a time when Europe was in a golden age of midfielders, with the likes of Xavi, Andres Iniesta, Yaya Touré and Bastian Schweinsteiger all playing in their primes. Eduardo however, was convinced that Fernandinho was as good as any of these players.
Fernandinho's first couple of seasons as a Manchester City player were great – he broke up play and helped make seamless transitions to the forward players, which was something City struggled with in Roberto Mancini's last season at the club. Manuel Pellegrini's system was far from perfect for Fernandinho, but his well-roundedness allowed City to play on the front foot more, and be less predictable, as Mancini's system was hugely reliant on Yaya Touré. To the English media, Fernandinho was a favourite, with Gary Neville consistently giving him man of the match awards for his performances in big games, but he was never seen as a classy player, or as a technical player. He was tarred with the 'gritty' brush by many, and was seen as a Makélélé-lite, a player who sat deep and allowed his playmakers to run riot. While this was definitely his role in a lot of Pellegrini's systems, Fernandinho is a classy footballer with a great range of passing, and a player who is comfortably traveling north of 50 yards with the football at his feet, while gracefully gliding past tacklers.
It is only under Pep Guardiola, that many are starting to realise Fernandinho is not only an unselfish player who allows a platform for five more attacking players ahead of him, but a graceful player who can dictate the game with ease. City fans have always appreciated him, but there is no doubt that he has taken his game to another level this season, and he has gone from being a replaceable player, to a player that City are noticeably worse without. When Fernandinho moved back into defence on Sunday, City looked poor, as they lacked control, and the ball was getting stuck in midfield, something which is unforgivable in a Pep Guardiola team. As good as the likes of Ilkay Gundogan is, Fernandinho's insistence on keeping the ball moving, makes City the most dangerous side in Europe at this point in time.
Back in November, Pep Guardiola hailed Fernandinho as 'one of the top three holding midfielders in Europe', just a month on, I believe Pep should be re-quoting himself in a Brian Clough-esque way, and calling Fernandinho 'one of the top one holding midifelders in Europe'. At this point in time, there is no holding midfielder playing better football than Fernandinho, he contributes at both ends, and his range of passing allows City to switch the play, which is the most effective way to break down a deep defensive block. The likes of N'Golo Kante and Casemiro are obviously in with a shout of such an accolade, but neither offers more than Fernandinho going forward, and the way he dictates an entire style, means there are few players more valuable than him in European football at the moment.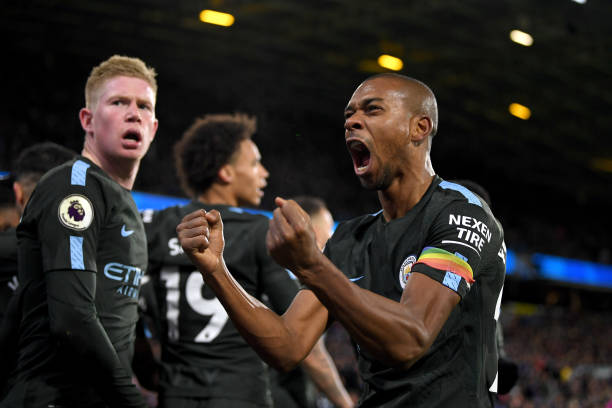 Statistically, Fernandinho has been impressive throughout the year, as he is 4th in the Premier League in through-balls per game, and he is the only player to be averaging 1.5 interceptions and 85% pass completion. Pass completion isn't the greatest statistic in the world, but it merely shows that Fernandinho is comfortably the most well rounded Premier League central midfielder at the moment, as he contributes on both sides of the ball at a high level. The only Premier League midfielders close to matching his statistical output at both ends, are Mario Lemina and N'Golo Kante , which shows how amazing he has been this season.
Returning to Eduardo's comments, for a deep-lying central midfielder to be considered one of the best in Europe, it was going to take a pretty special system for him to be able to do so. Manuel Pellegrini's system was good for Fernandinho as he was allowed to play quickly and showcase his athleticism, but Pep's system has unlocked a side of the Brazilian that I personally did not know existed. You could feasibly argue that this role is the hardest to play in a Guardiola system. Pep had to bring in outside players to play this role in his Bayern team, as Xabi Alonso arrived from Real Madrid, and Phillip Lahm often found himself playing as a deep lying midfielder. Lahm and Alonso are two of the best players of this generation, so the fact Guardiola didn't ever see fit to replace Fernandinho, speaks volumes of what Pep thinks of him. Pep has overhauled the entire squad, with many former fan favourites becoming marginalised figures, but Fernandinho has been one of the constants. When you consider how Pep literally had to overhaul a treble winning team to get players in who could run his system, it could have been easy for him to get rid of Fernandinho, but he stuck with him, because he saw a world class holding midfield player in there. Fernandinho simply won't get this credit nationally because he is not glamorous, and does not tweet pictures of himself drinking fine wine, but there is no reason he should not be remembered alongside the likes of Xabi Alonso amongst Pep Guardiola's all-time footballers.
The Brazilian won't win our footballer of the year, and he probably won't get in the Premier League team of the year, but he really should, as he is the player who makes one of the most deadly systems in Premier League history tick. Pep hasn't been as big of a rotational coach as he was in Germany at City, but the reason he rarely plays Yaya Touré or Ilkay Gundogan isn't a reflection of Pep, or those players own skills, it is because Fernandinho has become irreplaceable.
I have followed Guardiola's work since he became a manager, and his list of individual coaching masterclasses could be made into a novella, and his work with Fernandinho is arguably his finest yet. He turned a great player into an elite one, and that is arguably the hardest thing to do as a manager. There is no doubt that Pep Guardiola will eventually start to diversify his formations, and you can bet that there will be a place for Fernandinho in any system that he selects.