It's that time of year again for Manchester City. Pep Guardiola's third derby in charge. A match-up of the best teams in the league right now and the first leg of an all important two-part clash that could determine silverware, bragging rights and much more.
Looking ahead to Sunday's pivotal encounter, I countdown the top five Manchester derbies of the Premier League era:
5. Manchester City 3-1 Manchester United (2002/2003)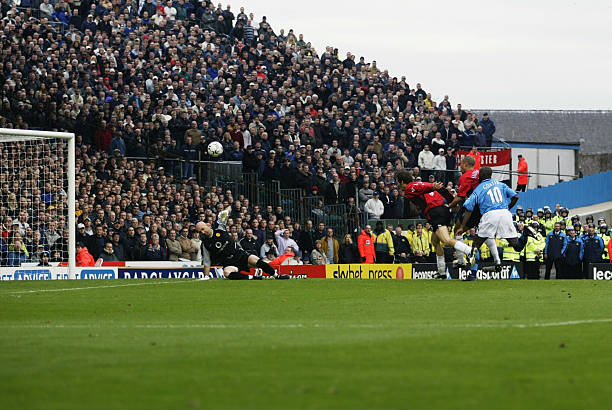 City fans will remember this derby very fondly, not just as a fantastic win against their much better rivals at the time – it was a landmark.
The first time they had defeated United since being promoted back to the Premier League after many years yo-yo'ing in the bottom divisions. The last ever derby to be played at Maine Road and one that still lives in the minds of blues everywhere.
Every supporter still remembers or at least attempts to envisage the hilarious mishap involving Reds legend Gary Neville. The feeding of the goat.
More specifically, Neville gifting the ball to City fan favourite Shaun Goater a few yards from goal for an unmissable chance. Effectively sealing the derby and an incredible moment in the club's history.
4. Manchester United 4-3 Manchester City (2009/2010)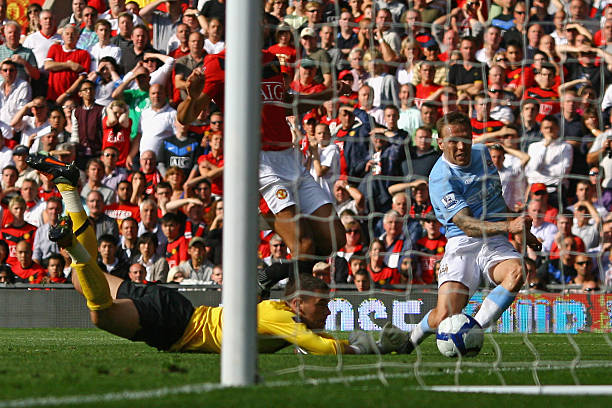 Right after the 'noisy neighbours', as Fergie branded the ambitious blues, took the transfer market by storm – signing heavyweights such as Emmanuel Adebayor, Carlos Tevez, Gareth Barry and Joleon Lescott – Cristiano Ronaldo departed United. Was it City's chance to firmly assert themselves as real rivals?
After a dramatic, enthralling encounter where United took the lead three times and City equalised to each of them, it went right down to the wire.
You could practically see the steam oozing off Mark Hughes' head as the clock had already ticked well over the four minutes of proposed stoppage time.
A cool and perfectly placed Ryan Giggs through-ball took advantage of City's frantic defending as Michael Owen scored the fourth and ultimate decider in one of the most entertaining derbies of all time. A controversial, frustrating memory from a City perspective.
3. Manchester United 1-2 Manchester City (2007/2008)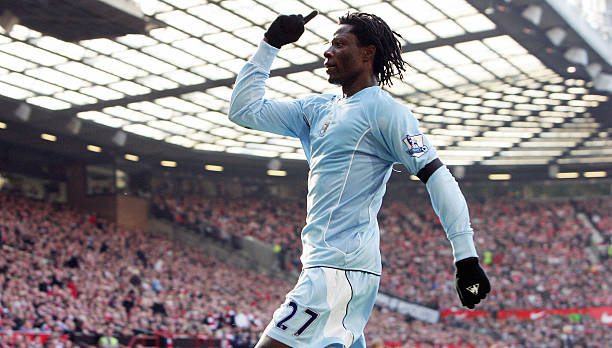 An incredibly emotional and commemorating affair up next, a day where both sets of supporters came together and remembered the Munich air disaster. It was the 50th anniversary, conveniently on derby day.
Both sides sported retro kits, removing the sponsors and endorsement advertising, it was simply just City and United, forming a binding remembrance of the players who died on that fateful afternoon.
An overwhelmingly emotional build-up. Whilst the game itself had little meaning, this occasion simply had to be on the list.
For the Reds, however, it turned out to be an afternoon to forget. City came to Old Trafford and shocked Sir Alex Ferguson's men with a solid and passionate display.
A Darius Vassell sitter and a trademark Benjani header proved the difference as the Blues ran out 2-1 winners on a memorable afternoon. The chants of 'He came from Zimbabwe' still occasionally ring round today.
2. Manchester City 1-0 Manchester United (2011/2012)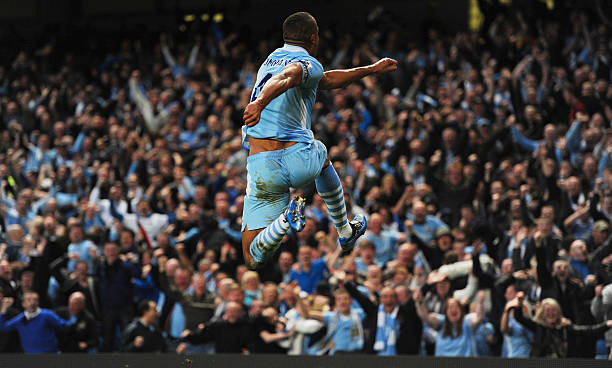 Previously eight points behind in the title race, City clawed their way back into contention over latter April to early May. With Wigan and Everton forcing dropped United points and a second shot for the blues to claim the ultimate prize.
The Blues carried on and never gave in, putting pressure on their rivals – this was the night they were no longer the noisy neighbours, Roberto Mancini's side were back in the ascendency.
A furiously nervy game, as captured in the crowd, City looked the better side but were finding it difficult to break down a stern defence.
A mistake was out of the question, as a win for either of these teams would give them a huge up-spring towards that teasing Premier League title.
To City's rescue, a corner. The most important corner in their history was taken. As Silva delivered one of his signature left-footed in-swingers, Vincent Kompany rose above the hapless Chris Smalling to nod home – 1-0 to the Blues.
The Belgian erupted with a typically passionate celebration, running and leaping into the air right beside the lower corner of the East Stand. A moment that hangs upon my wall in a photo frame.
After a tense second half, the final whistle was closely followed by the biggest eruption of relief ever felt. Oasis rang around the Etihad Stadium to a chorus of rapturous City supporters. The day the title was taken back.
1. Manchester United 1-6 Manchester City (2011/2012)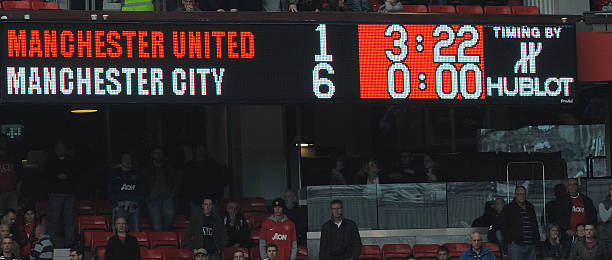 Wow, we all know this score line. What can you say? A 90 minutes that no blue had ever dreamt of. After storming starts to the campaign from both sides, this was a warm-up decider of who ruled Manchester for the season.
Just before this historic encounter, both sides were proving to be unbeatable – with United humiliating Arsenal 8-2 and City going to Spurs and hammering them 5-1.
Manchester United's eventual nightmare started when Mario Balotelli calmly slid a James Milner pass directly into the bottom corner past David de Gea – cue euphoria from the away end and the start of a riot.
Another Balotelli strike and an Aguero goal later, it was getting embarrassing – however, when Darren Fletcher's screamer brought it back to 3-1, there was a glimmer of hope for the home supporters, bearing in mind United's comebacks in the past.
As Sir Alex Ferguson ordered them to push forward, the class of David Silva and Yaya Toure were proving too much to deal with.
An Edin Dzeko goal from a corner, a Silva nutmeg of David De Gea and a sublime pass from the Spaniard to Dzeko for a sixth goal of the afternoon capped off a dreamland performance for City and 'one of the worst days of Sir Alex Ferguson's managerial career'. Simply unbelievable.