Another Premier League game, another last-minute Raheem Sterling winner. Wednesday night saw Manchester City's last gasp hero strike again as the Blues eventually broke down a resolute and defensive Southampton side to continue their unbeaten start to the season.
Pep Guardiola's side were made to work hard for it, however, thanks to the unsurprisingly defensive set up of Southampton. After the frustration that Huddersfield caused last weekend, I fear that the 'park the bus' mentality will become the norm for all of the sides outside the top six when they face up against City this season.
From a personal standpoint, I enjoy the challenge of watching a team try to break down a good defensive unit. However, it's becoming increasingly alarming just how negatively some teams are willing to go. Against Huddersfield, when City won back possession, the Huddersfield XI could be seen turning and running back to their own goal to set up, bearing striking resembling the transition in a basketball match.
It was certainly remarkable to see, and something I've never witnessed within a Premier League game. And yes, I know, City are on great form and are tearing teams apart, but the worrying lack of ambition from sides outside the top six/seven is certainly reducing the notion that the Premier League is the "best in the world".
Southampton are a good, solid, consistent Premier League side with a lot of talented players, but their defensive shape and time-wasting tactics from the outset was disappointing to see. A thought that was reciprocated by Guardiola himself with his wild gesticulations and words exchanged with Nathan Redmond at full-time.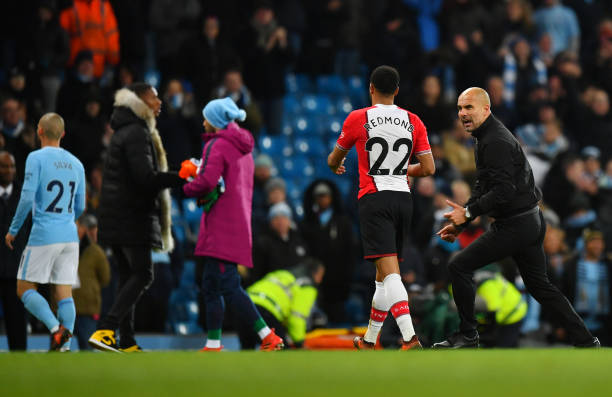 The negative nature of some teams really makes the beautiful game become like the clichéd "training exercise" of attack vs defence. Admittedly, from a Southampton perspective, their fans would be overjoyed to see their side win a point than to lose 5-0 (especially for those that travelled up from the south coast on a finger-numbingly cold night in Manchester), but the manner in which teams go about it is frustrating.
City have been terrifyingly good this season and with goals coming from all over the pitch, are these defensive set ups justified? I, amongst many others, would probably have to agree.
As much as it pains me to watch at times, certain teams will not be able to handle City this season without a solid defensive gameplan. Southampton, at times, had every single player behind the ball, with a staggering NINE players inside the box when Sterling hit the winner on Wednesday night.
Whilst not the prettiest to watch, City have shown their ability this season to grind out results against tougher oppositions with sheer determination and a willingness to never give up, yielding the typical pundit observations of being a "mark of champions".
The team's togetherness right now continues to breed further success and means that any opposition at the moment, whether it's Napoli or Huddersfield, is finding it extremely difficult to contain this unstoppable City side.
Teams will continue this trend of bus parking against City until the entire Premier League car park has been emptied of its content by Guardiola's side at the end of the season. So, you can park the bus, you can try and play against us, but at the moment, nothing can stop the Pep Guardiola Winning Machine™ from rolling on. As you were.