Pep Guardiola is known for giving young players a chance and has helped some of the best in the world develop – most notably Lionel Messi.
Messi wasn't handed his professional debut by the Catalan coach, but 31 players have been, the latest being Stockport-born Phil Foden, one of the most promising talents of his generation. Foden appeared off the bench against Feyenoord to a rapturous applause from the Etihad faithful, becoming the third Manchester City player to have been handed a debut by Pep.
Catalan newspaper SPORT has run a feature on the "Children of Pep", pointing out that the majority of debutantes came during his years at Barcelona, when La Masia was at its peak. Sergio Busquets, Sergi Roberto, Rafinha and Gerard Deulofeu were among those to debut under Pep's watch, while another, Thiago, would follow him to Bayern Munich.
Marc Bartra was another of the 22 who debuted for Pep's Barça side to have gone on to have a good career, although others have not fulfilled their potential. One of those would join Man City, the Israeli winger Gai Assulin, who now plays in the third level of Spanish football with Sabadell. Isaac Cuenca (now at Hapoel Beer Sheva) and Cristian Tello (now at Real Betis) were others granted many chances by Pep, who haven't quite reached their early potential.
At Bayern Munich, Pep debuted 6 players, none of whom have yet to excel in the professional game. Goalkeeper Lukas Reader was given a debut by Pep in the Bundesliga against rivals Borussia Dortmund in 2014, and nowadays is playing in the third tier of English football with Bradford City.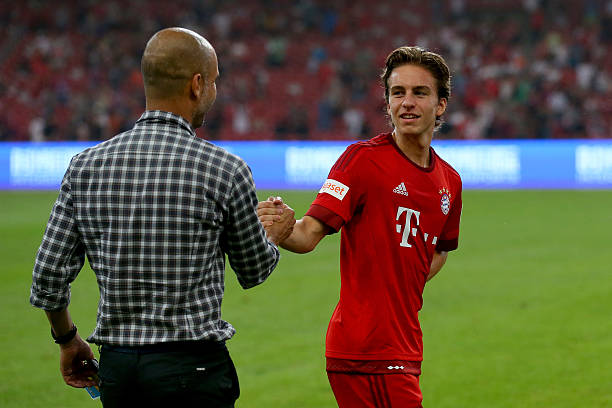 Perhaps the most highly-rated talent of a Bayern academy failing to produce (and regularly thrashed by City's own youngsters in the UEFA Youth League at that time) during Pep's spell there was Gianluca Gaudino, son of former City player Maurizio Gaudino. The now 21-year-old didn't make the grade at the Bundesliga giants though, and is now employed by Chievo in Italy.
Now at City, Guardiola has an academy approaching the level of the La Masia talent-factory he had during his years at Camp Nou. Three players from the academy have debuted to date in the Guardiola era, the first being Pablo Maffeo, who appeared in the Champions League play-off round against Steaua București last season and may yet have a bigger role to play during Pep's tenure.
Brahim Diaz was the second when he appeared against Swansea City in the EFL Cup last season. Brahim made his first appearance at the Etihad for the first team against Feyenoord on Tuesday night, along with the 31st and latest debutant to be awarded a chance by Guardiola, Phil Foden.
Foden's potential is already well documented, but with the high level of talent being produced at the City Football Academy now, don't be surprised if many more follow in making their professional debuts during the Pep Guardiola era. He has high standards, but if a youth player shows the right level of potential, he has proven they will get a chance – 31 times to be exact, and that isn't counting the many young players, such as Messi, Sané or Kimmich, who debuted under other coaches but flourished under the tutelage of the great Guardiola.
–

The Big City Christmas Store is Now Open!

Get your City-themed Christmas jumpers, stocking fillers and other gifts for the family at the City Store!