Sublime movement, incisive passing, forlorn opponents, goal. This is way things have gone so far this season for Manchester City, 12 league games 11 wins and 1 draw and at this moment in time no-one has the answer to the style of football that Pep Guardiola's men are serving up.
A perfect example of this was City's first goal against Leicester on Saturday. The Foxes are a team that have caused City lots of trouble in recent years, and have handed them a few embarrassing defeats, particularly the 4-2 loss last year during a time when the press believed Pep was being found out. But the tide seems to be turning; even the most cautious City fan must now be panicking less going into tricky away days against teams full of energy such as Leicester. As City went 1-0 up just before half time they demonstrated that on current form they have the ability to unlock any defence at any moment.
Leicester didn't do an awful lot wrong from a positional standpoint for Gabriel Jesus's goal. Most managers seem to be in agreement this year that the only faint hope they have of stopping City is packing the defence or getting most men behind the ball whilst City attack. Leicester had 9 men behind the ball when Raheem Sterling drives the away side forward, how could they be hurt from this position?
But the Blues in full swing are serving up what pundits and (City) fans believe is close to total football. The cohesion between the players, the belief in each other to pass the ball around in tight spaces and the improving finishing means that no team's defence is safe.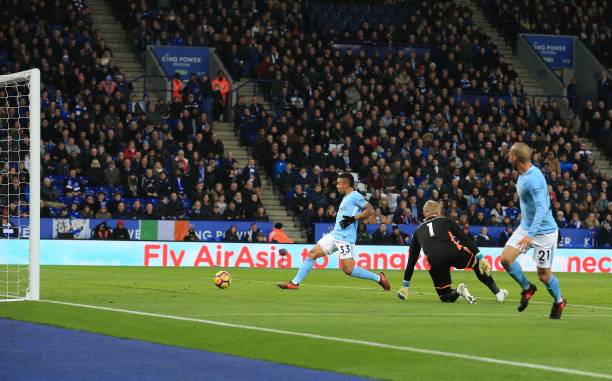 So Leicester have 9 men in defensive positions, and are trying to harass the away side off the ball. But City's attack is a moving feast, wingers coming inside, full-backs overlapping, centre-backs breaking with the ball, and David Silva and Kevin De Bruyne popping up here there and everywhere. So the message to the opposition from the start of the attack that results in City's goal is: The Blues can hurt you from anywhere.
The move springs to life once Fabian Delph receives the ball from Sterling, then there is a quick triangle of passes from Delph, Sterling and Silva that leaves Leicester chasing shadows. Sterling progresses the move further after a smart one-two with De Bruyne. Then unbeknownst to the home defence Silva has made a key run, he'll be through if Sterling notices him, and off course Sterling notices him, his attitude, confidence and overall play are night and day from last season and he delivers a brilliant defence splitting pass to the onrushing Spaniard. Silva is as unselfish as ever and notices that Jesus has also freed himself from his marker and squares the ball for the Brazilian to finish off.
When Jesus taps in the reaction from the Leicester players isn't anger, there's no accusatory glances at each other, wondering who should have been picking up who, there's a look of utter disillusionment. There is an acceptance that they were bested by a few touches of brilliance and a resigned look that says: things have changed, City might just be a bit special.
What the Jesus goal signifies, and indeed what the multitude of goals scored by City so far signifies, is that the Premier League as of yet does not have an answer to this brand of attacking football. Antonio Conte's Chelsea, the defending Premier League champions, quivered in fear at the sight of City marauding forward, and were made to look a million miles from the team who won the league comfortably last season. If City can do that to Chelsea, they can do it to anyone. This is what Guardiola demands and indeed what he was brought in for, not just to win but to win in style, and it is a style that has not graced the Premier League previously.