The captain's back. With Nicolas Otamendi ruled out of the Leicester game through suspension it was perfect timing for Vincent Kompany to recover from his most recent injury issue to partner John Stones at the back. Aside from the incident inside the first couple of minutes, Vinnie managed to fit seamlessly into this majestic City side, demonstrating the quality he possesses that keeps him so revered in the minds of City fans. However, his return from injury was marred ironically by an injury to John Stones that could leave him out for up to six weeks, causing him to miss some crucial winter fixtures. Forgetting for one minute the quality that we're now going to miss from Stones' absence, we are now in the all too familiar position of relying on Kompany to stay fit and it begs the question – how long can this go on for?
It wasn't always like this obviously. Vinnie was once considered the best centre-half in the league and captained us to our first league title back in 2012, as an integral part of that team's spine. His quality on the pitch was also matched by his leadership and composure off it. His emotional investment into the club and the city has seen him stand alongside the likes of Pablo Zabaleta as a modern legend truly worthy of that captain's armband. He is loved by the fans and respected by the players, so the fact that he's become a boxer who keeps getting knocked down is particularly heartbreaking. The injuries started back in August 2013 when he missed 28 days with a groin injury and since then he's missed an astonishing 583 days (101 games) through injury. So it's a fair question for any fan to ask, as much as we love the guy, why is the club still so reliant on him?
The club obviously identified his injury issue and made some efforts to sign the next world class centre-back, or at the very least a viable alternative, to take some of the pressure off the big Belgian. Since the start of Vinnie's injury troubles in late 2013, City have signed four first team central defenders: Martin Demichelis, Eliaqium Mangala, Nicolas Otamendi and John Stones. The latter three were high profile, big money signings, obvious attempts to fix our ageing defence in recent years, and are still at the club. Pep has managed to turn Stones and Otamendi into a formidable partnership at the back and they have played a huge part in our season so far but it's just not fair or realistic to rely on them for every single game. Our other option Mangala just hasn't worked out. I have no doubt that he could succeed at another Premier League club that asks only defensive duties of its deepest players, but it's clear that he just doesn't have the skill set required to play the way that Pep wants of his team.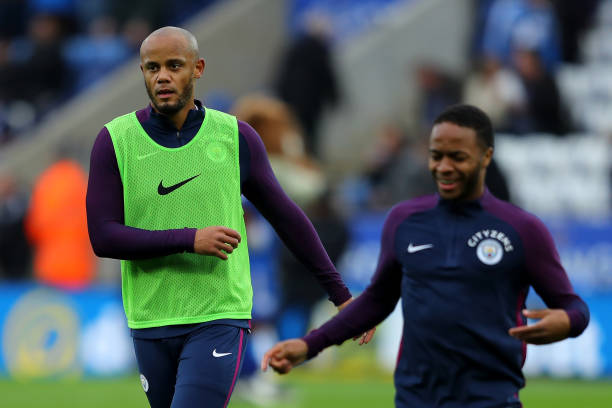 This is where the club has to take some responsibility. Yes, it could be considered unlucky for a key player to get injured so frequently but it is simply negligible to not put into place the proper means to replace him after it has been an issue for so many years. The fact that we had to spend so much in the summer to replace all the ageing players that were leaving meant that the budget would not cover another addition to centre-half. Admittedly Jonny Evans was close to signing to replace Mangala but realistically he would have been behind Vinnie in the pecking order anyway.
More than anything I think that we're frustrated. We're frustrated for our captain who has been through so much over the past few years and it is truly a credit to his mentality that he keeps on pushing for recovery, but we're left wincing every time he stretches for a challenge and really just waiting for the inevitable next 'muscle strain' that somehow leads to a two-month absence. As well as this we're frustrated that yet again we find ourselves in the situation of relying on him keeping fit to help maintain the scintillating form we're in right now.
So what does the future hold for him and the club? Well his contract runs until the summer of 2019 and should his injuries remain consistent then it seems unlikely he'll be offered an extension as a player. As well as this the young, quality players we have elsewhere and the fact we're trying to actively offload Eliaquim Mangala means that the club can prioritise this position for potential transfer targets come the summer. I fully expect at least two new centre-backs to join the club next year, with the possibility of more if Otamendi decides to leave. This season has shown us the extent to which John Stones has taken his game to the next level and it seems, in Pep's mind at least, that he is now the leader at the back. It would make sense then for Kompany to perhaps drop to our fourth choice centre-back in the final year of his contract, allowing him to properly recover after games and allow the club to sign proper replacements with the promise of first team football.
The ideal scenario for all would be for Kompany to magically overcome his injury afflictions and cement himself back into the squad with several commanding performances. However, it's the duty of the club to prepare for his eventual departure – and some top-class signings that prompted him to take more of a back seat next season would, in my opinion, be the best outcome for all.