Manchester City sit atop both the Premier League table and their Champions League group respectively. They have an 8-point lead over Manchester United in the league and have overcome tough fixtures against Arsenal and Leicester. I've had a few weeks to think over the Arsenal game, and a few things I noticed during and after that game.
Perhaps it was the amount of games in a short space of time, perhaps it was the velocity at which City had been playing before the Arsenal game, or a combination of both, but City looked laboured during their win over the Gunners. I say laboured because we have to compare their level of play during that game with the level they had produced before, when they beat Napoli away from home, 4-2, or some of the other games when they scored 4 goals or more. The win against Arsenal did not feel as 'secure' as in the other games, and I think it speaks volumes about the work Pep Guardiola and the players have done that we can be mildly disappointed that they only scored 3 goals against Arsenal.
City have looked so confident in both defence and attack that, when they had a few hiccups against the Gunners, we weren't as effuse in our praise of their victory as we perhaps could have been. The previous victories add to the perception of title favourites, of course, but the way in which they've achieved those wins has only reinforced that perception. City have looked imperious at times this season, capable of both starting hot and showing the necessary concentration (e.g. against Chelsea) to close out games they would've drawn or even lost in previous years. While we should critical of the team when they don't play well, we should also measure that criticism against the bar they are consistently raising higher and higher.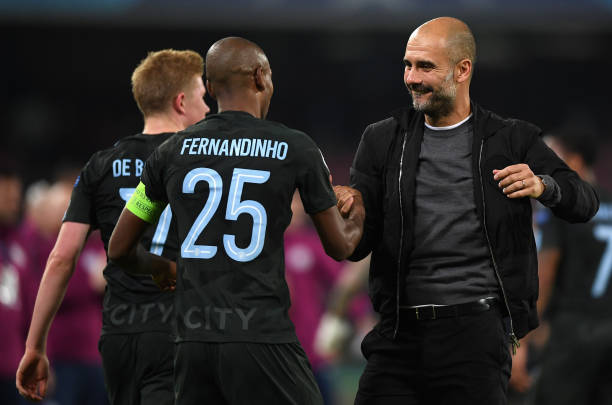 Pep is the type of manager who will instill in his players the belief, and the tools to act on that belief, that they are building something special, something more than just winning football matches. While all managers talk the talk and say they are only focused on the 3 points etc., they're all trying to win in their own way – some are just more open about this than others.
Perhaps the flat feeling after the Arsenal win can be confined to just this one supporter, but I think my underwhelmed feeling can be ascribed to the grand project that is Manchester City. The hierarchy, the manager and the players, both men's and women's teams, are trying to build something that will dominate football. Pep's Barcelona side is revered in the city and around the world for both the trophies that they won and the manner in which they swept away all before them. Whether this City team will reach that level remains to be seen, but the building blocks are there for all to see. We should count ourselves lucky that we are witness to the process, because the process adds to the end-product.
Manchester City's next bunch of fixtures are all winnable, but there are also a few banana skins thrown in for good measure. Whether they succumb to any slip-ups is entirely in their hands. They have shown the league, and more importantly themselves, that they are capable of the hard-work which matches up to their immense collective talents. All the pressure is on the chasing pack – they cannot afford to let City move even further ahead than they already are. The pressure on City will come from Pep and from the players themselves – they must ascend to and surpass their own great expectations.