It is said that when Julius Caesar saw a statue of Alexander, his mood became instantly morose. Caesar lamented that at the age when Alexander had already conquered the world, he himself had achieved nothing of note. When City complete what they are now morally obliged to do, and build a statue dedicated to one of the greatest strikers of the Premier League era, all aspiring strikers should look upon it and become as morose as Caesar once did.
Sergio Agüero has now surpassed a record which has stood for 78 years. There have been so many superlatives shed for the man himself, but as Christopher Kinsey argues I believe he has been taken for granted. He has done so much for this club, carried the team on his shoulders when the later years of Manuel Pellegrini's reign was more about individual talent than a specific game plan and yet he has never been in the PFA Team of the Year, never mentioned in the same breath of Shearer and Henry, whom in my opinion are the only two strikers who deserve to be ahead of Kun in a Premier League All-Time XI.
Despite this particular cold-shouldering, Kun has been a fan favourite since his arrival at the club and it seems he felt a similar way. Sitting on the bench for this first hour of the game against Swansea, Sergio was 'taken aback' by the recital of Blue Moon, and as the game went on he was also 'struck' by the fact individual songs were created for individual players, 'allowing himself to imagine there being one especially for him in the not too-distant future' (D. Frescó, Born To Rise, 2014). And of course, Sergio by now has several songs dedicated to just him.
He signed for us with a reasonable degree of fanfare, with the Mirror's Derek McGovern proclaiming that Sergio would be 'the replacement for Carlos Tevez' but that he 'brought so much more', including a higher sell-on price. I say reasonable, because who can forget one of the most legendary tweets ever?
Aguero will be highest profile signing of summer so far if it happens. Still think Charlie Adam to Liverpool could be best though

— Oliver Holt (@OllieHolt22) July 27, 2011
For Sergio, it was City's concrete determination to sign him and the club's wider project that convinced him to sign for City, as well as discussions with Pablo Zabaleta and Liverpool's Maxi Rodriguez (D. Frescó, Born To Rise, 2014). Can you imagine a world where that didn't happen?
Actually, don't do that. I tried and it's dark, darker than the most macabre Edgar Allen Poe novel. Darker than Hemingway's 'Baby shoes for sale, never worn' quip. Darker than a three-hour lecture by Michael Owen on that time he ran over a rabbit and was devastated. Truly noir.
We do not need to regale all of the history of Kun Agüero and Manchester City, here the highlights will do. As soon as he stepped onto the pitch in the 59th minute of City against Swansea, we knew. Liam Gallagher knew too.
HEY HO AGUERO

— Liam Gallagher (@liamgallagher) August 15, 2011
The reverberations of that stunning debut would be felt for some time to come. In his first season he surpassed all expectations, scoring his first hat-trick in his fourth game for the club, scoring in his first derby, and scoring the most important goal in football history. After a second season marred by injury and malcontent under Mancini, he has gone from strength to strength, perhaps climaxing on an individual level in 2014/15 where he claimed the Golden Boot and effectively carried the team; including stunning performances against Spurs, Bayern Munich and two incredible exhibitions against QPR. In Pellegrini's hapless and dire last season, he put five past Newcastle. Last year, despite all of the gossip which surrounded his status in the City team, he actually got his highest ever goal tally in a single season and has stayed at City despite pretty much every member of the commentariat asserting he definitely wouldn't.
Last night's game was the perfect way for Sergio to break his record. In the colosseum of fire, a stadium where former father-in-law and footballing legend Diego Maradona's shadow hangs low, Sergio, after receiving the ball just outside the area in the 69th minute after a wonderful run by Leroy Sané only had one thing on his mind, no matter how many options he had on. As soon as he picked it up, there was only one place that ball was ending up. A fantastic night for City as a team, an unforgettable night for Sergio and his legend.
It was no surprise to anyone inside the City bubble to see Sergio and Pep joking around after Sergio's panenka penalty saw City through to the Carabao Cup quarter finals last week and then the proud look on Pep's face cuddling Sergio after his record-breaking goal in Naples, the two seem to genuinely get along and that can only be good as Pep has crafted a team which, whisper it quietly, has our very best chance of winning the Champions League thus far. I wouldn't bet against Sergio staying for a few more years and netting his 200th Manchester City goal, which would be an astounding achievement in the modern era of football where players are switching clubs for fun.
Despite the fact Sergio has just broken the 78-year-old record by scoring his 178th goal for the club, he is much more than just goals. This season his creative output has increased and since Pep's arrival he has rounded into a better, more well-rounded striker, as he did with Lewandowski before him. Some may point to the fact he's now playing mostly with a competent strike partner, but I believe it's more than that. For evidence of this progression look at Sergio's output in terms of key passes, assists and chances created for this season in comparison to any of his other seasons at City.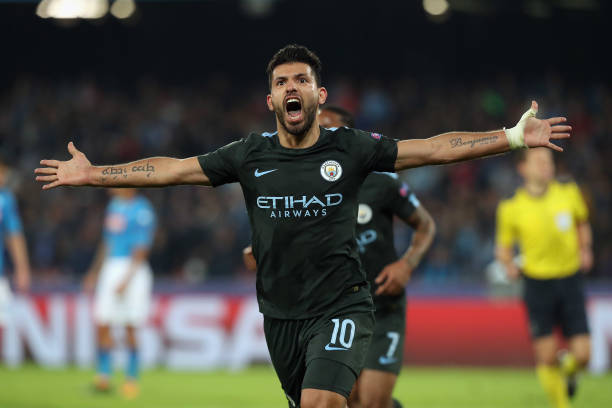 Whilst these stats show the changing role of Agüero through the seasons, and confirm that he works extremely well in a two – which bodes well since we've got him the best second striker in world football and we are still chasing Alexis Sanchez – it is also incredible that at 29 Sergio is still improving on his game, still changing and transforming. That is what the best players do. I actually have to admit, rather shamefully, that I considered Luis Suarez to be better than Sergio through the 2013/14 campaign. Suarez has gone to Barcelona and subsequently had a good 18 months, but has now, by all accounts, dropped off. Perhaps the biggest example of Sergio Agüero standing the test of time where others have failed to do so.
But, as Adam Selby said: all good things must come to an end. When Sergio Agüero's City career does come to an end, it will be the saddest of sad days. Some will suggest that City have a ready-made replacement in Gabriel Jesus, and should Gabriel fulfil his promise and stay at City for at least the best part of his career, then Agüero's record won't last 78 years. Sergio will never just evaporate like a tear in the rain; his ghost will haunt the living of the Premier League as Shearer's and Henry's do now. All future strikers who people put in the world class bracket will have to be judged against Sergio's shadow, as Caesar judged himself against Alexander's shadow. Unfortunately for future Premier League strikers, it is a measurement which they will inevitably fail to live up to: after more than one hundred Premier League goals his goal to minute ratio is still head and shoulders above everyone else's, and since his start to this season has been so electric, I wouldn't bet against him winning the Golden Boot this year, and the league with it, improving his already unbelievable goal to minutes record.
I was at his first game and I have since had the absolute pleasure to fanboy over him ever since. I've actually got a framed picture of me meeting the man himself adorning my bedside table, and let me tell you: he is somehow even more perfect in real life. Not a single skin blemish, not a single hair out of place. He basically puts all other men to shame, as Alexander once did. The plaque under his statue should read Sergio the Great.