Revealed on Monday, FIFA's 'Team of the Year', or the 'FIFPro World XI', was typically stupid. Comically predictable and unashamedly skewed, the squad was once again La Liga dominated and Premier League bereft. Andres Iniesta was included for the ninth time in a row, despite starting just thirteen league games last season. He spent more time on the bench than he did on the pitch.
Nope. I have no idea either.
Yet there was one thing that made the whole ceremony vaguely interesting. No, I'm not talking about Idris Elba's selfie, or Kasabian's horrendously out-of-place performance, to which the superstar crowd responded with blank, gazing faces. I'm talking about the inclusion of the Italian centre-back, Leonardo Bonucci, in that much debated team.
It was a selection, at long last, that I was happy with. The Italian had had an immense year in a formidable Juventus back-four, with heroic defending and stylish passing drawing plaudits from around the world. In Manchester, his name was mentioned hourly, if not minutely. Furthermore, while in charge of Bayern Munich, Guardiola lauded the centre-back as one of his "all-time favourite players". A deal to take him to City seemed as good as done.
Yet, in a baffling turn of events, the cogs in the rumour mill suddenly stopped turning, and Bonucci's name was only spoken of again after he completed a £35million switch to AC Milan. That, was bewildering. Who in their right mind would turn down a project like City over a Europa League side? And how on earth have The Blues, so alluring and glamorous as they are, missed out on such a high-profile, high-priority deal?
Whatever happened, we can look back and laugh. That's because Bonucci is struggling. Immensely.
After receiving his first red card for over five years, he'll miss an all-important clash against his old club. Meanwhile, AC Milan, after spending close to £175million in the summer, reside in the bottom half. They, like Bonucci, are in total disarray.
Another centre-back in a dark place at the moment is Virgil van Dijk. After a lengthy summer transfer saga, the Dutchman has only recently found himself back in the Southampton squad. But, if truth be told, he doesn't look much like a £50million player, the sum that Liverpool, and indeed City, were reportedly willing to pay. A mediocre-at-best performance against Newcastle along with a conceded penalty at Stoke, has caused his stock, much like Bonucci's, to plummet, just months after City failed to get their hands on him. Notice a pattern?
Centre-back is a position that, understandably, Pep wants to invest in. But consider this a warning. It's not a case of one-defender-fits-all.
John Stones and Nicolas Otamendi have very much warmed themselves to the supporters so far, producing a string of dominant performances, full of dynamism and creativity alongside commanding defensive work. Yet, poor Vincent Kompany remains sidelined, and Eliaquim Mangala remains, well, Eliaquim Mangala. If our two starters were to pick up an injury, I suspect the fingernails of most City fans would be in grave danger of a chomping.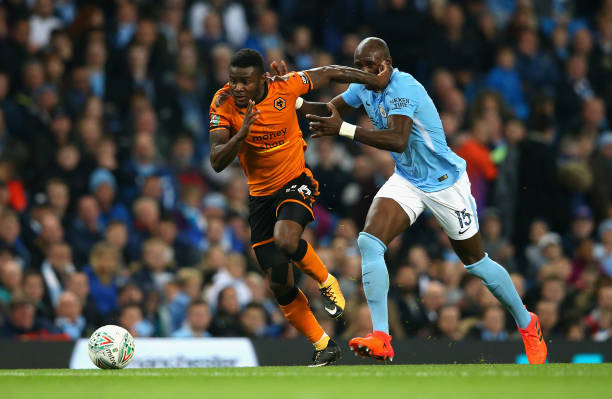 The latter's shaky performance against Wolves in the Carabao Cup only stressed the need to address this issue. I have tried to stand by Mangala, calling for his sceptics to give him more time. But on Tuesday night, I left the Etihad wincing, with my pleas somewhat devalued. Dispossessed twice by a second choice Championship striker, both times having to be bailed out by brilliant work from Claudio Bravo, his performance, for a £32million defender anyway, simply wasn't good enough. He's not a man we can rely on when our squad depth is tested.
But perhaps the saddest truth of the matter is that neither is our captain. He may be the most passionate, intense and wonderfully talented centre-half we've ever had, but he's also the most unfortunate. I thought, after a considerable run of fitness, he was finally getting the luck he deserved. Then, he returned from international duty with a fresh knock. That international duty, may I add with bitterness, was a preparatory training session for Belgium's clash with, of all teams, Gibraltar.
On this occasion, pessimism unfortunately prevails. I can't see Vincent Kompany ever returning to the player he once was. After ten prosperous years, it could be the end. At least, unlike Zabaleta, he'll get a testimonial.
But planning our tributes can wait. The current conundrum persists – City need a new centre-back.
We've seen in Bonucci and Van Dijk, and experienced ourselves in Mangala, that it's not easy to find one. Big money doesn't necessarily mean top quality. This is why I think Pep needs to be sensible, astute, and clever. Johnny Evans for £20million was not that.
Extensive scouting and intense stipulations should be put in place. Plenty of time should be spent pondering. The perfect player should be singled out. After all, this is Vincent Kompany we're trying to replace.
People pulled faces as he picked up John Stones for £50million, but Pep has prevailed with that one. Kyle Walker, Benjamin Mendy, and even Danilo, have been similarly majestic.
So, I think it's fair to conclude that Pep, when he has the time to pick out his ideal targets, knows what he's doing. And, much more importantly, he knows exactly what he wants. I would expect that he's working tirelessly on a list of targets as we speak, or at least I hope he is.
With the benefit of hindsight, Txiki's 'failure' to sign Bonucci or Van Dijk doesn't seem as bad now as it did at the time, but anything similar in the next transfer window may plunge us into deep, defensive woe. Let's have a nice, early, Bernardo Silva-esque addition to the back-four, Pep. Because I don't think it's any exaggeration, only maybe slight delusion, to say that with another John Stones, the foundations for the dynasty may well be completely laid.
Kompany was the cornerstone of City's rise to European prominence. His successor, whoever it may be, might well be the one to lead us to European dominance.