Before Manchester City's 3-0 win over Burnley on Saturday, the Blues had the best goal difference of any team in the top five European leagues in the 2017-17 season. In 9 league games, City had allowed in 4 goals, joint lowest with United. On the other side, they have scored 32 goals, 10 clear of United. All impressive stats to be sure, but do they tell us whether City are playing the best football in Europe? I think it goes a bit deeper than that.
How do we define "playing the best football"? Does playing the best football mean that you win every game? Does it mean that you grind out a 1-0 win on a cold, rainy night at Stoke? Does it mean that you go to one of your biggest rivals and, for lack of faith in your team, you tell them to sit back and defend, not venturing forward to grab that crucial goal, making a statement in the process? Or does playing the best football mean that your attack and defense are fully integrated – that your goalkeeper can defend corners and diffuse pressure like the best CDM; that your midfielders create space for each other, all interchangeable; that your attackers are hungry, no, desperate to run through (not over) defenders and score goals? These last three aspects hint at what playing the best football truly means.
Pep Guardiola's current City team is tactically flexible. We saw that when they blitzed Stoke 7-2 a week ago, then struck early and defended all over the pitch against Napoli in mid-week, and lastly managed to grind a defensively astute Burnley down to 3-0. The evidence on pitches around Europe provides the best argument that City are currently playing the best football in Europe. Apart from Napoli, no other team has looked as good as City in attack. PSG, Bayern, Dortmund, Barcelona, Real Madrid, United, Spurs… They're all at or near the top of their respective leagues, but none look as sharp as City going forward, and none have the scoring record to back up the belief that they'll keep it going throughout the season.
City's impressive attacking and defensive statistics reflect a profound shift in both understanding and attitude from the players. Without players who are willing to, and then can, follow through on the manager's plans, we would probably be in the position of Liverpool or Arsenal, season in and season out. A number of City players could walk into any top European side based on their current form, and that is a testament to the way in which they're playing. Other English sides have done well in Europe so far this season but when it comes to knock-out football, do you truly see United, Chelsea or Spurs able to both score against and defend well against a side such as Real Madrid?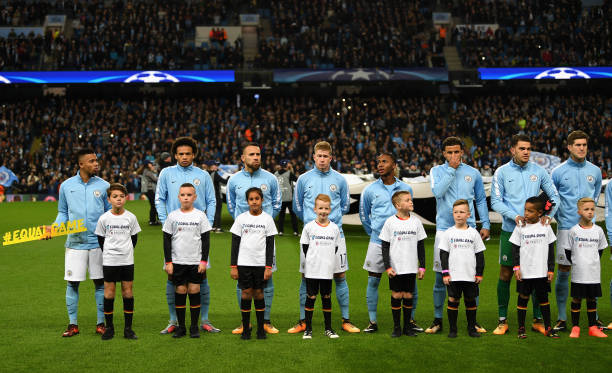 Many football fans are fairweather, to be as polite as possible. That's their prerogative, I suppose, as they're captured by the notion that winning trophies means everything. Winning trophies does mean everything at the top-end of football, but, and here you may need to make a philosophical shift, the way in which you win trophies adds to their value. Let us presume that, come the end of the season, City haven't won any trophies. They will produce performances which raise the level of football, especially in the Premier League, to a point we haven't seen before – the risk may be greater when you don't aim to just win 1-0 every week, but the reward is a feeling which transcends mere grunt and bluster.
From all the other football I watch across Europe, I would venture that Napoli and Valencia look right up there in terms of the way they're currently playing. City are currently brimming with such potential and confidence that I can see them cutting Barcelona or PSG to ribbons. That is why Pep praised Napoli so much in the past week; they are closest to the kind of total, integrated football which he is trying to instill in City, and it's why the provide the sternest test to City right now.
If leagues and trophies were won based on the aesthetics of the game, of beautiful passing triangles, defense-splitting passes and poignant movement, City would win the treble this season. But just as we can wax lyrical about the most intricate philosophical premises, it doesn't carry any weight if it can't be tied to concrete examples of that philosophy being implemented in the world. We are seeing Pep implement his footballing philosophy and because they players now understand and implement it, we can truly say that City are playing the best football in Europe. The stats back it up, but I implore both City and opposition fans to step back from the micro and appreciate the macro – City are producing special performances every week, regardless of the margin of victory.