Ahead of Manchester City's Champions League tie against Napoli tonight, let's look back to 2011 and to the time where the Blues hosted the Partenopei as they ended their 43-year wait for Champions League football.
The stage was set, the nerves were jangling but City were back in European football's biggest competition against a Napoli team containing stars such as Marek Hamsik, Ezequiel Lavezzi and Edinson Cavani. This was pre-UEFA fall out, the Champions League theme was lapped up, not spat out and the music echoed appealing around the stadium. It must have dawned on the fans, and possibly the players at this point that this was what the big time looked like, they were entering uncharted territory.
Napoli had brought thousands to the game, which was a spectacle for them also, and both fans were turning the Etihad Stadium into a cauldron. This was a proper European Cup atmosphere and the sort of night that City fans had long dreamt of. It was billed as City's Big Night and why not? They were a team full of confidence that last season had ended their long, long wait for a trophy by winning the FA Cup, and had qualified for the tournament automatically due to finishing 3rd.
Regardless of City's lack of European experience, they went into the game favourites and full of confidence. The Blues had savaged Tottenham 5-1 at White Hart Lane and followed that up with a comfortable 3-0 win at home to Wigan.
The game didn't follow that pattern however as a stoic and typically defensively well-drilled Napoli side frustrated Roberto Mancini's men in the first half. City had the lion's share of possession, and would do throughout the match, but struggled to replicate their incisiveness that had Premier League teams rightly worried.
Napoli were more than happy to let City pass about in front of them whilst set in their positions and closing down well, they also looked very dangerous on the counterattack, as the pace of Lavezzi and Cavani was causing City problems.
Lavezzi nearly opened the scoring for the visitors as he capitalised on a Vincent Kompany effort only to see his delightful curling effort smack off the bar with Joe Hart well beaten. The warning shot had been fired.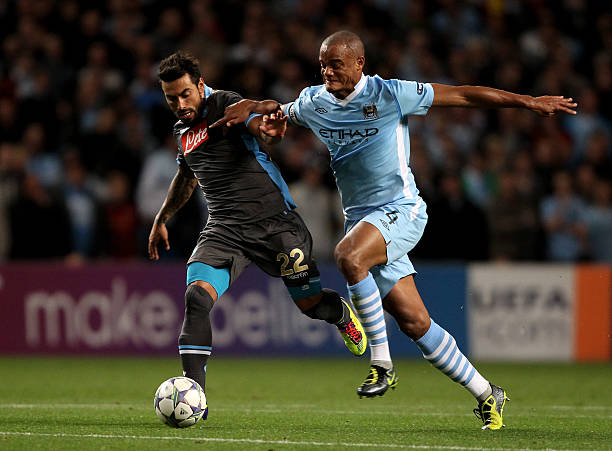 This proved to be somewhat of a wake-up call for City who then produced their best attack of the match after finally catching Napoli out of position. Yaya Touré intercepted a pass on the edge of his own area and then set off on one of his lung-busting runs; he then put himself in the position to benefit from his own hard work but fired against the bar after a quick passing exchange with Sergio Aguero.
City continued to have most of the ball but Napoli were giving the hosts a lesson in using possession effectively. The Italian side were clinical in pouncing on defensive errors, which only made City more wary in possession. The away team nearly went in front before the break, and would have done but for Kompany's clearance off the line from a Hamsik effort.
In the second half Napoli started to capitalise on the City nerves and looked the more threatening of the two teams. This was compounded when they took the lead after another devastatingly quick breakaway which City could not handle.
Samir Nasri was guilty of giving the ball away in midfield and Cavani raced onto a through ball to find himself one-on-one with Hart. The Uruguayan made no mistake as his fired home his shot hard and low, before celebrating in front of the away fans and sending them into raptures.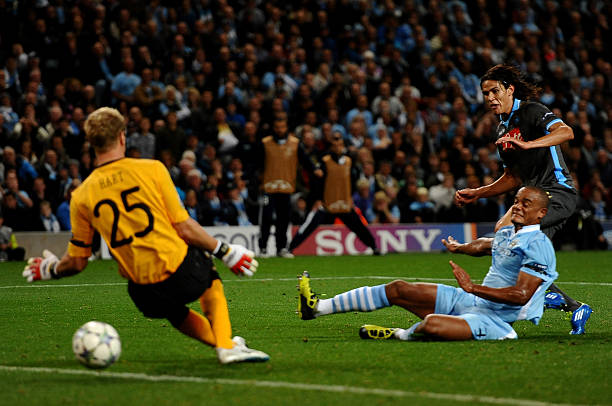 The dream of Champions League football was now becoming a bit of a nightmare for City as they continued to toil, until a free-kick was given which was well within the range of Aleksandar Kolarov.
In trademark fashion the Serbian equalised with a wonderful effort which had the City fans dreaming again. This sparked a frantic finish to the game as the away side for the first time started to look disjointed and the Blues went looking for a winner.
City sent on Carlos Tevez late on in the hopes of snatching a late winner, but it was Napoli who nearly ended up the victors after another late substitute, Goran Pandev, nearly latched onto a weak back pass from Kompany but 'keeper Hart raced out to clear and spare his blushes.
In the end a 1-1 draw probably suited both teams; Napoli taught City a valuable lesson in ruthlessness and showed how they could contain City's start studded attack for the most part. City would have to learn to channel their frustration and be more penetrating in their attacks if they were to start there European journey with any success.
After the match Roberto Mancini bemoaned Champions League nerves as a reason for his team's muted display, something that can be understood without really being condoned. City as a club weren't blessed with Champions League experience at the time, but they contained many players who had played many years in the tournament, and even had former winners in their ranks in the form of Toure.
This was an ominous start for City who would have the tough tests to follow in the form of Bayern Munich and Villarreal. But, every journey has to start somewhere and whilst City's relationship with the Champions League has been a complicated one and contained more setbacks than breakthroughs, there is a fondness attached to the night we entertained the team from Naples. It was the first time since 1968 against Fenerbahçe that we graced European club football's premier event, but since 2011 we haven't stayed away.