Maurizio Sarri, the esteemed coach of Napoli, sat alongside star player Marek Hamsik to address the press in Manchester tonight – and like Pep Guardiola, the two were full of praise for tomorrow's opposition.
Hamsik was up first and wasted no time with the compliments.
"Manchester City play spectacular football. It will be a fantastic game," the Napoli icon told the media, many of them over from Italy.
"They are a fearsome side. Tomorrow will be a tough match but really, really enjoyable.
"City are one of the best sides in Europe, but we've improved lots too. It's the best Napoli I've played in"
One thing City have learned in previous Champions League campaigns is how a single mistake can be exploited, something Hamsik commented on.
"Mistakes can cost you dear in the Champions League. We know this and we'll try to avoid making any."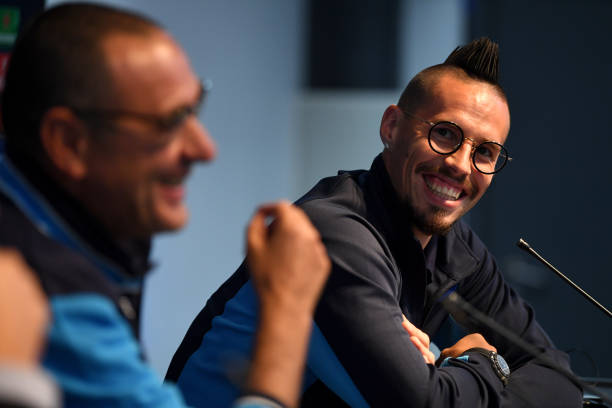 Head coach Sarri was next up and almost seemed to play down his side's chances, saying City were on "another level" to the other teams in the group. Mind games?
"Qualification does not depend on tomorrow. But these are the games that make you strong.
"In qualifying terms, tomorrow is least important. City are on another level, the games with Shakhtar and Feyenoord will be crucial."
And in theme with the love affair going on between the two camps, Sarri returned the many compliments from Pep Guardiola with some of his own.
"I thank Guardiola for the compliments. For me, he's the best manager in the world.
"Manchester City scored 17 goals in their last three games, but are also a very good team defensively.
"Our style of football is similar to Manchester City's, but we'll focus on our own game – with necessary respect but no fear."
Having issued just about every compliment possible, Sarri finished with the big one: "Manchester City are for me, at this moment in time, the strongest team in Europe."
TRENDING! New #HashTag T-Shirts are now available at the City Store – buy online now!