Hart, Kompany, Touré, Silva, Aguero. Since the club was transformed back in 2008, this quintet has formed 'the spine' of City's recent success. You only have to take a look at any successful side from ages gone by to see how important the central column of the starting XI is. Yes, wide players are essential to success but in my opinion, the core of the team is the key to success.
City, I feel, have been extremely lucky to have had such a vastly talented core in recent times. Each of those five, no matter what has happened, will go down as club legends, and rightly so. It is just a shame to me how we have not won more with such a talented group. The club began a seismic transition over the summer and I begin to wonder, how are we ever going to replace that golden quintet we've been so fortunate to watch every week for years on end?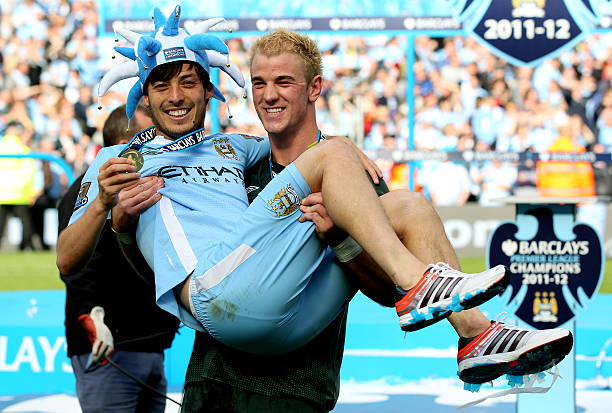 Joe Hart
Joe Hart. A club legend. Regardless of recent events, he is one of the club's greatest keepers and still deserves our admiration. Known for his superb shot-stopping, and sometimes detrimental over-excitability, Hart was a fantastic servant of the club and should be remembered that way.
Out with Hart and in with Ederson. I have written previously on Ederson's fantastic ability, but we are able to see now how important he is to the club's future. At just 24 years of age, he has his finest years ahead of him and can easily become one of the best keepers in the world. City have done fantastically well to secure his talents and I expect him to be the No.1 for many years to come.
Vincent Kompany
The Captain, Mr. Vincent Kompany. Every Blue knows just how superb Vinny has been during his time at the club. Throughout all our successes, he has been a crucial part of the team. Leading the defensive line, he has proved himself to be one of the best centre-backs in the world. Injuries have always been Kompany's downfall and the club have felt the effects of his absence far too often. When fully fit, there is no-one else I'd rather have leading our back line and captaining the side.
Kompany has long been seen as irreplaceable. However, the emergence of John Stones over the past few months has given me renewed hope that he will turn into the defender that he has always been touted as being. Recent performances have given us with an exciting glimpse of the man that could replace our club captain at the heart of the Citizens' defence.
Yaya Touré
Well, what can you say about Yaya Touré? He has been City's colossus in midfield for so many years. Yaya is a game-changing player, and City fans are all too aware of how important his contributions are. Always running the show in the middle of the park, his contributions will go down in City folklore and he could easily be regarded as City's most influential player.
That being said, how do we replace him? The team is flying now with Yaya out of the squad but the central midfield role is one that concerns me. With only Fernandinho, who himself is now 32, occupying the role currently, the club needs to be looking further afield for a replacement for both players. Whilst good results are coming, we need to see past them to address the position at the base of the City midfield.
David Silva
My favourite City player of all-time. An absolute joy to watch every single week, he makes football look so simple. Silva has, like those mentioned before him, been a remarkable servant of the club and at 31, continues to make this City side tick. This one seems too obvious, but in my eyes, Bernardo Silva is the like-for-like replacement for our little Spaniard.
Bernardo was a key man in Monaco's successes last season and it was clear why City felt the need to part with their cash to sign the Portuguese midfielder. Having not featured massively for City so far, Guardiola is slowly bedding him into the side and we are yet to fully see what he has to offer. A superbly gifted footballer, Bernardo looks to be the ideal replacement for his namesake and I cannot wait to see him play for us in the coming years.
Sergio Aguero
Kun Aguero – one of the greatest strikers in world football. People had written off Sergio when Pep and Gabriel Jesus arrived at City but the little Argentinian has proved everyone wrong but continuing to score goals for fun. He is so close to becoming the club's leading all-time goal scorer and rightly so – the man is a goal scoring machine.
Sadly, Sergio cannot play for us forever and it still scares me to think how on earth we could replace the goals. Along came Gabriel Jesus and I started to feel slightly better. Although not identical players, the club brought in Jesus with Aguero's inevitable departure in mind. Jesus has been on fine form for both club and country, leading the line for both, at only 20-years-old. The Brazilian forward has lit up the Premier League this season and looks set to be a mainstay in this City side for a long time.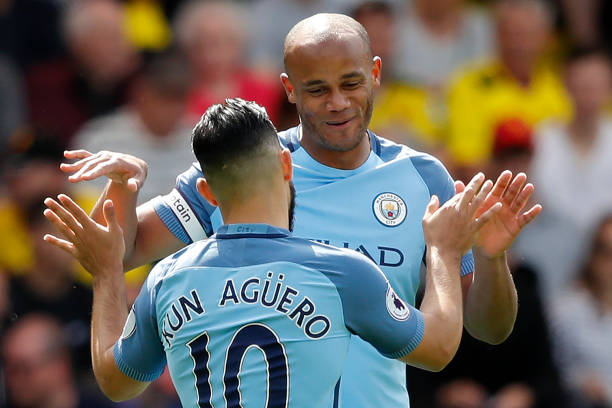 It's gut-wrenching to think of the day where a City side doesn't feature a member of this quintet anymore, but sadly, the day is drawing ever nearer. As mentioned, we have been extremely fortunate to have been blessed with this incredible spine over the last few years. Players will come and go, but not many that mean as much as this bunch.
So, there you have it: Ederson, Stones, Bernardo, Jesus could well be the future spine of City's team (plus a long-term Yaya Touré replacement).
Agree or disagree? Let me know your thoughts!