Kevin De Bruyne may well be better than Manchester City icon Colin Bell – and that is the opinion of Peter Barnes, who played alongside the legendary Bell for the Blues in the 1970s.
In an article he wrote for the Daily Mail, Barnes, who scored in City's 1976 League Cup final win over Newcastle, declared: "Colin Bell was the best I ever played with, but Kevin De Bruyne is as good as Bell if not better — and that's a hell of a statement coming from me."
Bell is idolised among Blues and even has a stand named after him, but Kevin De Bruyne is emerging as the lead figure in what has the potential to be Manchester City's greatest team yet under Pep Guardiola.
"He's the total player. When he plays well — and he does most weeks — Manchester City play well. He can make anything happen," Barnes wrote.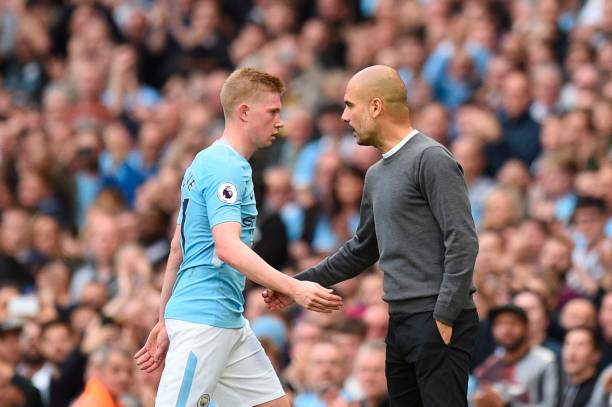 60-year-old Barnes, who won 22 caps for England, also brought up how cheap De Bruyne's £55million price tag now seems, and compared it to what neighbours Manchester United paid for their own midfield ace Paul Pogba.
"De Bruyne cost £55million but when you think what Manchester United paid for Paul Pogba (£89m) across the road, he was an absolute steal."
It was the current Manchester United boss, Jose Mourinho, who offloaded De Bruyne, something Chelsea fans remain sore about. As good as Eden Hazard is, De Bruyne is currently on another level to his Belgian compatriot and, arguably, any other player in the Premier League.
"Jose Mourinho sold him at Chelsea and I bet he's kicking himself now when he sees what De Bruyne is doing for City. He was a young man then but he did well playing in Germany and City are seeing the rewards.
"He scores goals, makes them and he's got great vision. Good stamina, too. Colin Bell could run all day long and not have a bead of sweat on him, but De Bruyne has a great engine."
KDB continues to receive praise from all quarters and if this form continues, may well become the first Man City player to win the PFA Players' Player of the Year award – although given that Sergio Agüero has yet to even make the PFA Team of the Year, it may not be worth getting your hopes up for.
TRENDING! New #HashTag T-Shirts are now available at the City Store – buy online now!