After a summer of mass improvement in several positions, it is once again time to look at the ways we can improve our squad. This may seem a little negative, after all we've looked near perfect thus far this season, but the very nature of being a big team now means that we must always be improving, reinventing ourselves to keep on top, and I suspect there is no one who knows this fact more than Pep Guardiola. The first scout report of the 2017/18 season is on a midfielder who Pep is 'a huge fan of', Sergej Milinković-Savić. Guardiola isn't the only one who's a fan though and City might face competition from the other big clubs of Europe, not least Manchester United.
Background
Milinković-Savić was born in Lleida, Catalonia, on the 27th of February, 1995. At the time, his father was playing for UE Lleida. His father was part of the Lleida team that beat both Real Madrid and Barcelona in the 1993/94 season but ultimately were relegated. His mother was a basketball player, and his younger brother Vanja was released by Manchester United due to the failure to acquire a work permit – he now plays for Torino.
Yet it was in Serbia, his parents' home nation, where Sergej began his career. He came through the ranks at Vojvodina, a team from Serbia's second city, but it only took one season in the first team before he was picked up by Genk aged 19. Milinković-Savić only played for one year in Belgium before being grabbed by an even bigger team in 2015, the side he currently plays for: SS Lazio. Despite almost signing a deal with Fiorentina he chose the Biancocelesti, who paid around £15m for the Serb.
In the midst of this though, despite the fact Milinković-Savić has not yet played for the Serbian national team – I am at a loss to explain why – he was part of the Serbian side which won the European under-19 Championships, and the side which won the under-20 World Cup in 2015.
As I'm writing this, Milinković-Savić has played 84 times for Lazio, scoring 11 times and managing 8 assists, and is coveted by several major clubs across Europe if you believe the reports. His agent, former Chelsea, Atleti and Paris Saint-Germain striker Mateja Kežman, has said that Lazio is a good place for his client to develop and that Milinković-Savić is happy in Rome. But Sergej is only 22-years-old, after all.
Stats
It's too early in the season to take numbers from this year, Sergej has only played 512 minutes of league football. The stats therefore will be taken from last season's league campaigns, meaning we can compare him to Fernandinho and Yaya Touré, despite differences in their styles, which will be elaborated on later. Gündogan, perhaps the most comparable of the three, only played a handful of minutes last year and therefore won't be compared.
Milinković-Savić had a pass completion rate of 73%, a very poor rate compared to Fernandinho (87%) and Yaya's (90%). This has improved to 81% this season, but we'll try to rationalise why it may currently fall short of Pep's exacting standards later.
Sergej won 4.65 aerial duels per 90 minutes, dwarfing both Fernandinho (1.67) and Yaya (1.9). This might have something to do with the fact he's 6'3″.
Milinković-Savić provided 0.23 assists per 90, in comparison to Fernandinho (0.03) and Yaya (0).
Milinković-Savić won 1.75 tackles per 90, similar to Fernandinho (1.8) and Yaya (1.25).
Sergej won 52.82% of his duels last season, in comparison to Fernandinho (42.93%) and Yaya (49.09%).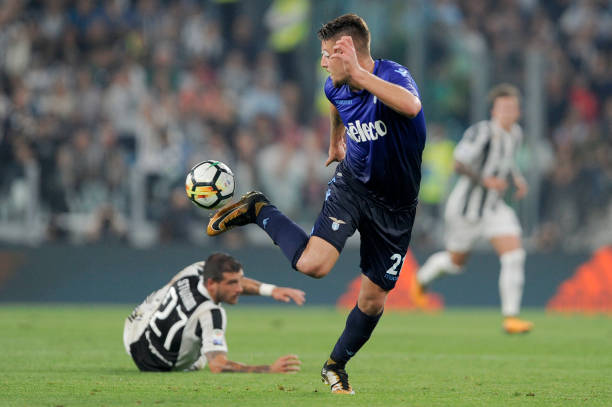 Style
For me, Sergej Milinković-Savić is not only an incredible talent, but also the perfect microcosmic expression of the multi-faceted modern midfielder. Much has been written about Kevin De Bruyne this year, in as much as he seems to play in three or four different positions every single game. He's played as a 6, a 7, an 8 a 10 and an 11 at various points during the season. This is what makes him the best player in the Premier League for me, and it's something we've seen him develop this year on top of last year's masterclass season. Sergej is similar in this way; he can play in any central midfield role to an effective degree, whether it be defensive, supportive and offensive, but prefers to play further up the field, which is why I am still a little uneasy about comparing him to Fernandinho and Yaya, but it seemed more apt than comparing him to anyone else.
His ability goes beyond the stats. In adjectives, Milinković-Savić is tenacious, intelligent, gifted, strong, yet has a brilliant technical side. Most would see his physique, a bustling 6'3 midfielder, and simply assume he was in the mould of a Fellaini. But his ability to retain possession is befitting of a player who is 5'6 and grew up playing on the beaches of Brazil or was developed at La Masia. This is complimented by his smart tackling, both standing and going to ground, and therefore means Sergej is an all-round class act.
Earlier I promised to be an apologist for Sergej's pass completion rates last season. Sergej played in a system which heavily relied on Lazio's primary attacking outlets, Keita Baldé Diao and Felipe Anderson, two tricky wide forwards. This meant he had to try and attempt sometimes longer, generally more risky passes than our centre midfielders, who play in a passing system where De Bruyne or Silva, or both, would come and create small triangles to develop play. I am confident that thanks to his outstanding technical ability, his passing rates would improve dramatically in a City side.
City?
Remember when City didn't have top class full-backs? Remember when City had to pick between Willy Caballero and Claudio Bravo? Remember when our bench would regularly feature the likes of Nolito and Navas? Those were dark, dark days. City's squad is currently verging on monstrous. We have a top-class player in every single position currently, and very good depth in most areas. We have a much younger looking squad than previous years, yet it is still laced with winning experience.
The only position I worry about deeply is the centre of midfield. Arguably our best central midfielder when fit is Ilkay Gündogan, but 'when fit' is the key qualification here and I don't feel completely comfortable depending on him just yet. Then, there's an ageing Fernandinho who is recovering from an average 16/17 with a stellar start to this season, and an even older Yaya Touré, who has played 20 minutes of league football and is surely winding down to the twilight of his sparkling career. Kevin De Bruyne and David Silva have been filling in in the position as well, with unbelievable ease, but that isn't an ideal long-term situation. Phil Foden may be on the cusp of breaking through, and he is ideally our long, long term solution.
I feel the purchase of one midfielder in the age gap of 21-25 would be a really sensible move. I think in two years' time, Yaya and Fernandinho will have been moved on. Foden will hopefully be a fully-fledged first teamer, Gündogan won't, with any luck, sustain another long-term injury. But even in the case he doesn't, without signing another central midfielder we'd still likely be relying on Kevin and, by that point, a very old David Silva (though he never seems to age) to fill in.
It just makes sense to me, and perhaps only Julian Weigl, Leon Goretzka and Jean Michael Seri can be considered in Sergej's league at their age in their position.
Summary
My rating: 9.5/10. I've been convinced for two seasons that City have needed to sign a centre midfielder and Milinković-Savić really fits the bill. He is effective in both defensive and offensive situations, and his experience at circulating the ball to two fast, skilful wingers will come in handy should he get the opportunity to play with Leroy Sané and Raheem Sterling. He has many raw attributes that Pep can help develop, and would fill the gap in the centre of our midfield come for many years to come since his next birthday is his 23rd. I'm certain that since he has not quite burst onto the scene so to speak in a massive way he might not cost too much – though it is rumoured Lazio rejected a huge bid for him in the summer.
What do you think of Sergej? Should we prioritise a centre midfielder over all other positions for the next window? Who should we look at next?