As Mark Hughes brings his Stoke team to the Etihad on Saturday, it's time to look back over his reign as City manager and to contract his fortunes with that of his opposite number Pep Guardiola.
The appointment of Hughes prompted a mixed reaction from City fans to say the least. His deep-rooted links to Manchester United proved too much for some, and indeed there would be an element of the Blues faithful who would never take to him. Other fans were more hopeful, Hughes's time at Blackburn was an unquantifiable success. The Welshman took Rovers from relegation favourites to the top 6 and European football; they also experienced three consecutive cup semi-finals. They did so with a grit and determination, coupled with eye pleasing football that won many over.
Rovers didn't pad their stats by just beating the weaker teams in the weaker teams in the division either; they regularly proved a thorn in the side of the elite, doing the league double over United in Hughes's second season in charge.
With all this in mind City under Thaksin Shinawatra and Gary Cook agreed a then world record compensation deal with Blackburn for Hughes's services. The Welshman was quick to re-shape the squad and brought in two future club legends in the form of Vincent Kompany and Pablo Zabaleta, as well as bringing back fan favourite Shaun Wright-Phillips.
Then on the 1st of September 2008 the footballing landscape was to change at Manchester City forever. To say Hughes had now inherited an altogether different position is the understatement of the century. The Abu Dhabi United Group rolled in to East Manchester and promised riches that nearly every manager or fan base in the world could only dream of. Poisoned chalice springs to mind.
And this is where Hughes deserves some sympathy. He was the first manager post-takeover, in a position that many don't get to experience in their careers. Whilst he had a blank chequebook to work with, he also had to contend with the rife and almost fever pitch speculation from the press who linked City to every star player in the world. But any news on City would be tinged in bitterness in some quarters, City were no longer the plucky-losers, masters of their own demise, they were now 'Moneybags Man City' and were trying to join a party that they didn't have an invitation for.
Hughes was there to be shot at now, previously at Blackburn he was writing his own story of a talented young manager getting the most out of players that other teams didn't value. He would be under the magnifying glass more than any other manager in the league, any setback would be met with mirth and disbelief, how could City lose with all that money at their disposal?
But City's new boss had hardly inherited the footballing equivalent of the Harlem Globetrotters. The Blues on Hughes arrival were a team devoid of confidence, with a large portion of the fan base angry at the dismissal of predecessor Sven-Göran Eriksson. Replacing the charming Swede would be a tough act to follow. During Eriksson's reign City had undergone a transformation, bringing in technically gifted players from all over the world. The result was a barnstorming start to the season that capitulated with a 'typical City' type grace. The 8-0 demolishing at the hands of Middlesbrough proved too much for Shinawatra to tolerate. Hughes must have known he had a massive rebuilding job on his hands.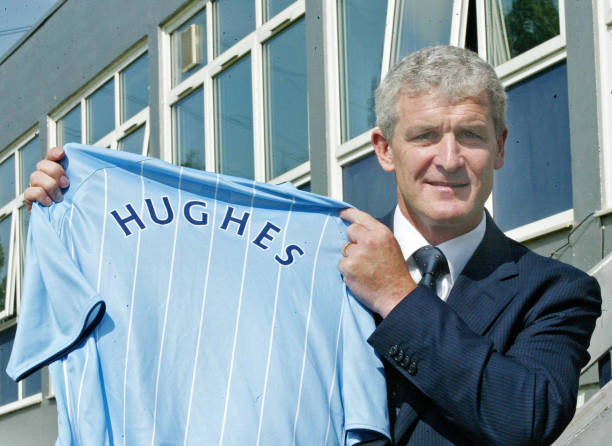 Rebuild is certainly what Hughes aimed to do; City spent an eye watering £270m under his under year-and-a-half tenure at the club. The Welshman will have accepted that he was under huge pressure to get things right almost immediately. Whilst the board made the right noises, Hughes was never 'their man' and would have to fight hard to gain the trust of his new bosses, to achieve this he tried to beef-up the mishmash of a squad he had inherited.
From the £270m spent, there would be successes and failures. The aforementioned Kompany and Zabaleta would prove to be fantastic buys, with the latter still captaining City now. Gareth Barry and Joleon Lescott added a defensive solidity, Craig Bellamy was exciting in glimpses and Carlos Tevez proved to be huge hit.
Mistakes were made though, and in Hughes's attempt to find success through similarity he splurged £18m on Roque Santa Cruz. Injuries took their toll and the Paraguayan failed to live up to the price-tag. Emmanuel Adebayor joined for £25m and despite a frenetic start which culminated in a dominating performance and wild celebrations against his former club Arsenal, the Togo international faded to obscurity at City. And lest could we forget the face of City's takeover, Robinho. The Brazilian joined from Real Madrid and City fans couldn't believe their luck at first, however Robinho blew hot and cold and could not shine consistently in the rigours of the Premier League.
City dazzled and disappointed under Hughes, in his first season he had patience from those above as this was a new project. However the year after the same inconsistencies were too much to bear and he was ousted halfway through the season. The Welshman had the winning lottery ticket but only a finite time to spend his winnings
Indeed, it all ended very acrimoniously for Hughes, as he was sacked just before Christmas in 2009. Roberto Mancini was courted very openly by the Blues, and regardless of what Hughes failed to achieve at City, he deserved better than the manner of his depature. Little did we know then that the enigmatic Italian would deliver what we all craved.
Returning to the present day and the atmosphere at Manchester City is an altogether different one from which Mark Hughes experienced. Pep Guardiola is managing a team that has won the league, the FA Cup and the League Cup, whilst getting to the semi-finals of the Champions League. Success is now expected at City.
Success is something that Guardiola is used to, he took over a Barcelona team in flux and during his reign enabled them to play a brand of football that no-one could match. He did this with a strong focus on the academy too, with graduates from the famed La Masia featuring heavily. Pep then took a break before joining Bayern Munich and continued to pick up trophies, although he couldn't replicate his Champions League success he had with Barcelona at Munich.
Guardiola is so used to success that his first season at City was his first without a trophy. But like Hughes he was taking over a team in a state of flux. As the announcement was made in February 2016 that he would be joining, it had the unintended effect of derailing the last few months of Manuel Pellegrini's season. Whilst City oddly performed well in the Champions League, their Premier League form crumbled and they clung on to the top four in the end.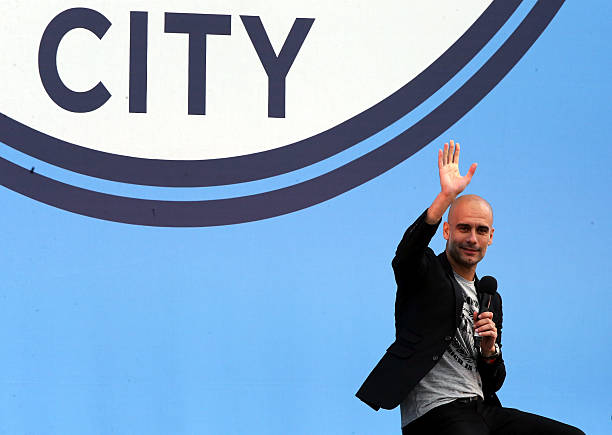 Pep took over a team with low confidence, an aging squad, and indeed in his first year there proved to be too many problems for him to sort out in one season. Having a CV as strong as his will buy you time, Hughes wasn't so lucky.
There were glimpses of promise during Pep's first season, City started with a verve and vitality that the opposition could only admire, culminating in a fantastic performance in beating Manchester United and his old rival Jose Mourinho away from home. But the old problems from Pellegrini's reign seeped in, the aging squad couldn't keep up the pace and City's failure to strengthen in key areas, particularly at full-back cost them dearly. We needed to rebuild again, and there aren't many managers in the world who can attract players like Guardiola can.
It is a common theme with new signings that all it took was a phone call from Guardiola and their mind was set. This has seen much sought after young talents joining City as opposed to other top teams. Indeed, players like Bernardo Silva, Benjamin Mendy and Gabriel Jesus have all quoted the Spaniard as their main inspiration and driving force in joining the Blues.
Pep also knows how to handle big name players, which is maybe something Hughes hadn't experienced as a manager. The Spaniard has had plenty of tough calls to make throughout his career, resulting in fallouts with Ronaldinho and Zlatan Ibrahimovic at Barca, but irrespective of this his team continued to be successful.
Time will tell on whether Guardiola will reign supreme at City, but this season things seem to be different, there doesn't appear to be a false dawn on the horizon. The free-flowing football is still evident from the first season, but this has been matched with defensive solidity, with John Stones and new signing Kyle Walker in sparkling form. Fellow new signing Danilo also appears comfortable in most positions across midfield and defence. Big wins at home to Liverpool and away to Chelsea have got City fans dreaming of success again and if Pep does crack the Premier League this year, it could be in a style of which we haven't seen on these shores before.
It must be acknowledged though that the club Guardiola manages is an altogether different proposition than what his counterpart had to deal with. Guardiola is at the helm of a club now used to winning, he's the benefactor of world class training facilities and is at the helm during a time when City continue to strive for domination in the form of multiple club acquisitions and partnerships around the world. Whilst Hughes was in charge all this was just a pipe dream, a hope of what may come.
Looking back Hughes's time at City is much-maligned, it was a time when money has thrown about with an apparent reckless abandon in the hope that a team full of new players could gel into top-four contenders immediately. This didn't materialise but some of Hughes's signings endured and have become players we'll tell our grandchildren about. However, if Pep can deliver on the promise shown and the foundations laid so far, the grandchildren might be in for many long chats on the mastery and dominance of City under Guardiola.