With the season well and truly underway, Pep Guardiola has established his core group of regular players – the lucky fifteen with a firm grasp on their place in the first team. From Ederson in goal all the way to Sergio Aguero up front, these are the players who can expect frequent game time, even if it is occasionally coming off the bench. The flipside of this is that it leaves an assertion of 'fringe players' – outsiders who must either wait for an injury crisis or fight hard in training for the opportunity to impress. Here, I take a look at the back-up brigade, the bench-warmers, the Carabao-cuppers, the players for whom a place in the matchday squad is far from a guarantee…
Claudio Bravo
After a nightmare debut campaign in English football, the Chile captain looks set for a season on the sidelines behind impressive new signing Ederson. Bravo's first campaign at the Etihad was a huge disappointment. Although his distribution was exactly as good as promised, fans (and everyone else, for that matter) found him lacking in presence, weak in the air, and often… well… unable to save a shot. However, the past must be taken into account, and Bravo's past proves that he's an incredibly capable goalkeeper, with a strong stint at Barcelona and two Copa Americas under his belt. Unfortunately, though, Guardiola couldn't afford to give him any more time to settle and swiftly bought in a replacement – and one who, in Ederson, will be difficult to usurp. At least Claudio will be guaranteed some starts in the domestic cups, and will always be ready in the event of an injury to our new #31.
Danilo
As the cheapest and least in-form of the three full-backs City bought in the summer, Danilo was always going to find game time hard to come by. But he's already proved his usefulness this season. Boasting a surprising versatility and relentless engine, the Brazilian can slot into Pep's defence pretty much wherever he's needed. This is a talent he showcased best in the home demolition of Liverpool, playing no less than three positions over the course of the match. Watching Danilo, though, I get the impression he's not come all the way to Manchester to be anybody's back-up. He wants to be a regular starter and, on his day, he's more than good enough to win that right.
Phil Foden
Foden is a tough one. Play their cards right, and City could find themselves with the best English player of his generation on their hands – but neglect him and he could follow Jadon Sancho's example and look for game time elsewhere. The tricky thing here is knowing how to use him. Is Foden ready to start in anything other than cup games against lower league opposition? I don't know, and to be honest the only way we're likely to find out is by trying it – but who do we drop for him? It's far from a simple dilemma. But one thing is for sure: Phil Foden has all the quality to go to the top and if there's one manager who can help him get there, it's Pep Guardiola. Foden is currently tearing up the U-17 World Cup with England and is only going to get better- he'll be pushing for a matchday squad place next season if we let him.
Eliaquim Mangala
It's hard not to feel a little sorry for Mangala. Signed from Porto in 2014, the French defender has found his opportunities increasingly limited over time and was eventually pushed out on loan to Spain last season. After a very good spell at Valencia, he's back – even turning down a deadline day move to Crystal Palace in a bid to carve out a place at the Etihad. Sure, he's not the best centre-back in the league, but a mixture of bad luck and inconsistency has made his career very difficult since joining City, and now he finds himself fourth in line. And much like Princess Charlotte, this means he's unlikely to ever actually get near the top.
Brahim Diaz
Brahim is special, even more so – in my opinion – than Foden. His dribbling is superb, his technique sublime, his movement scintillating. The young Spaniard rose heads last year by becoming the only foreign-based player to be called up to his youth national team and has dazzled ever since. Even the most casual of City fans know Brahim's name after two goals in the preseason tour of the USA – a late screamer against Real Madrid and an equally late poacher's strike against Tottenham. Much like Foden, though, the problem lies in knowing how to manage the youngster without putting too much pressure on his shoulders, or doing the opposite and leaving him frustrated.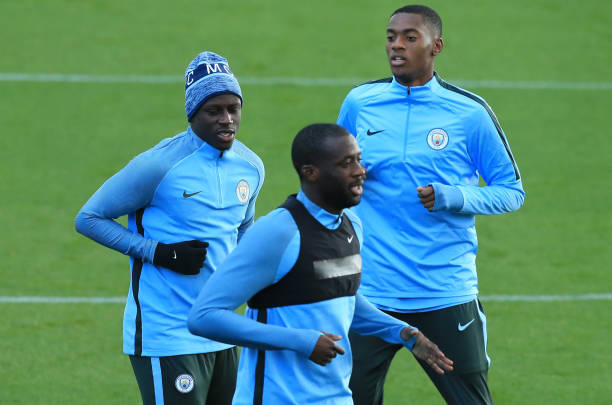 Tosin Adarabioyo
At just 20 years of age, it already feels like Tosin Adarabioyo has been around for years – probably because he has. Even in Manuel Pellegrini's final season the English defender was getting minutes, but he's understandably been stuck behind more experienced centre-backs, from Vincent Kompany to Martin Demichelis, in the pecking order. Tosin has made the bench on occasion this season, though, and with the rise to prominence of Pep's 3-5-2 formation opportunities could be about to open up for the youngster. He'll certainly have his eye on a place in the Carabao Cup games and, after Christmas, the coveted FA Cup fixtures too. However, he'll need to impress in those games if he wants a taste of more regular first-team action.
Arijanet Muric
Here we have a 'keeper who is, by all accounts, one for the future. Aro Muric is still just eighteen years old but is already finding himself in a position of trust from City, being our third choice this season. This means that, in the absence of the loaned-out Angus Gunn, Muric is expected to slot in between the sticks should anything happen to Ederson and Bravo (unlikely, I know, but definitely a possibility worth preparing for). The beauty of this is that Muric has the chance to become involved in the first team but isn't currently expecting any actual minutes. That said, the scope is there for the Montenegrin to make a breakthrough in the future. Towering at 6'5" and utterly fearless, he certainly looks the part.
P.S: He does need to stop watching those Nolito highlight videos though – headbutting opposition players won't get him anywhere.
Fabian Delph
Interestingly, if Delph can remain fit he may find himself right at the heart of the action this season. Filling in superbly at left-back since Benjamin Mendy's injury, the Englishman has proved his worth with some emphatic displays. Delph's unrivalled energy and underrated technical skill puts him in prime position to become the go-to Mendy replacement for almost the entirety of this season. The problem, sadly, lies in his injury record. Delph is a good example of a fantastic player who just cannot seem to stay fit. If things go our way, though, his luck will start to turn and Fabian can have his first great season in a City shirt.
Oleksandr Zinchenko
Of the five 'youngsters' in this list, I'd argue that none have a better shot at senior minutes than Oleks Zinchenko. The Ukrainian looked a special talent less than two years ago playing in Russia, before being bought by City and immediately loaned out to PSV Eindhoven. In the Netherlands, Zinchenko impressed when given the chance, but his manager wasn't too keen on giving minutes to a player who would be gone in the summer and so the 20-year-old struggled for opportunities. Like Danilo, Zinchenko's biggest advantage here is his versatility – he's been known to play in a multitude of positions across attack, midfield and defence. Two-footed and highly capable with the ball at his feet, this is a player who is ready to step in wherever he's needed. The only thing missing is that, at 5'9", he probably wouldn't be much good in goal. Still, I'm sure he'd give it a go if Pep asked.
Yaya Touré
It almost feels wrong to call the legend that is Yaya Touré a fringe player, but it looks like that is where we stand. With just one appearance under his belt all campaign, the Ivorian faces serious competition from the likes of Fernandinho and Ilkay Gündoğan. And at 34, he's not getting any younger, with his fitness and pace understandably taking a hit from time. That said, big Yaya still has something to offer this City squad if he can get back to peak condition. His passing range and vision are still among the best in world football, and big-game performances will always be entwined in his DNA. When injuries and fatigue hit – and they will – in the busy winter period, Pep may find himself needing to call on a City hero for one last big season.