9th August 2016 — The date of a controversial arrival through the Etihad Campus' reception, carrying a transfer fee that enraged and perplexed the average football fan enough to take to Twitter and lambaste the business done to bring in someone carrying bags of potential. John Stones was the arrival, set at £47.5 million but not rated highly enough by his critics to warrant such a price.
His last season at Everton before signing for Manchester City was one of inconsistency — despite putting in some incredible displays throughout the campaign, there were sometimes issues surrounding a bit of an ego festering in the 23-year-old's arsenal. That 'calm down' moment to Everton fans in Goodison's Park End perfectly summed up Stones' young laddish burning desire to do more and be more but without the head of a matured footballer at the time.
The 2016/2017 season wasn't to be an improvement on his final season at Everton, if anything the grass was definitely not greener on the other side at first for Stones, having to fight off criticism from all angles — pundits and fans alike — whilst also trying to step up his game to a peek standard set by Pep Guardiola.
The potential was undoubtedly there, Pep knew that, we all did. It was about steadily harvesting that potential into something greater. A moment that encapsulates this belief among all others is Stones' battle with Falcao at the Etihad back in February.
A 5–3 victory in which the young defender elevated from pantomime villain to one of the heroes in a matter of minutes. His fluke led to an expertly taken Falcao goal, having not cleared the ball from the Colombian's feet when the position was his to lose. But, to sum up his irreducible tenaciousness and desire to always come back stronger, Stones soon after made amends by prodding the ball into the back of Monaco's net from a corner — giving City the lead.
This chain of events leads you to why the Englishman will eventually be a huge success, his unquestionably re-found attitude.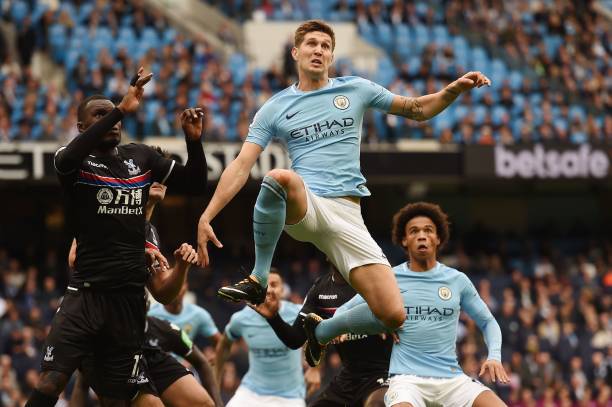 This season we've started to see glimpses of just how large the potential is, Pep's mentoring is shining through and he already looks twice the player he was just six months ago. Always throwing himself into every shot fired in his direction, always leading out from the back with composed poise — Stones has a wet appetite for improvement and success.
There are specifically two performances that leave no doubt in my mind that the former Barnsley defender will one day be one of the Premier League's most accomplished centre-halves. Feyenoord away and Liverpool at home.
The latter match displayed uncompromised improvement defensively this season. So often last year, when Vincent Kompany briefly overcame his injury woes, Stones would act as Kompany's cover act but looked uncomfortable when paired with Nicolas Otamendi. This year, the opposite is happening. Instead, the England international is taking charge of the back four and assisting Otamendi heavily on the cover.
As displayed in the Liverpool match, Mohamed Salah ran riot down the right flank at Otamendi's expense, constantly leaving the Argentine defender for dead. In steps Stones, covering space left for the Liverpool winger to dribble into and stepping up to the plate, throwing in challenges wherever possible and not allowing his centre-back partner's lack of positioning to exploit City's backline.
The former match highlights another strength of Stones' this season, going forward. Throughout the 90 minutes, he helped dominate the ball to such an extent it looked more like a typical Campus training session about to go up on YouTube than a Champions League encounter.
His distribution was faultless and the reward was a well deserved brace that embodied hunger. The first goal, despite being flukey and more Feyenoord's defensive error, was the result of Stones being miles ahead of everyone else to leap on to a David Silva cross. The second, more of the same again — De Bruyne the supplier this time — as Brad Jones could do nothing but watch Stones' bullet header fly past him for a well deserved goal.
As of now, the £47.5 million price tag looks more irrelevant than ever. The rise of Stones is evident, and in 24 months time fans could be looking back at the birth of one of City's most crucial spine players for years to come.