In Pep Guardiola's 10 years as a football manager only a handful of players have convinced him that they are utterly untouchable. At Barcelona it was the world's best player Lionel Messi, Xavi Hernández and Dani Alves who formed the axial skeleton of Pep's side, each collecting over 16,000 minutes worth of game time during Guardiola's four seasons at the Nou Camp. In Germany only Philipp Lahm and Robert Lewandowski proved to be truly immune from rotation, a policy the Catalan strongly advocates.
Those invulnerable to the tinkering hands of Guardiola must be a level above. They must be intelligent, play with eyes in the back of their head; they must lead, direct their teammates into space, play the ball into that space with two, three men trying to stop them from doing so; they must be fit; they must be disciplined; they must track back, bomb forward. Most of all, they must be decisive. It's a list of attributes only the finest players in world football can call upon with consistency week after week, and for Manchester City, that player is Kevin De Bruyne.
The Belgian has played 4,695 minutes since Guardiola took over, more than any other player in the squad, and it is testament to his ability that he has made the transition from a no.10 to a deep-lying playmaker look so simple.
Pep deserves credit. The deeper role gives De Bruyne a better view of his surroundings, a row Z seat that space multiplies in front of. Giving a player like De Bruyne that picture of the game is like giving a trained sniper an unobstructed view of their target from a 40-storey tower; the results can be deadly. The 26-year-old has already created more chances (24) than any player in the division this season.
He scores goals, too. Big ones. De Bruyne's left-footed, match-winning scorcher against Chelsea on Saturday came just minutes after David Silva had scuppered perhaps a simpler opportunity to put City ahead at Stamford Bridge. While Silva is arguably the best player in the club's history and our chief provider of assists so far this term, he lacks the decisiveness that his midfield partner offers. It was as if De Bruyne had huffed 'enough is enough' and took the game into his own hands after watching his teammates scupper multiple chances.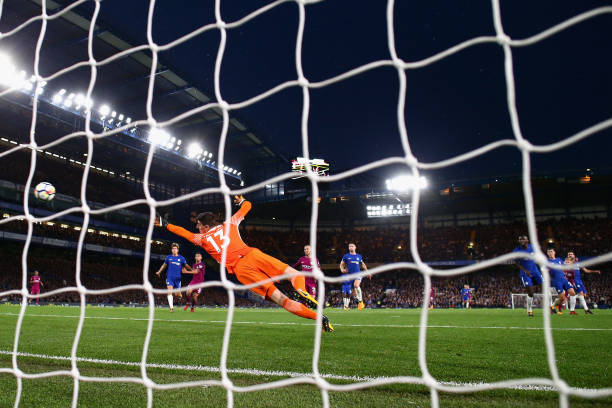 After the game that seemed to mark a watershed moment in Guardiola's time at the club, the manager heaped praise on City's match winner.
"Kevin is a guy who is clever, humble and shy guy but you can see the quality he has. We are lucky to have him," Guardiola told BBC Match Of the Day.
"He was again outstanding. He makes absolutely everything. He is good in small spaces. He has speed, fight and can attack through the channel."
De Bruyne's humility is something else that defines his character. He is a family man who prefers home comforts over night life and last season insisted that he, his agent and his fiance would celebrate City's 2-1 win over Manchester United with a takeaway rather than a trip to a fancy restaurant. He's a player rival supporters can't help but admire.
He's humble, but also supremely confident in his own ability. His influence in the team has made him an authoritative voice in the dressing room and a member of the 'five-player council' that includes Sergio Agüero, David Silva, Fernandinho and Vincent Kompany.
Speaking after being handed the captain's armband by Silva in City's 4-0 Champions League win over Feyenoord, De Bruyne expressed his delight at being regarded as one of the senior members of the team.
"I know I'm number five in this team and in the players 'council'. "For me it was also nice to be seen as one of the more adult players in the group. That's fun."
It is De Bruyne's impressive and generous list of attributes, his ability to carry out instructions so efficiently, that makes him untouchable in Pep Guardiola's current Manchester City team. Harry Kane scores goals for fun, Eden Hazard can bully defenders when on form, but there is no more complete player in the Premier League than Kevin De Bruyne.