When Aleksandar Kolarov left Manchester City for Roma in a £5.25million deal during the summer transfer window, it was a sale that Pep Guardiola only sanctioned because the player craved a return to Italy.
Guardiola had come to count on Kolarov as a dependable player in his team after converting him to a left-sided centre-back, given that the Serb, like fellow full-backs Zabaleta, Sagna and Clichy, didn't really have the required skill set and pace to be a quintessential Guardiola full-back.
Pep would have liked to have kept Kolarov for at least one more year, at which point his contract would have run out, but the club respected his wishes for a return to Rome.
And the 31-year-old has been excellent in the early stages of the season for Roma, where he has been reunited with former Man City teammate Edin Džeko. Roma have won five of their first six Serie A games, although the league is so top-heavy that a single defeat already has them six points behind leaders (and City's upcoming Champions League opponents) Napoli, with a game in hand.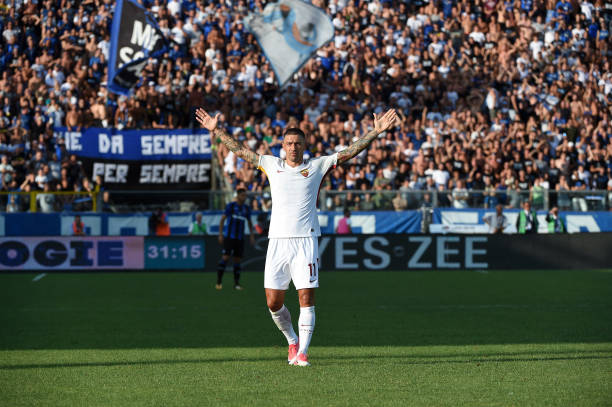 Italian news portal TMW has rated Kolarov as one of the best summer signings of any Serie A club, bearing in mind the low transfer fee and his impact on the side, where he has returned to his natural left-back role.
The TMW review of Kolarov's performances reads: "After Mario Rui's farewell, the former Manchester City man made an immediate contribution.
"His experience with Manchester City and Pep Guardiola seems to have made him grow so much, especially tactically.
"His previous experience in the Italian league in a Lazio shirt did the rest.
"And so Di Francesco has found himself at a low cost, a dependable player thanks to the intuition of Monchi [sporting director], who can bring experience, especially in the Champions League.
"His explosive left foot has already left victims on the road as evidenced by his goal against Atalanta, plus assists against Hellas Verona and Benevento."
It's safe to say that Kolarov is not yet in the Indian summer of his football career and still has plenty to offer his new club Roma.
And had it been up to Pep Guardiola, the long-serving Serb would most quite likely still be part of the squad, perhaps in more a back-up role like the one currently occupied by Eliaquim Mangala.