After a fantastic start to the season Raheem Sterling has been catching the eye and earning admiration from Manchester City fans. Can it be said that Sterling is finally loving his football under Pep Guardiola?
He's scoring important goals, looking dangerous whenever he has the ball and linking up with his teammates exceptionally well. In the process he has earned rave reviews from his manager, and whilst there have been glimpses of promise before, now this looks like the real thing.
Looking back though there have been false dawns with Raheem during his time at City, when he first signed he hit the ground running but his season curtailed off badly. He finished with 6 goals and 2 assists in the league but half of his goals came in one game against Bournemouth.
The 2016/17 season saw the emergence of Sterling as more of a creative influence for City, as he assisted 11 in the league. Nevertheless his season seemingly petered out again after a bright start which saw him involved in 7 goals in his first 6 league games.
Sterling's fleet of foot and trickery clearly lends itself to City's free flowing style of play. However during his stay he has not always looked like a man who believes he can cut it with his star-studded comrades.
This season though seems to be a different story for him, and a key factor in this is his new found self-belief under the tutelage of Pep.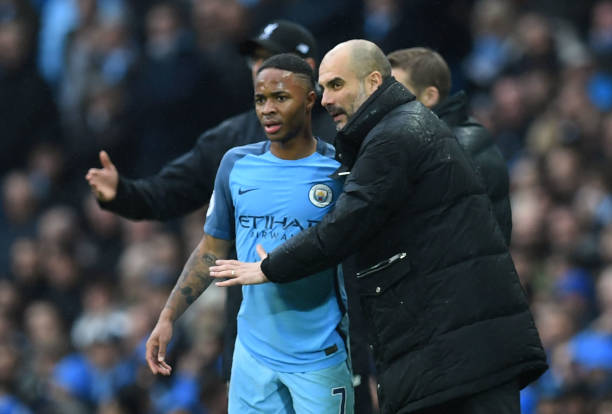 Confidence
If you analyse Raheem's start to the season, you'll observe a man full of confidence. In the past this has been a fleeting and rare commodity for the winger, who has delighted and frustrated the City faithful so far with his hot and cold displays. Nearing the end of Manuel Pellegrini's reign Sterling looked lost and the Chilean lost faith in him, but the rebuilding process has begun.
A fully confident Raheem Sterling is a frightening prospect for opposition defences now, and this season he looks a player reborn. He's taking chances, taking on the opposition, and finally (albeit not to the degree in which he deserves) taking the plaudits.
You can see that Sterling looks an altogether happier man, and his relationship with Leroy Sané on and off the pitch is evident for all to see. And indeed he is becoming a player who his teammates clearly trust, as the creatives such as David Silva or Kevin De Bruyne show no hesitancy in playing to Sterling in tight situations and looking to him to help them unlock defences.
He seems to have improved his footballing IQ drastically, and constant encouragement from his manager will be music to his ears, in particular how resolute Pep sounded in response to rumours that we wanted to trade Raheem for Alexis Sanchez.
Where Guardiola teams flourish is in their fluency and movement, with or without the ball, and this is playing into Sterling's hands. When he's played he's been part of a fluid front three, often interchanging with Sané and never afraid to cut inside to look for the ball or create space for rampaging full-back runs.
His off the ball movement has been a revelation, and has resulted in him being in the right place at the right time to land the killer blows. This season we see a player who is now unafraid to take responsibility with the ball, to dribble more, to show off his improved shooting ability and to stand up and be counted.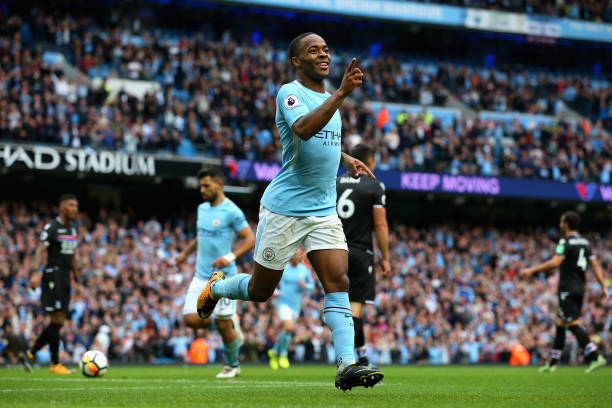 Influencing games
In the past two seasons Raheem has appeared keen to offload the ball as soon as he receives it, or to dally in a clear shooting opportunity. Now he's driving at defences, taking ownership and delivering for City when we need him most, as his vital goals against Everton and Bournemouth have proved.
City laboured in both of those Premier League games, and in a theme which has continued from last season, missed a hatful of chances. When Raheem signed City fans hoped he'd be a match winner but this hasn't materialised on a consistent basis. Nevertheless this season he isn't scoring the fourth in a 4-1 win, he's scoring vital goals when we needed someone to step up.
The Crystal Palace game also highlighted Raheem's influence, where many thought it would be a forgone conclusion, but City struggled in the first half and the nerves were only calmed after Sterling scored a brace. It is down to moments like this that a mixture of Sterling and Sané is keeping Bernardo Silva out of the team, Pep must love being spoilt for choice.
So now City have someone who can help the match winning burden that used to fall on Sergio Aguero, or at times Yaya Touré, there is a buzz of expectancy when Raheem receives the ball and also a buzz around what he could still achieve.
Promise
It is easy to forget that Sterling is still only 22, and regardless of the sum City paid to Liverpool, his is still a career in its infancy.
But the promise is there for all to see, and he is clearly someone who Guardiola is starting to fully trust, which can only boost his confidence further.
We have been here before with Raheem start the start of a season, but if he can keep this form up for a full season, and consistently be someone who City can count on, then he will go some way to fulfil his promise and potentially be a vital player for City for years to come.