No sooner had Raheem Sterling been submitted as a potential bargaining tool in a deal for Alexis Sánchez than self-righteous opinion pieces questioning the principles of Pep Guardiola had begun to emerge. I'm not one to blow the anti-City agenda trumpet, but if I were, I'd present the odd reaction to this transfer rumour as my evidence.
Chief Football Writer of the Daily Mirror and Arsène Wenger biographer, John Cross, was the first to break the news, claiming Sterling had been offered to Arsenal to help push through the Sánchez deal. City responded immediately, briefing press close to the club that no such offer was made, and that it was in fact Arsenal who had suggested including the 22-year-old winger in any potential deal.
The dust should have settled there but with just 48 hours of the transfer window remaining, you'd be having a laugh. And so the story grew, developing tentacles, clinging to Arsenal's infamously loopy and City's half-sarcastic, half over-sensitive online fanbases and throwing them together into a kind of cyber mosh-pit. In a poll run by popular Arsenal fan account Gunnerblog, 56% of 6,464 voters said they would accept cash plus Sterling for Sánchez, while City supporters balked in unison at the mere suggestion of such a deal. For a player who's booed pretty much universally, those figures aren't half bad. Must mean he's good or something…?
Journos from opposite ends of the country were also brought into battle. The Independent were the first on the scene to report City's reluctance to include neither Sterling nor Sergio Agüero in any deal, interested only in a cash-only agreement. Sky arrived soon after to support those reports, suggesting it had been Arsenal who had initiated talks over business for a part-exchange.
And so back to Cross for confirmation. In response to my question asking whether it had been Arsenal or City who had mentioned Sterling's name in negotations, Cross replied: 'City say Arsenal. Arsenal aren't actively chasing a deal, they don't want to sell. So I'll leave that up to you…'
Well, if it's up to me then Cross's reply suggests Arsenal would never have even entertained talks without City being at least somewhat open to a player exchange. Nevertheless, Cross's reluctance to reply with a simple 'yes, it was City who put his name forward' tells me that they probably didn't, and that he's making the kind of inferences any gutted Arsenal fan would make at a time like this.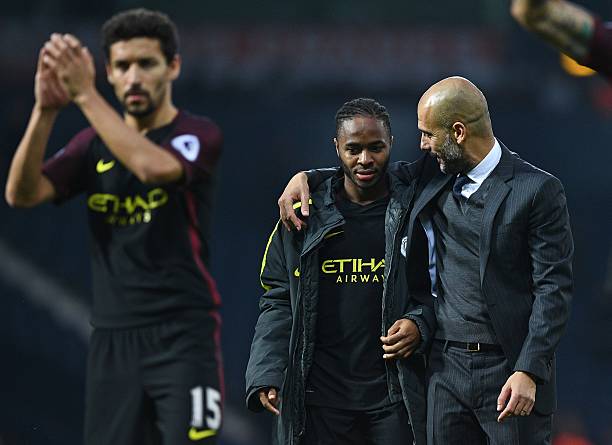 Who cares who mentioned his name? Well, it's certainly worth discussing. Why? Because Guardiola has been a proponent of nurturing English talent in the past, famously calling Sterling during a disappointing Euro 2016 campaign to reassure the winger that he was in his plans and overseeing the player's best season in English football to date. As various writers have mentioned in their rather premature articles today, offering up a 22-year-old Sterling as bait in a deal for a 28-year-old Sánchez would represent an unnerving shift from the ideals that made him such an icon at Barcelona, but there is no real evidence that he is about to do that.
And that's what makes hot-takes like Paul Wilson's in the Guardian today so bizzare and frustrating to read. Yes, it creates debate but it's also based around a complete fantasy. 'Pep Guardiola should be nurturing Raheem Sterling not spending more cash' reads the title of his article, ignoring the fact that Guardiola has arguably dedicated more of his time to Sterling than any other player in the squad and has no plans to let him go.
As for spending money, City will continue to be battered for splashing the cash until the day the sun explodes. It's something Pep Guardiola, who was expected to be a 'breath of fresh air', will come to get used to while Jürgen Klopp continues to win the praise of Premier League commentators for being, well, a breath of fresh air despite spending £40m on a player who has scored nine goals in six years and Arsène Wenger maintains his exemption from criticism despite churning out the same rubbish every year and turning his back on a 24-year-old English winger.
There's no need to defend Guardiola's summer spending because even his most fierce of critics will secretly admit when not under pressure to cater for a specific audience that City were in dire need of rejuvenation in this window. If a world class player like Sánchez is available you buy him, and if we don't, you just know there'll be a piece on ESPN tomorrow suggesting why United, with their Marcus Rashfords and Jesse Lingards, should be putting in a bid.