When Patrick Roberts wheeled off in celebration at the Etihad last December, I really didn't know what to think. With his jet-black hair carefully slicked back and a closely shaved bristle on his cheeks, the wonder-kid we brought in from Fulham no longer seemed to fit that label. The fresh-faced, feverish bundle of energy now carried an aura of composure, class, and dare I say, from his appearance anyway, Andrea Pirlo.
A shame then, that when he ran off to celebrate his wonderful solo-goal that night, he was wearing the black of Celtic.
His first, and indeed only goal in a senior football match involving Manchester City, his club for over two years, was against them. A fantastic goal it was too – shimmying left and right before pushing the ball past the outstretched leg of Gael Clichy, bursting into the box with immaculate control before sending the ball through the legs of a defender and into the far corner. Watching on from the stands, silenced by the goal, I was confused.
Should I be sulking that we conceded, or happy that one of our own players, sent out on loan to the Scottish Champions, skipped through our defence so majestically? As it turns out, neither. The game was a meaningless conclusion to an already decided group-stage and Roberts, certainly with the way it's looking right now, won't be getting a chance at City anytime soon.
That's because we're hearing rumours that the 20-year-old is on his way back to Celtic after his loan spell expired this summer. I think if I were to sum up the reaction of most City fans to this news, it would be with a sigh. Celtic fans however, will be jumping for joy.
A tricky winger with bags of pace and magical feet, Roberts terrorised full-backs all season long as The Hoops rampaged to the most emphatic of title wins. Thirty (yes, 30) points clear at the top and unbeaten all season, it was embarrassingly easy. The young man was superb as he registered eleven goals and eleven assists. He only looks set to get better.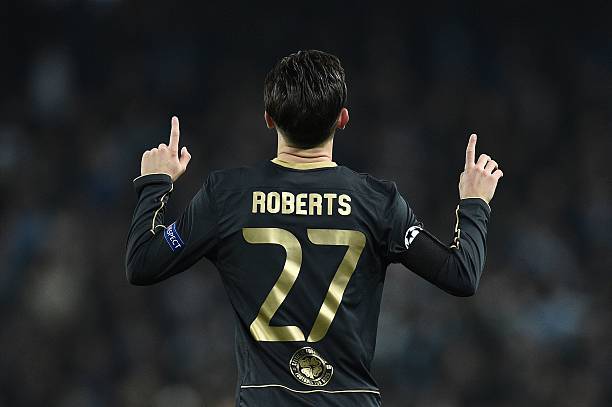 Yet, there are still worries. Roberts' increasingly likely decision to spend another season in Scotland has been met with grumbles of discontent from fans hoping that this year, after such impressive performances in Glasgow, he would be competing with the likes of Sané, Sterling and Bernardo Silva for a starting spot in Manchester. Instead, it looks like he'll be lining up alongside Scott Sinclair.
It certainly seems, from the outside looking in, that Roberts is taking the easy way out, something that has caused frustration in amongst our support. Nobody has any doubt that he'll stroll straight back into the Celtic first team and score a hatful of goals. He's a fantastic player. He's better, no disrespect, than most of the defenders in the Scottish League.
So, is it a beneficial move for him, or simply self-therapeutic? Of course, scoring goals is the best thing for a young forward, but maybe it's time for the young man to step out of his comfort zone. He would learn so much more playing in a more competitive environment. In addition, it would mirror what he's likely to face when he does eventually return, permanently, to City. He's not going to be the first name on the team sheet.
There were reports that he was close to joining Southampton and Nice before Celtic took pole position, with the calibre of these clubs clearly indicating his prestige as a player. I, for one, would have loved to see him at Southampton, one of the more attractive football clubs in our top division. Playing against the same opposition as City certainly would've told us a lot more about his potential to succeed in our squad. It's quite hard, from our perspective, to learn much from a goal against Partick Thistle, for example.
I don't think it's all doom and gloom though. At the end of the day, he's still only very young, and would return to us at 21, with, hopefully, a reputation that's been enhanced even further. And, it's easy to forget that despite the standard of their domestic opposition, Celtic are still one of the most historic clubs in Europe. Crowds of 55,000 and Champions League football will only boost his imperious confidence.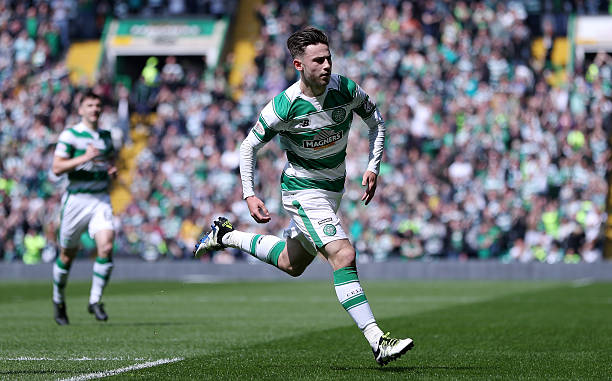 I feel that, however, if he wants to make it here in Manchester, this must be his last loan spell – to Celtic anyway. It wouldn't be a disaster if he went out to play for another Premier League club next season, but, in my opinion at least, Pep will give him a chance. It would then be down to him, and his mental strength, to stick it out. Wait for his opportunities. Be patient.
Otherwise, I fear he will be just another youth casualty here at City. When Roberts netted at the Etihad that night, his goal was cancelled out by an equaliser from another of our prospects, Kelechi Iheanacho. He recently moved to Leicester for £25 million.
If Roberts followed the same path, there's no doubt he would bring in even more money than that. It would certainly be no skin off the noses of our transfer chiefs to ship him out. But I know for a fact that it would devastate the fans – we have high hopes for this lad.
So, I guess I'll let him off for going back to Celtic this time around. But, after that, it's time for him to get down to business. Come on Patrick. We don't bite.