Sergio Agüero. A talismanic symbol of goal-scoring in the last six years. Kun has dazzled. Kun has amazed. Kun has devoured. Kun has scored goals – and plenty of them. To pick Sergio Agüero's top ten goals is like trying to pick your favourite Oasis tracks, there are so many that you could go with. Selecting ten was near impossible, especially when you're dealing with a player who is on the cusp of breaking a club's all-time goal-scoring record; ordering them was even harder. Nevertheless, ten sterling strikes have been chosen; so sit back, and enjoy the memories.
10. Tottenham (A) 28th August 2011
In the August of 2011, excitement was rife at Manchester City. City had started league form well, recording wins at home to Swansea City and away at Bolton Wanderers. The third fixture in a historic season was away to Tottenham Hotspur. A couple of weeks earlier, City had acquired the services of a certain Argentinian from Atletico Madrid. He'd started pretty well, bagging two goals in his debut and in this game at White Hart Lane, Agüero bagged another. With the points already heading back to Manchester, Kun picked up the ball in front of a helpless Michael Dawson. Our then number 16 swiveled past the Spurs defender, showing all of his pace and power, before lashing a thunderous effort into the top corner. For many of the fans in England, it was a first-hand chance to witness the pure speed of City's new exciting striker.
9. Chelsea (H) 16th August 2015
Heading into what was his fifth season in sky blue, Agüero was already an established City talisman with both City fans, and fans across the globe. In just the second game of the 2015/2016 season, Kun showed off some vital composure and quick wittedness to score a belter against Chelsea. The Etihad Stadium was unveiling a new tier in its South Stand. This meant roughly another 6,000 fans behind the goal. With City facing Jose Mourinho's defending champions, it felt like the perfect opportunity to put on a show. City didn't disappoint, recording an emphatic 3-0 win. It was Agüero's goal though, that started things off. Picking up the ball, Agüero found himself surrounded by a host of Chelsea defenders. Kun though, showed off his quick feet, wriggled free and found the half yard required to slide the ball past Thibaut Courtios with his left foot. A magnificent goal scored on a special day for the stadium.
8. Monaco (H) 21st February 2017
A goal that's sure to be fresh in the memory for plenty of Blues, number 8 on our list is a spectacular goal in a spectacular game. City faced the red-hot Monaco at the Etihad Stadium in the first leg of a thrilling tie. Ultimately, Monaco triumphed after the tie ended 6-6, however, due to the Champions League's away goals rule, City were dumped out. A few weeks prior to such events though, the Blues had won a game which many regard as being the greatest match at the Etihad. It had everything. It was Agüero's second goal on the night that makes this list though. With City trailing 3-2 with only 20 minutes to go, a corner was swung in; Agüero managed to track the flight of the ball from it leaving the corner spot, until the moment he volleyed it sumptuously into the net. A vital equaliser, both personally – Agüero hadn't scored in several weeks – and for the team.
7. Manchester United (H) 22nd September 2013
This particular derby match saw the first ever Premier League derby between City and United that didn't feature a certain Sir Alex Ferguson stood on the touchline. Instead, it was the turn of new United boss David Moyes – it couldn't have gone much better for Moysie either, as City crushed United 4-1. Another mauling, and another fantastic Sergio Agüero effort.
After just 16 minutes, Kun popped up with a piece of magic. Some fantastic work down the left hand side between Aleksander Kolarov and Samir Nasri led to a cross into the box. Agüero connected with his left foot and somehow – defying reality – guided the ball into the top corner of David De Gea's goal. It was a true show of Kun's technical ability, as well as his grace and elegance. It won't be the last time a goal against United features in this list either…
6. Chelsea (N) 14th April 2013
Number 6, and the only time a goal at Wembley will feature on this list. On the 14th April 2013, City faced Chelsea in a vital FA Cup semi-final. It was a game that obviously carried plenty of importance for both sides, and Agüero didn't disappoint in turning up for the big occasion. With City 1-0 up at half-time thanks to a Samir Nasri strike, Kun decided to pop up with a truly astonishing goal; I'd say it was unique, but he managed a similar one at Watford a few years later. Just after the half-time break, Gareth Barry floated a ball towards the back post. With Gary Cahill for company, Agüero rose up from the Wembley turf to connect with a header that looped its way into the top corner. A remarkable header, followed by another leap of faith as Agüero celebrated in front of the City faithful.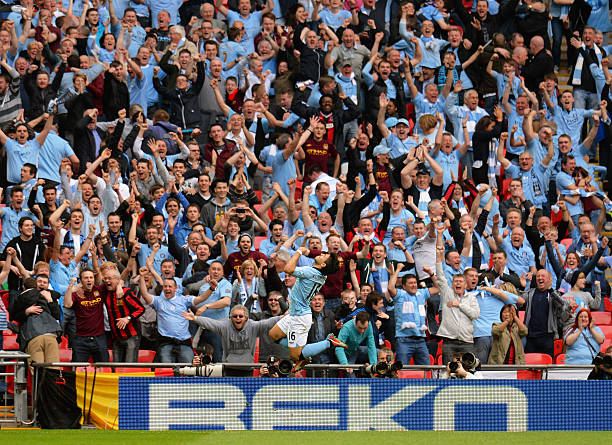 5. Norwich (A) 14th April 2012
Bizarrely, goal number 5 on the list features on the same date as goal number 6, only they were a year apart. Picture the scene; City are resigned to an 8-point deficit behind league leaders United in April. The title race is all but over. Surely, there's no way that City can come back from that? Well, the conclusion to that story lies a little bit later on. On the way to that storied conclusion though was a trip to Norwich in the April of 2012. Carlos Tevez had stopped playing golf in his spare time and he returned to win a title. One of the biggest regrets in 2012 was not getting to see more of the Agüero/Tevez partnership. At Carrow Road though, it blossomed.
Tevez fired City 1-0 up, and then came Kun's moment. After sliding the ball down the line for his strike partner, Kun ran towards the box. Tevez cheekily backheeled the ball toward Agüero, who lashed it into the top corner. It was a game that was concluded with a Tevez hat-trick and an Agüero brace. If only the partnership had blossomed for a few more years to come.
4. Liverpool 3rd February 2013
Number 4 is perhaps the most mathematically defying goal on the list. Liverpool visited the Etihad Stadium in February 2013, with City in need of a result to keep the title-race ticking over. It wasn't a game without drama though. City took a first-half lead through Edin Dzeko, but City old-boy Daniel Sturridge equalised to keep the scores level during the break. Steven Gerrard scored a fantastic long-range half-volley with about 20 minutes to go, meaning that City would need something special – and hastily.
Up stepped Sergio. A long-ball was slung forward, and our ever-determined forward chased the ball down. A moment of uncertainty from Pepe Reina allowed Kun to knock the ball across him. Unfortunately though the angle was too tight. Only a few yards from the byline, Agüero delicately chipped the ball and it slammed into the far corner. With a highly accurate trajectory needed, who better than Sergio Agüero to produce the unbelievable?
3. Swansea (H) 15th August 2011
On the 15th August 2011, Manchester City Football Club was graced with the debut of a future icon. It was the first game of the season, and newly promoted Swansea City were the opposition for City. Our newest signing started the game on the substitute's bench, and it wasn't all going to plan either. Swansea survived the first-half of the game, defying all of the lowly expectation on them. Unfortunately for them, they couldn't withstand the City barrage. After roughly two thirds of the game, Sergio Agüero entered the fray. City had just taken the lead through Edin Dzeko, but it wasn't going to be Edin's night. After just ten minutes on the pitch, a Micah Richards cross was met by the debuting Kun. However, it isn't his first goal of the evening that has found its way onto this list. With the game all but over, Agüero picked the ball up, roughly 30 yards from goal. What happened next set the standard for Kun's magnificent career. He lashed the ball into the far corner, the Etihad erupted and the Sergio Agüero era was under way.
2. Manchester United (A) 8th April 2013
Nearly there! Number 2 on the list is another big derby goal. It was 2013, and City were struggling to maintain speed in their title race with rivals United. Ultimately, it wasn't to be that year for City, but there was an incredible moment of satisfaction to be had before the season's end. City faced United at Old Trafford on a Monday night with the chance to inflict a final derby defeat on Sir Alex Ferguson, before his eventual retirement. After taking the lead through James Milner, United equalised due to a Vincent Kompany own-goal. It was of course Sergio Agüero though, who had the last word. With about 15 minutes to go, Agüero picked the ball up about 20 yards from goal. One touch took him away from Danny Welbeck, and Kun drove into the heart of the United defence. He breezed past Rio Ferdinand, powered through Phil Jones and pulled away from the desperate Welbeck before presenting himself a goal-scoring opportunity. Agüero smashed the ball towards the hapless David De Gea's near-post; the strike was far too powerful for the Spaniard and off Agüero went to celebrate in front the 3,000 travelling City fans. An incredible individual effort, topped off with bragging rights for the fans.
1. QPR (H) 13th May 2012
Did you guess it? If you didn't, you should have. 13th May 2012, one of the biggest days in the club's history. Following a title race with United that had ultimately culminated toward this particular date, City simply needed to record three points against relegation-threatened QPR – a cake-walk, right? Wrong. After taking the lead in the first-half through Agüero's international teammate and friend, Pablo Zabaleta, City fell apart. A disastrous Joleon Lescott back-header led to a QPR equaliser. Joey Barton managed to get himself sent off for the visitors, but that didn't stop the impossible becoming possible – QPR took an unlikely lead, and City's title dreams were falling apart. Edin Dzeko provided a tiny, minuscule ray of hope for City with just a few minutes to go. Everything that followed, you already know. With roughly a minute to go before City's misery was compounded, Nigel De Jong picked up the ball deep in the City half and ambled forwards. He gave the ball to one Sergio Agüero, who found Mario Balotelli stationed outside the opposition box. Balotelli returned the favour and gave Kun the opportunity to create history. Agüero touched the ball past a last-ditch QPR leg and struck a devastating effort into Paddy Kenny's goal. The moment that defined a generation of Premier League football, Sergio Agüero had done it. His goal that day will be replayed for years to come, and will always be remembered by those that love him most – we, the City fans.