Just a few months ago, Jadon Sancho was being hailed as the best talent in Manchester City's academy. One of three youngsters, alongside Brahim Diaz and Phil Foden, who stood a chance at making that seemingly impossible jump from Manchester City's academy to their first team.
Now, it looks like the Blues are in real danger of losing Sancho. Despite reportedly being offered £30,000-a-week to sign a new contract, Sancho sees his future away from the club. It is believed that he sees his path into the first team as 'blocked', and thinks that a move away would be best for his development.
Rumours of homesickness have also been flying around. Sancho was just 14-years-old when he left Watford for Manchester, and told CityTV recently that the move away from his 'dangerous' hometown had benefitted him as a person. Now, it appears that a move back to London could be on the cards, with Arsenal and Tottenham vying for his signature.
Sancho's time at City hasn't been all doom and gloom – far from it. He has excelled at both club and international level throughout his spell in Manchester. The winger was named as the 'Golden Player' at the European Under-17 Championship – an award won in the past by players such as Toni Kroos, Cesc Fabregas and Wayne Rooney.
Despite glowing performances at every level, Sancho has a right to feel worried about his progression at the club. Pep Guardiola handed just 464 minutes to teenagers in the Premier League last season, with highly-rated prospects such as Kelechi Iheanacho and Aleix Garcia left out in the cold for most of the season. It now looks as if the former will join Leicester City on a permanent deal, while the latter will be shipped out to City's de facto 'B Team' in Spain, Girona. Their lack of game time is hardly encouraging for the younger players who are still at the club.
Patrick Roberts is another example of a highly-rated talent whose path to the first team has been blocked, and the similarities between Roberts and Sancho do not end there. Roberts, who plays in a similar position to Sancho, also joined from a London-based club – Fulham. He signed for an initial fee of £2.5 million which could rise to £12.5 million – a hefty investment in an England youth international.
Roberts spent the last 18 months on loan at Celtic, and it appears that another loan move is the most likely outcome, unless he really impresses Pep Guardiola in pre-season. Sancho will look at Roberts' lack of playing time and chances. He'll be thinking: "I don't want that to happen to me."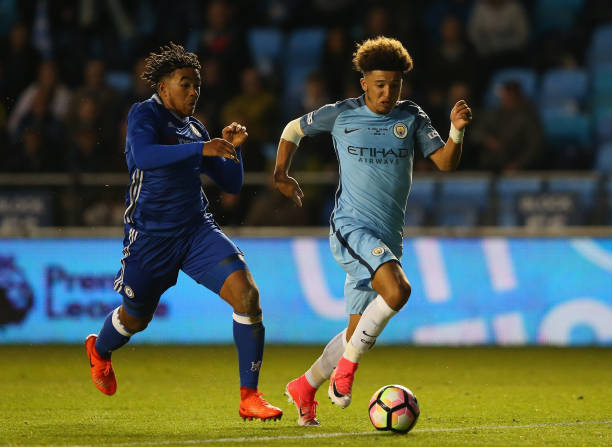 The reason for the lack of chances for youth players is clear. While Pep claims that it is because he doesn't trust them due to their lack of competitive experience, it is really because he is under pressure to deliver instant results. Last season was a failure. It was always going to be difficult, but it was without doubt, a major disappointment. Pep needs to deliver this season – and he knows it. It's shown in City's transfer dealings. The club are prepared to pay extortionate fees this summer in order to get results on the pitch – as shown by their pursuit of Alexis Sanchez.
Sanchez and Sancho are quite similar – and not just in terms of name. Both are tricky, left-wingers who contribute both goals and assists. The difference being that one is 17 and the other is 28. One is in his prime, the other, despite having huge potential, is untested. If Sanchez were to sign for City this summer, he'd be yet another huge obstacle for Sancho to overcome if he is to reach the first team.
He is already competing with Raheem Sterling, Leroy Sané, Bernardo Silva and Patrick Roberts. Add in Sanchez to that equation – one of the Premier League's best players – and you can see Sancho's problem.
Can you blame him for being worried about his path to the first team?
Arsenal, one of his options, are well-stocked in the winger department, but you can see why Spurs would be such an attractive proposition for a young player of Sancho's ilk.
Mauricio Pochettino has developed quite the reputation for developing young talent at both Southampton and Spurs, playing a key role in the development of players such as Harry Kane, Dele Alli and Danny Rose. Meanwhile, there is a clear pathway into the first team from the academy, as Harry Winks, Joshua Onomah and Kyle Walker-Peters will tell you.
In terms of wingers, Spurs only have Erik Lamela, Son Heung-Min and Georges-Kevin Nkoudou. There is definitely room for another, and with only Son Heung-Min impressing last season, the route into the first-team seems to be a lot quicker in North London.
As a Manchester City fan, I sincerely hope that we manage to keep hold of Jadon Sancho. He has the potential to be a first-team regular and I have no doubt that he would be a success if he chose to stay in Manchester.
But I can see the logic behind Sancho's fears. While City will tell him that he will be a major part of our team in the future, he only has their word to go off. He will look at the previous examples of Patrick Roberts, Jason Denayer, Karim Rekik, Kelechi Iheanacho and Marcos Lopes – all of whom were hailed as stars of the future – and naturally, he will doubt whether Manchester City is the right place for him to develop.
If he were to leave, he would be the second member of City's impressive Under-18 side from 2015/16 to do so. Tyrese Campbell, who now plays for Stoke City, also couldn't see a route into the first team.
The club need to take this very seriously. The CFA has been open for years now – we need to start seeing some results, and more importantly, so do the youth players.