After City released both Pablo Zabaleta and Bacary Sagna within a week of the season ending, as well as letting Jesus Navas go, right-backs were suddenly in short supply. Things went from bad to worse when City had Dani Alves tied down… until he signed for PSG. Rumours have been persisting for months, but now we finally look to have sealed a deal for England international right-back, Kyle Walker. Having just turned 27, Kyle Walker is in his prime. Even though some may balk at price we're paying, we're paying for proven quality. After reportedly falling out with Mauricio Pochettino, Kyle Walker always looked likely to move on this summer, and we should be thankful we've picked up another top class English player.
Walker, unlike some of our other signings, has spent a lot of time in the Premier League and therefore has been under our eyes at most of the time. He's largely been a figure of contempt to our fans – and that is because after our victory over Spurs on 22 January 2012, Walker tweeted that City fans were, once, 'no where to be seen' (his spelling mistake, not mine), followed by '#gloryfans'. Walker was only 21 at the time of the tweet, but… in any case, people have held a certain amount of angst towards him ever since. Since the rumours began on the subject of his purchase, some fans have pointed out this tweet, and some have argued the tweet, written over 5 years ago, is ancient history. Whatever the case is, we've got our man now.
Walker, unlike our previous right-backs, has boundless pace and athleticism. It'll be some shock when we see a right-back who can maraud like Zaba used to, and defend like Pablo too. We're getting a player who is technically better than Zabaleta ever was, though. Walker's long distance ball-playing skills are insanely good to say the least, and has really developed a relationship with whomever has played in front of him at Spurs. At times he has played in a more advanced position himself, in the right-wing position of a 3-4-3. As we've revisited several times, it looks like Pep's plans involve some form of a three at the back system, and Walker has proven himself able to play in more than just one position. Versatility: Pep's drug.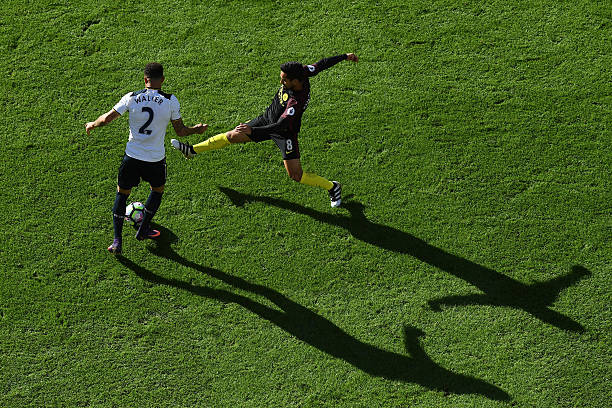 Moreover, given the similarities in the way that Pochettino's Spurs play and the way Pep wants his City side to play, the signing of Walker looks, like Bernardo Silva, very obvious in many ways. Immune to pressure from opponents, a good passing rate (80% accuracy last season) and very fit, Kyle Walker in many ways is Pep's archetypal right-back. He got more assists (5) than all four of our full-backs combined, and a productive full-back is a very important cog in Pep's system. Kyle will become an integral part of our squad, I'm certain of this. Unlike some of our other players, I'm not sure how much he'll be rotated this season, perhaps playing upwards of 34 league games, as he consistently has for Spurs.
I've talked a lot about Walker's potential usefulness in attacking situations, but another brilliant thing about him is that, unlike some of our previous full-backs, he can defend. Only Zabaleta (2.58) won more tackles per 90 minutes than Walker (1.76) last season. But, as Zabaleta only played almost a third of the time Walker did, it's questionable whether Zaba could've kept up his impressive record. In addition to this, Walker won a higher percentage of aerial duels than any of our full-backs last season. Walker isn't afraid to go to ground but he's not like Otamendi in that he'll always go to ground, often standing up his opposition.
Despite what we can call a misguided tweet, Kyle Walker is in his prime years and will offer so much to City's system. His English nationality means that we've instantly filled the home-grown spot vacated by Clichy. He's also very, very good, and you'd be hard pressed to find too many right-backs who are much better than him. I think we can confidently say that he'll be a success too: Spurs have played in the Champions League intermittently, but Walker has never embarrassed himself on the big stage, and has been an important part of the team who had finished second last season and third the season before. Hopefully we can show Walker, if he hasn't already completely recanted given the size of the cheque we're likely to be giving him every week, that our fans are indeed passionate and are not, quote, #gloryfans. We have a full-back at last! Rejoice!