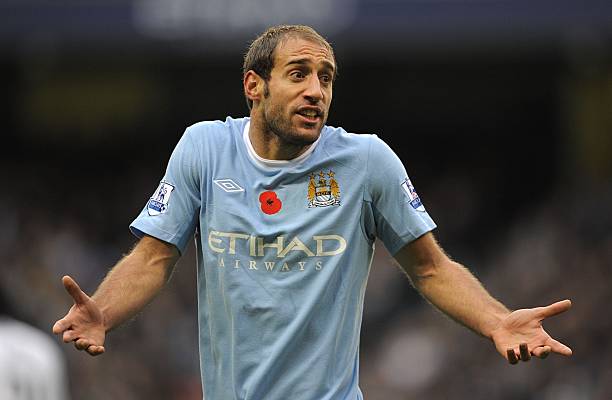 Ending a nine year stay at City come the end of the season, Argentine cult-hero Pablo Zabaleta has firmly cemented his place in the hearts of blues throughout the land and has thoroughly earned a massive tribute. His fan favourite label is different to the likes of Jamie Pollock or Andy Morrison; players we loved but couldn't exactly write into folklore. Zaba, instead, despite looking nothing special at first, proved time and time again over the course of a decade that he bled City blue — demonstrating his unrivalled skill, commitment and passion like he had an endless supply.
He has all the qualities blues love: tenacity, toughness, attacking flair, a chirpy personality — its like he was born to sport City colours. A slight Manchester accent has even found a way to sneak on to his City lover's CV. Two Premier League titles, two League Cups, a Community Shield and an FA Cup later — it's finally time to say goodbye.
The Argentine first arrived from Espanyol in 2008 and hasn't looked back since, his determination to succeed at the club was only rivalled by his desire to immerse himself in Manchester's culture. The Barleycorn pub in Didsbury, in Zaba's early days, was a destination he would often visit to learn more about the club's heritage from none other than the fans themselves.
Translators were easily hired, that effort to absorb Manchester's scene need not be applied — but the then 23-year-old was a keen, trainee Mancunian and although the Barleycorn pub may still not be standing, all blues will remember the dedication and the respect shown by this City legend in all aspects of his career.
There are many more instances of romance between Manchester City and Pablo Zabaleta, but here are the best ones and why the memory of this warrior won't ever fade.
5. Scholes' sending off
On the verge of a glorious FA Cup semi-final victory against bitter rivals Manchester United, the clock ticked down in excruciatingly slow fashion — Sir Alex Ferguson's men desperately knocked at City's door. Zabaleta was having the game of his life. But no moment highlighted his commitment to the cause more than his brave 50/50 challenge on Paul Scholes to retain a loose ball; resulting in the Englishman's sending off following a brutal, studs up collision with the Argentine close to the final whistle.
This crucial point in the game all but sealed City's place in the final and knocked United out — sending a clear, frightening message to our neighbours. This embodied everything about Zaba's philosophy, the willingness to do just about anything to edge City over the line.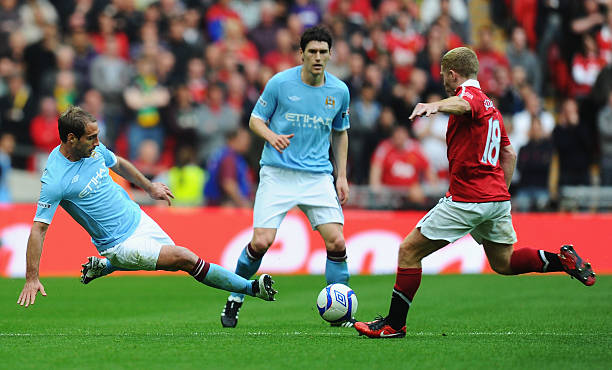 4. The Status Quo love
"Whatever you want, whatever you like" — as soon as the words are uttered, you can count on Zaba being there for the sing along. His love for the tune seemingly came to light when Manchester City staff started playing it, encouraging the Argentine to sing in a post match interview at home to Aston Villa three years ago. Since then, the 32-year-old has expressed his love for singing Status Quo mainly in CityTv interviews and title celebrations. He even got the honour of meeting the band at the Palace Theatre in 2015. Where he greeted them like a fan boy and snuck a picture with them adopting a huge grin, good ol' Zab. This is but one of the many connections with the club and Manchester as a whole, and why his departure is a hard pill to swallow.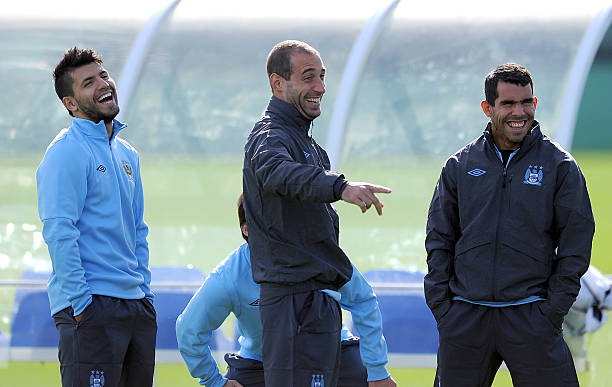 3. Playing through pain
"I have become a very ugly man" said Pablo Zabaleta after suffering the latest in a series of open head wounds, this one against Crystal Palace last season. Here is possibly the top reason why Zabaleta will never be forgotten: his spartan-like, resistance to pain — his love for the club overpowering whatever may happen to him physically. Three points, to Zaba, matters more than his well-being.
We all know he isn't afraid of any tackle. This first came to light in his early days, suffering gashes to the head in matches against Stoke and Wigan, where he played on in both with nothing but a bandage to carry on with. Blood was dripping from his skull like a waterfall on some occasions, though the pain of not carrying on was much worse. He's done this on countless occasions since and, by doing so, has permanently cemented his label as a warrior for the blues.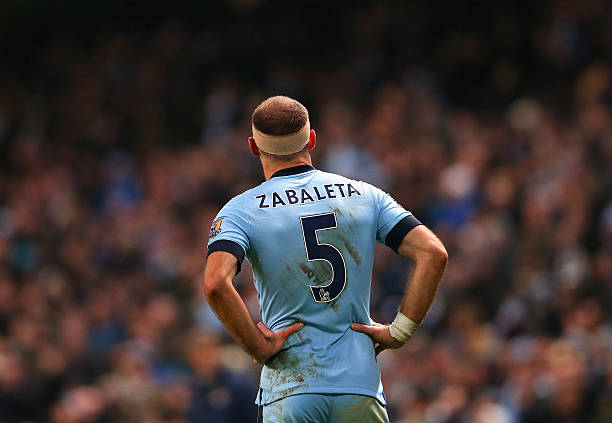 2. Attacking Flair
Back in the days when City had formidable full-back depth (seems like a long time ago I know), a young and powerful Micah Richards was fighting Zabaleta for a permanent starting place under Roberto Mancini. There was a time when Richards was considered the slight favourite, but Mancini resorted to rotating them consistently — unable to decide between the two.
The Argentine could've thrown a strop, but decided to keep fighting for his place in the side. Eventually, due to injury problems, Richards was left out of favour completely. By which time Zabaleta had already cemented his place at full-back, where he only grew better and better. The product of his favourability were his overlapping attacking runs; runs which could be easily picked out by the likes of David Silva and Yaya Touré down the centre for devastating effect. Despite his legs succumbing to fatigue in recent seasons, nobody will soon forget his impact going forward.
1. Crucial goals with passionate celebrations
Nobody loves anything more than a defender who pops up with crucial strikes. Zabaleta has 11 City goals to his name, and every single one of them had something special. In truth, I'm starting to wish I had done a Top 5 just for the goals he's scored. From his first ever mark for the blues, a screamer at home to Wigan, to his unforgettable strike in Rome — you can always feel the happiness and jubilation exuding from the Argentine every time he finds the back of the net. Whether its frantically kissing the badge and running over to the supporters or celebrating the birth of his new-born baby in a more comedic-style act of joy, we will all desperately miss the sight of Zabaleta's euphoria.