On Sunday, City were knocked out of the FA Cup by a feeble Arsenal side. Such a defeat ended any chance of silverware for the Blues, but perhaps more importantly, guaranteed that whatever happens for City now, this season will have been a failure. 'Why?' Some of you may ask. We can still secure Champions League football, most would say we're still favourite to do so, if you exclude the runaway top two of Spurs and Chelsea. The bar is higher nowadays though, and acquiring arguably the world's best coach last summer will have hardly done anything to lower that bar. In 2017, City need to win trophies, but at the very least, they must be competing rigorously for them. We haven't. So in reality, no trophy equals a lack of success, which in turn equals failure. This campaign has been a failure. There are many reasons for the failure that has been this season, this piece is an examination of them. So, let's begin.
Pep Guardiola
Last summer, Pep joined up with City in what felt like the dream move. To many, that feeling still remains. This particular City fan still feels that Pep Guardiola will be a massive success at City; it irks me to see so many write off a coach whose name has been synonymous with success during his time in football. However, Guardiola has a few things to answer for this season, and he – like so many others – is not immune from criticism.
For many, the decision to exile Joe Hart last summer still stings a bit. Resultantly, Guardiola made life difficult for himself early on. Of course, it wasn't a decision that turned most people against him, but it certainly lost him a few brownie points among Hart enthusiasts. It wasn't the removal of Hart from City's squad though that earned Guardiola a place on this list – there are a few more telling reasons.
First and foremost was Pep's attitude towards the League Cup. City negotiated their way to an away tie at Old Trafford earlier in the season. A game that of course, was massively important to the fans. Guardiola however, took a different approach. He rested several big names and took the risk of starting the likes of Pablo Maffeo and Aleix Garcia, as well as starts for Kelechi Iheanacho and Fernando. City ultimately lost the game 1-0. United went on to win the trophy. I don't know about most fans, but the winning of trophies – even the League Cup – still excites me like a small child. To see Pep throw this one away was disappointing, and contributes directly to the lack of expectations met by City this season. How much more rosy would the current predicament have looked with a trophy win in March behind us? Who's to say what would've happened if we'd played a strong team at Old Trafford, but we'd have certainly walked into that game with a better chance of making the quarter-finals. Instead, City were out.
Pep's substitutions haven't always inspired confidence either. Whilst not being a fundamental reason for City's poor season, it certainly hasn't helped. At times, the changes made have defied belief, but perhaps even more concerning is the timing of some of them. Rarely does Pep change the side before the 70th minute, despite thousands in the stands seeing that very change 10 minutes earlier. Sometimes, it's just the decisions themselves. At Wembley on Sunday, Raheem Sterling was subbed on for the injured David Silva, but later subbed off for Kelechi Iheanacho in injury-time. Such a change might've been acceptable; that is, if Leroy Sané hadn't played 105 minutes at this stage, looking absolutely devoid of energy in the process. On top of that, City's top scorer, Sergio Aguero was subbed off. Kun may have taken a knock, but Pep's decision to bring on a holding midfielder in his place was a questionable one at best, especially with City needing a goal.
Either way, whichever way you look at it, Pep hasn't been perfect by any means this season. There is much work to be done, but I remain confident that he will be a great success at Manchester City, provided he is given the patience of the fans.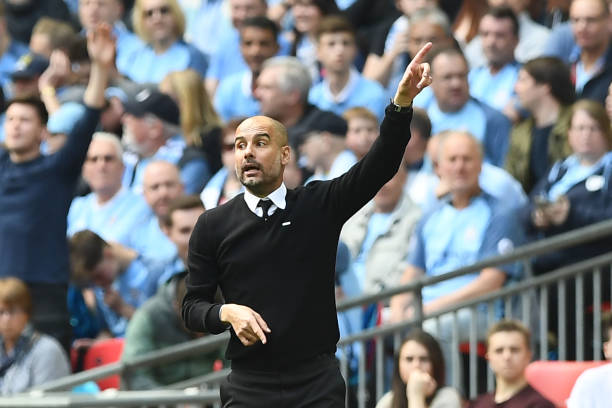 A Lack of Cutting Edge
Not every section of this piece will be as long as the first; this one is a fine example. So little needs to be said really about reason number two. City simply haven't scored enough goals. Game after game, week after week, Guardiola is quoted saying the same things. "We didn't take our chances." He's right. We rarely do. There are so many examples of City's inability to finish teams off: Everton at home, Middlesbrough at home, Chelsea at home, Arsenal away – to name but a few. Sergio Aguero sits on 30 goals this season, he's two away from equaling his best ever tally in a season, and yet, he should have 10 more. He's not alone though, and in honesty the burden that he carries at times is part of the reason we've failed to win games this season. The likes of David Silva, Raheem Sterling and Kevin De Bruyne must contribute more to the goal-scoring charts if City are to be a success. Sergio Aguero can only do so much, and whilst he himself could've been more clinical this campaign, the lack of goals from elsewhere is a telling factor in why this season has ended up being a complete failure. It's not something that can be worked on extensively, these players are good enough to put the ball in the back of the net – they just need to start doing it more consistently if we are to challenge for honours.
Bad Officiating
I tried to promise myself that I wouldn't bring this up. I really did. The officiating isn't something that I wanted to concern myself too much with when writing this piece. However, it seems almost unfair to not give the inept group of referees in the Premier League a mention, especially when I've had a fairly big talk about Pep. It's true – the refereeing standard in the league is at an all-time low, and theoretically, that should affect everyone. The truth however, is that it's affected City negatively throughout the season. 'It'll even itself out.' The perfect line for someone who tries to attribute victories and losses to anything but referees. I've been waiting for it to even out for City all season, maybe we missed the memo. On Sunday, it was business as usual. A fair goal ruled out, as well as a blatant penalty missed by the referee. It wasn't the only reason that City exited the competition, but did it play a part? Of course. They haven't been one-offs either. It's felt at times like City have been on the wrong end of at least one major decision in every single game. Don't get me wrong either, I'm sure we've benefitted from a few, but has it evened out? Certainly not. There are too many examples to even begin to analyse, but the proof is out there – we've had a rough time with the officials this season.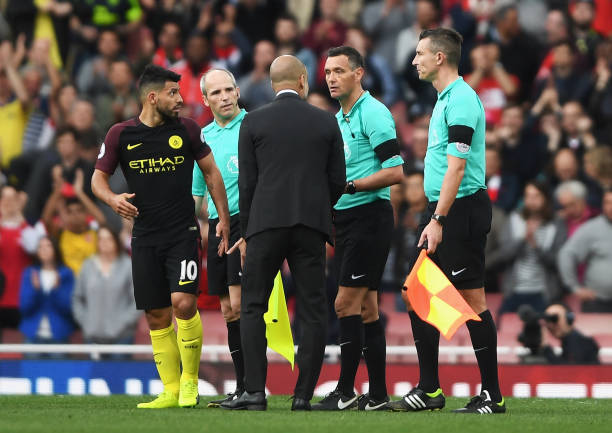 Depth
This is perhaps one of the most important reasons on this list. The lack of depth in City's squad is borderline appalling. The situation is made even worse when you consider the gargantuan resources that the club has access too. It's linked to the next reason on this list: poor recruitment in years gone by. Yes, City have had to barter with UEFA's Financial Fair Play Regulations, but it's still no excuse for the appalling lack of quality we have behind the starting XI. In goal, we have two players that in all honesty convince nobody as viable long-term options. At right-back, we have two journeymen who are well into their 30s. On the left side of defence, we have Aleksandar Kolarov (who never plays there anymore) and Gael Clichy – I mean, need I say more? At the start of the season, we had three recognised senior centre-halves. One of them was Vincent Kompany. A criminal lack of depth. In midfield, we were a little bit unlucky with the injury of Ilkay Gundogan, but still, is anyone really raring to see Fernando get a game? The depth in the attacking midfield areas actually looked adequate at one point, but since Nolito's disappearance from football, things have faltered a bit. The likes of Raheem Sterling and Leroy Sané have been relied upon, despite being young footballers who should've been learning from more experienced members of the side. The lack of options up front is where things look really depressing. On Sunday, we had Kelechi Iheanacho on the bench, our second option to Sergio Aguero. I like Kelechi, but to start the season with him as a second-choice striker, when you consider Aguero's injury problems, is a very confusing decision. The good news is that City will address these problems in the summer, and with a bench littered with some viable options next year, we should be better equipped to compete on a few fronts.
Poor Recruitment in Years Gone By
This one is heavily linked to the problems that City are facing today. As mentioned earlier, it links heavily to reason number 4. City's transfer policy in the years gone by has been somewhat laughable. We've shelled out millions for defenders, most of whom have failed spectacularly and have moved on to different clubs. At the same time, we've sold most of our strikers and left ourselves with two nineteen year olds as understudies to Aguero. Do you remember the days of starting Tevez and Aguero, and having Balotelli and Dzeko on the bench? It was real. Perhaps the most neglected area of the squad with regards to recruitment in recent years has been at full-back. In 2012, three of our current fullbacks played for City: Gael Clichy, Aleks Kolarov and Pablo Zabaleta. In 2017, these three make up four of our options. The other is Bacary Sagna, so hardly a young, exciting prospect to carry us through the next few years. How has anyone upstairs failed to address this gaping problem for years? Plans should've been put into place as early as three years ago to prepare for the eventual decline of Clichy, Kolarov and Zabaleta; instead, we regularly watch all three play… five years later. If this problem isn't properly tended to in the summer, next season will be no different. In the centre of defence, we've seen many come and go since the days of Joleon Lescott and Vincent Kompany in 2012, and it's still a problem to this day. Nicolas Otamendi convinces few, and Kompany carries his injury problems with him into every new campaign. John Stones was a rare success story when it comes to recruitment, and even he is yet to be a certified winner for City. I could go on about the recruitment failures of recent years, but I won't bother, you get the picture. Such failures have led to more recent failures on the pitch, and have played a vital role in City's lack of silverware this season. Surely the problems (especially defensively) will be seen to in the summer transfer window, but I've been saying that for three years.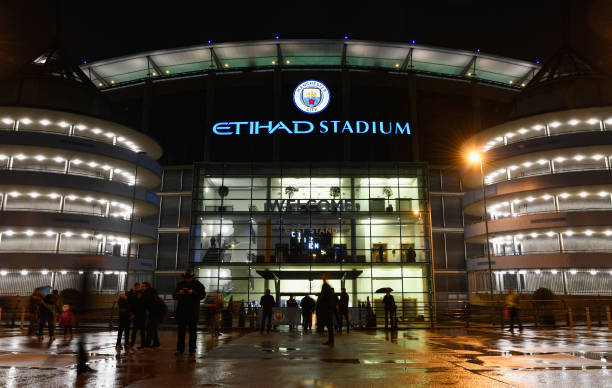 City Fans
Eek, I addressed the elephant in the room. City's fans have been just as a big a part of the problems this season as anything, and it all started over a year ago. Manuel Pellegrini was on his way out, with a new era about to begin: The Guardiola Era. Despite a thoroughly disappointing campaign last year, many fans were convinced that Guardiola would bring with him the make-believe power of 'guaranteed wins'. Honestly, those of you who thought that City would be a mesmeric force this year to be reckoned with this year, simply ignored all of the problems left behind by Manuel Pellegrini and his team. The fault lies partly within the boardroom at City too, as mentioned in section 5. Did people honestly believe that with Gael Clichy and a past-it Pablo Zabaleta playing we'd blitz everybody? Did you all forget that Vincent Kompany would probably spend half of the season in the physio's room? Did you forget, or did you simply ignore the facts?
I said it after a friendly with Arsenal last summer, this season was never going to be a cake-walk. There were and still are so many problems with this side that it was always going to take years before Guardiola would transform us from a hapless side who couldn't beat any of the decent teams around us to a squad of winners. That's not to say that we shouldn't have done better; of course, we should've. But the signs were there, this was always going to be a slog. There were plenty of you who figured that Guardiola's arrival meant a 'Barca style of play'. Did you honestly believe that our current crop would simply pick it up after a few training sessions and roll with it for 12 months? Half of the players in this squad aren't capable of such a style of play. One of them was Joe Hart, he was simply the first casualty. Sergio Aguero was nearly the second high-profile exile, except he took his dropping well, and has been on fire ever since. There will be no such departure for our Argentinian talisman in the summer.
Anyway, back to the fans. Fast forward from last summer's false optimism to today's very hard realism. There are fans throwing toys out of the pram. We're not talking the occasional idiot on a radio phone-in. These are match-goers. People at the game, claiming that Pep has ruined the club, that he doesn't know what he's doing, that he 'can't hack it in England.' They're as bad as the blood-thirsty media outlets before them, desperate for Pep to fail, be it because they loaned their favourite to Torino, dropped Aguero for a massive three/four games or simply called them out for leaving the games ten minutes early to get home five minutes earlier. Those kind of fans are a joke, and believe me – they have played a part in the failures of this season. If they are not heavily outnumbered by folk who are willing to support the manager until he's at least had a couple of years to implement his ideologies, they will be part of future failures to. It is time to unite against these absolute pretenders, and support the manager until he's had a fair stab at things.
Injuries
It's simplistic to blame a club's failures on injuries, but I haven't. I've blamed six other things too, and injuries have played a part just like any other factor. Losing Ilkay Gundogan just as the German international was starting to hit his stride was a massive loss, and one we've been paying for for months. But there have been a couple of other injuries that City have paid the price for too. Gabriel Jesus arrived at the club as a relatively unknown quantity, but after a few games had established himself as perhaps the most exciting prospect in City's recent history. His injury was untimely, despite it giving Sergio Aguero a shot at redemption. Of course, it wouldn't be a City season without a few Vincent Kompany injuries too. It's hard to imagine that City's defensive frailties at times would've happened if the skipper was fit, but many will argue that Vinnie's injuries were foreseeable and should've been prepared for more effectively.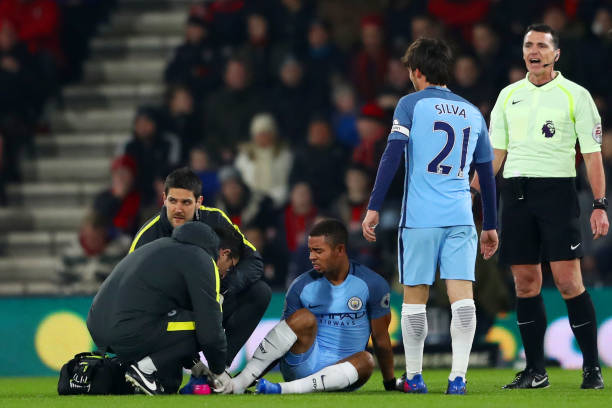 So, there you have it. 7 reasons why City have failed to live up to their own high standards this season. Be it the manager, the lack of squad depth or the inept officiating, City have failed in their goals this season. If at least a few of these reasons aren't addressed in the upcoming summer, you can expect more of the same next campaign. I for one though, am expecting a reaction which'll see City challenge again as early as next year.
I'm behind Pep, I'm behind City, I'm behind change.