Warning! This probably isn't a legitimate pros and cons list. This is full scale Bonucci propaganda. The cons, honestly, are quite weak. At any rate…
Last summer, Manchester City were heavily linked with Juventus defender and all-round colossus, Leonardo Bonucci. Sky Sports reported City to have offered 'up to £43m' for the Italian, yet the move never materialised, and defensively City only completed a move for John Stones, despite rumours that Pep initially wanted two centre backs, but had to settle for one. Bonucci himself confirmed that the interest was legitimate – only for he and his wife to decide to stay in Turin, perhaps due to his sons' ill health, who has now recovered.
Despite signing a new four-and-a-half year deal in December, the rumours surrounding his future remain, and in fact have arguably intensified, with Conte's Chelsea also linked. But it is City who appear to be front runners, and Bonucci's name is becoming regularly linked with a move to the Blues this summer, linking up with Pep, a manager he's rumoured to have a strong desire to play for. We will now proceed to assess the pros and very weak cons of the potential signing of Bonucci.
Pros:
Genuine Class
This seems obvious. This week we saw the peak Bonucci and Chiellini partnership in European action, in both legs against Barcelona, keeping out the famed Messi-Suarez-Neymar triumvirate, becoming only the third team in Champions League history to shut Barcelona out over both legs. Bonucci was brilliant himself, and has now made a name for himself as quite probably the best defender in world football, if not then at least in the top 3. He's brilliant, in many ways the perfect defender as his stats show: in the 21 league games Bonucci has played a part in this season, 9 have resulted in clean sheets. This record extends to Europe, where Bonucci has seen 2 goals conceded in 8 starts, shutting out Barcelona twice, Sevilla, Porto and Lyon. This has been the case for several seasons now, and it is only natural Bonucci is as world renowned as he is for being a top class defender. However, with the once in a generation Buffon behind him, coupled with Chiellini, and occasionally Barzagli next to him, one man doesn't necessarily make a defence. So…
Ball Player
The stereotype about good defenders in this country is that they have to be big. Which, Bonucci is, standing at 6'3 and about 8 feet wide. But they have to be more than that, they have to be no nonsense. None of this soft-touch, take it out of the back business. John Stones picking out a pass to David Silva in space? Not for me, smash it into row Z lad. Of course I am being ironic, for this is a bad and simplistic opinion, incredibly reductive and 'yer da'. Bonucci's passing average of 87% is close to the high standards set by Pep, matching Otamendi but not quite at Stones' 92%. However, Bonucci's average pass length is 24m, higher than both Otamendi and Stones (19m), implying he's in a system where he's playing a different game. In any case, Bonucci is not only intelligent in his ability to read the play in defensive situations, but always looks cool on the ball and therefore I really believe that Bonucci's style with Pep's tactics would be a match made in heaven.
Experienced Triplet
Some say that the best BBC in the world plays in Madrid, but there's a serious case for the best BBC in world football to call Turin home. Whilst this season has seen a reduction in the use of the famous Italian 3-5-2, with it being used more sporadically in light of Bazargli's age and the signing of Dani Alves, and Allegri experimenting with bizarre, Pep-esque formations and reconfigurations including playing Mario Mandzukic out wide. Traditionally, however, Georgio Chiellini and Andrea Bazargli have been Bonucci's partners for some time, and this knowledge of a 3 at the back system would help achieve what seems to be Pep's ultimate goal, a goal he ditched after Leicester's mauling of us at the King Power this season, probably due to the fact Clichy was one of the centre backs. Bonucci's proven ability in a back 3 is undoubtedly in Pep's mind, something which quite probably puts him at the head of a queue over a defender like Laporte or Rudiger. Furthermore, as we've experienced, world class centre backs with both tactical versatility are not often readily available.
Experienced Winner
Since moving to Juventus from Bari for a measly £13m in 2010, Bonucci has won two Italian Cups, three Italian Super Cups winner and five Serie A titles, likely to become 6 in the coming weeks. Perhaps the only thing is missing is a Champions League accolade, despite coming close on a few occasions, including being runners up in 2014/15 to Enrique's Barcelona, though he could still win it this season.
City's policy last summer, more than any in recent memory, was to buy young, talented players, and they came in the form of Gabriel Jesus, Leroy Sané and John Stones. The trend looks set to continue, with City linked with a whole host of young players, including Fabinho, Mendy, Tolisso and Kolašinac. Yet Bonucci would obviously be a buck to the trend.
When we were linked with him last summer, I'll take the L and admit I wondered about such a high price for a 29-year-old (please don't look through my tweets to find where I expressed this doubt). But the experience he would bring would be invaluable. Winners are priceless. City have too often gone out and bought second rate stars who have flattered to deceive, and only a few have stayed in our first eleven. How many ready-made stars have we bought since 2013/14? Arguably only De Bruyne? City are starting to get some good young players to refresh the ranks – this summer will certainly see a few more come in – but we can't afford to simply let several experienced players leave for only young talent. Though Alan Hansen was ultimately proved wrong with his 'You can't win anything with kids' quip, but with our title rivals set to go out and spend ridiculous money on ready-made stars, I think the least we could do is bring in a top class centre back in his prime – and if not, Conte might snap him up.
Our Defence
Hopefully I don't have to take another L. In any case, Kompany brought a certain je ne sais quoi to our defence, and if he'd have been here, who knows where we'd be, and I know I shouldn't have but I have my hopes up that this will be the last return he has to make. We looked more assured against Chelsea despite conceding two, and against Southampton he was everywhere. His goal and passionate celebration meant everything to me, and I assume it did to you too. It does not appear that injury has slowed down Vinnie. What was also impressive was how he made Otamendi look next to him – he appeared significantly less rash than he usually does, and was brilliant, though this might not be purely down to Vincent, Otamendi himself has improved. At any rate, Bonucci would quite probably have the same effect. That's the short term, too. The experience he would provide to John Stones would be worth millions in itself. It was reported that Pep sees Bonucci like the Puyol to Stones' Pique, and it's been years since Puyol retired and Pique is still the heart of Barcelona's defence, even now seemingly showing new wonder-boy Samuel Umtiti the ropes. Having a consistent partner like Bonucci next to him would help John Stones reach the higher echelons of the game, this I have no doubts about.
I know I mentioned before that'd got my hopes up about Kompany making his final return to the fray, but if this isn't the one, I don't want to go into a new season with Kolarov as the first reserve centre-back. I'm shuddering at the thought of it.
He's a Handsome Bastard
……………………………
Cons:
Does it Fly in the Face of Youth?
Whilst City's academy may look like it's starting to churn out class young players, there seems to be a dearth of defenders. Cameron Humphreys is yet to break into the team but he's only 18, and 19 year old Tosin Adarabioyo is rumoured to be leaving and Pep hasn't given him many chances since his Champions League appearance against Celtic. We have Brahim, Ünal, Foden, Sancho, Maffeo and Aleix Garcia all at various stages of their development, but we've been linked with several centre backs, so clearly Pep doesn't think either are ready. To add to this, in Daniel Bower's piece on Alexis, he suggests that signing players in their prime may imply Pep isn't going to stay longer than his current contract. I had never thought about this before, but I think this point is definitely more valid for Alexis than Bonucci. Firstly, Bonucci could well last five years in our first team, certainly as Barzagli, his current partner, will turn 36 next month, whereas Alexis would probably drop out of our first team within three years. We can also consider that signing Bonucci would help our defence, especially John Stones, significantly more than signing Sanchez would help Leroy or Raheem, and also I believe signing a young attacker like Coman or even Zaha would involve less risks than signing another young defender like Laporte.
He Might Flop
If you've ever played Football Manager, you'll be well aware that when you sign a player for a big fee on a long contract, you're asked if you fear your signing could mean the club might be lumbered with a failure for years. If City got Bonucci, and he failed to adapt to the pace of the English game, he'd be yet another name and price tag to add to the betting accounts who tweet things like 'Manchester City have spent twelve zillion on centre backs since yesterday', or, whatever. Moreover, at 29, he's in his prime, but he could prove to be one of the rare cases where a player drops off a cliff at 30/31. But this of course is a great many ifs, buts, maybes and mights, essentially worthless. Mr. City Watch said I had to do at least two cons, and this was the last choice before 'it might make Kolarov sad', or something.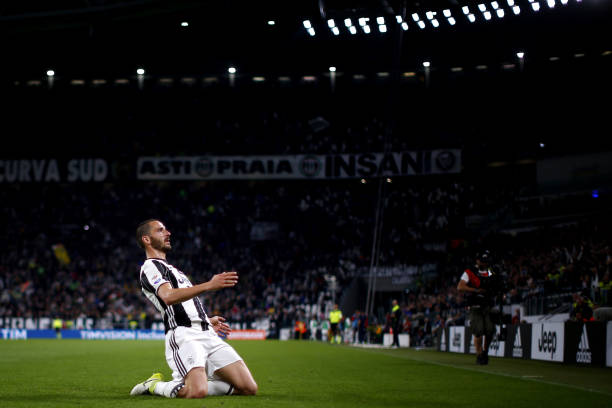 So we've come to the end of this piece, and both of my cons have counterpoints strong enough to revoke them completely. Whilst other fans may balk at £43m on a player who'll soon be 30 years old, who'd be laughing when he's put next to Kompany? Would anyone be able to get past him? Or how about when Champions League winning, England captain John Stones, in the year 2025, cites learning regularly from Bonucci as the crucial point in his development? What do you think about Bonucci? Should we sign him? His number 19 isn't available, but the numbers 5 and 3 are going to come obtainable this summer…