For the ninth time in just six seasons, Manchester City, along with thousands of travelling blues, make the 400 mile round trip to Wembley in a bid to add yet more golden era silverware and make Pep Guardiola's debut season an unforgettable one.
An overwhelming aura of anticipation has hit the air and the cool mixture of stomach-curdling nerves and blood-pumping excitement is upon us. Oceans of lager will undoubtedly either quench the thirst of celebratory followers or drown the sorrows of cup heartbreak.
To ease anxiety that naturally accompanies the emotion of such a huge occasion; the FA Cup has always been a City forte, a prideful signature of our club. The blues have won more FA Cups than they have any other major trophy and have been involved in a total of ten finals, winning half of them.
From the heroics of Bert Trautmann to Yaya Toure's legendary benchmark, I count down the top ten FA Cup matches that definitely didn't disappoint.
10. West Ham 0–5 Manchester City (2016/2017)
The debut round of Guardiola's tenure was one of composure, ruthlessness, poise and, at times, mesmerising attacking football. The water-logged turf of the newly built London Stadium, hosting its first ever FA cup bout, started brightly with Adrian having to athletically tip a well driven Aguero shot from a corner over the bar. The Hammers defence, determined to remain composed, was unlocked through David Silva's genius pass round the corner to Zabaleta who was hastily brought down for a penalty. Cup hero Yaya Toure comfortably dispatched the opener, and the rest is history. West Ham's Harvard Nordtveit accidentally bundled home a superb Bacary Sagna cross for the second; intricate passing from Sterling and Aguero presented Silva with a tap in for the third; Yaya Toure's deflected drive secured the fourth and a second for the Ivorian while, to cap it all off, Mark Noble failed to clear a powerful John Stones header for the fifth and final goal of the night. Surely sealing one of the most effortless FA Cup victories in City's history.
9. Manchester City 6–0 Norwich (1980/1981)
The 1980's was a topsy-turvy period for the blues; going through a succession of managers, yo-yo'ing back and forth from Division 1 and Division 2 and failing to staple any sort of success. But, under John Bond, City started an FA Cup journey which came marginally close to delivering a piece of silverware, with Tommy Hutchison's own goal and, consequently, Ricky Villa's infamous Wembley winner in the return leg being the eventual stumbling block. This monumental win in front of a packed out Maine Road is a real highlight of City's run. Kevin Reeves' beautiful turn and volley for the opener was only matched by Gerry Gow's dipping free kick for the second. The ground roared in delight at a marvellous performance; all-standing on the terraces with bells ringing vigorously — atmosphere at its 80's best. Steve Mackenzie increased the volume with a thumping, arrowed shot into the top corner before Dave Bennett, Bobby McDonald and Paul Power rounded off a classy job done for the blues. Emphatic win, emphatically performed.
8. Aston Villa 1–1 Manchester City (2005/2006)
Micah Richards — a product of the youth academy and a firm fan favourite, the performances during his peak were only outweighed by the possession of a chirpy, friendly, personality and a wonderful relationship with the blues faithful. This is how Richards announced himself on the big stage, not with a little run out with five minutes left to play in an already won league match, but when City needed him most. One of the best things 'Psycho' Pearce did when at the helm was nurture the 17-year-old into City's quality bereft first team. His first highlight, with the blues desperately chasing a 93rd minute equaliser to keep a place in the next round pot, was to leap on to a Joey Barton corner and power a steaming header past Thomas Sorensen. Cue away end euphoria, with 'Meeks' jumping into the celebrating travellers and planting the first nail into his City cult status.
7. Manchester City 2–1 Chelsea (2012/2013)
A second semi-final in two years for Mancini's side and a chance to distract supporters from a tame first title defence — this game had it all: great goals, drama, quality and a tough-tackling, rough edge that most other supporters will probably associate with Aguero's stamp on David Luiz. Nevertheless, despite the potential threat of a Chelsea comeback, City went on to be worthy winners. Samir Nasri, with City knocking on the door, finally broke the deadlock just before half time, bundling a ricocheting ball past Petr Cech for the opener. Aguero then sealed the second just after the break with a deadly, towering header into the top right hand corner, doing well to evade Ivanovic and Azpilicueta's marking. Ba grabbed a goal back with an acrobatic volley past Joe Hart but that City side's defensive solidarity did enough to earn a place in the final against Wigan, which we won't talk about.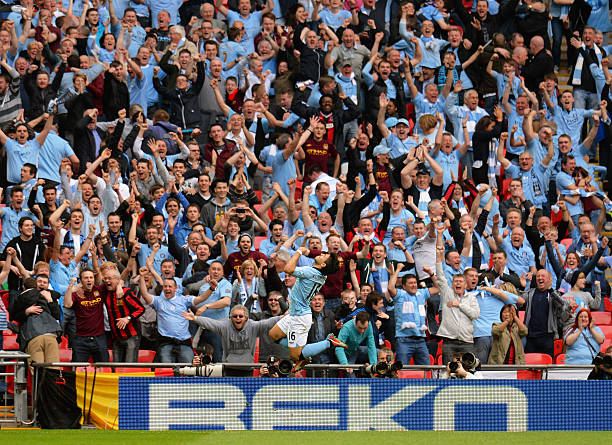 6. Manchester City 1–0 Leicester City (1968/1969)
A trip back in time now to reminisce Joe Mercer's trophy hauling City side of the late 60's. Still the blues' most successful era to date, the managerial duet of Mercer and Malcolm Allison added the 1969 FA Cup to their silverware collection, boasting the talent at their disposal: Mike Summerbee, Colin Bell, Francis Lee — the list goes on. However, this final was not to have their names stapled on the score sheet, no, this final belonged to Neil Young who nicked the only goal of the game. Young was alert, determined and intelligently positioned throughout an intense 90 minutes and was decent value for his goal — courtesy of a wonderful byline run by Summerbee to supply the opportunity. Despite being clear favourites going into this game, Leicester were no pushovers and made them sweat for the trophy. Even Mercer, who took part in a touchline interview during the match (Why don't they do that nowadays?) insisted their opponents were the better side — though his team eventually, deservedly, held out for the win in a cracking final.
Agree so far? Continue to the next page to find out my top five FA Cup matches in Manchester City history!
Pages: 1 2