News that Samir Nasri has put his £5.7 million Alderley Edge mansion on the market should really come as no surprise. The 29-year-old playmaker was never likely to return to the Etihad after rejecting Pep Guardiola's plea to stay last summer, before his deadline day loan move to Sevilla.
Nasri has enjoyed some of his best form in years under the demanding Jorge Sampaoli at Sevilla, but not surprisingly his loan spell has had its fair share of controversy. He was recently sent off for an alleged headbutt on Leicester's Jamie Vardy, which led to him firing shots at the English press, saying, "For me, he is a cheat because if he was a foreign player, you, the English press, would say he's a cheat."
The less said about the Drip Doctors incident, the better.
Nasri will be looking for a new permanent home this summer and latest reports suggest it WON'T be Sevilla, who are reluctant buy the Frenchman for €25 million.
What options does this leave Samir? I've picked out a few possibilities of where the midfielder might end up if Sevilla waive their option to buy.
Marseille
Nasri was just 10-years-old when he joined Marseille, rising through their youth ranks and becoming one of France's hottest properties before heading to Arsenal in 2008 for £12 million. A return to the Stade Vélodrome would have been out of the question a year ago, but the Ligue 1 side were taken over by billionaire American businessman Frank McCourt in August 2016.
With Rudi García as first team coach and former Barcelona man Andoni Zubizarreta their director of sport, the club are showing ambition again and have the money to back it up. After splashing out £25 million to sign Dimitri Payet from West Ham in January, new owner McCourt told Yahoo! Sport that he would be willing to pay €50 million or €60 million for a player if that was the "best use of funds".
Nasri will not cost anything near such an amount and somewhere between €20 million and €25 million should be enough to convince Manchester City. So why not a return to Marseille? To bring home another prodigal son after Payet would be a great statement of intent and also a big crowd-pleaser. Adding a motivated Nasri to the squad would help the club, who currently sit fifth in Ligue 1, close the gap on PSG and Monaco.
Arsenal
This would be the most controversial option for Nasri, but don't rule it out if Arsène Wenger remains in charge at the Emirates. Football is a notoriously fickle sport and years of booing from the Arsenal faithful would quickly be forgotten if they brought Samir back into the fold.
Multiple reports suggest that both Alexis Sánchez and Mesut Özil could be on their way out in summer, which would leave the North London club with a huge transfer kitty to replenish a squad already in need of improvement. Could Nasri return to the club that signed him from Marseille almost a decade ago?
Samir told UEFA back in November, "When I met Arsène Wenger, he was a role model and it was a great opportunity to work with him. I didn't hesitate for a second." He also revealed to FourFourTwo in 2015 that he still talks to Wenger, proof that a good relationship still exists between the two.
Arsenal fans might prefer more glamorous options on the market, but as a two-time Premier League winner, Nasri could add genuine quality to their squad if he keeps up his Sevilla form.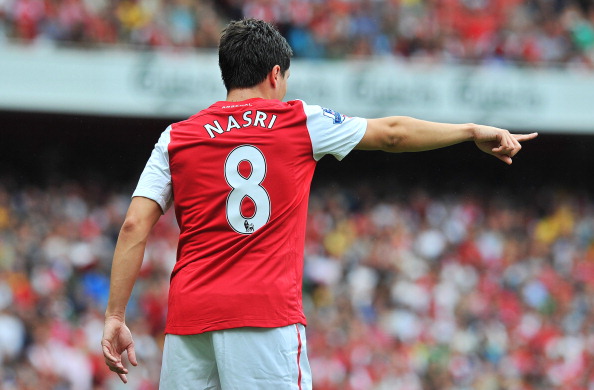 China
Footballers gets plenty of stick when they move to less competitive leagues for huge paydays. But they have a limited shelf life and if they want to maximise their earnings, they have every right to do so. So if a Chinese Super League club came calling with a ludicrous salary on offer, would Samir be interested?
Nasri turns 30 in June and is still at the height of his abilities, but when you consider Ezequiel Lavezzi is taking home £400,000 a week at Hebei China Fortune, Samir could at least double his current salary if an offer came from the Far East. It would be tempting and could add millions to his retirement fund.
The Chinese league is also becoming increasingly competitive, with even the second division able to attract decent talent – Cheick Tioté and Marcelo Moreno are two examples of internationals plying their trade in China's second tier. Of course, Nasri would appeal to the better clubs in China, who have the likes of André Villas-Boas, Luiz Felipe Scolari, Fabio Cannavaro and Manuel Pellegrini coaching them.
Perhaps Pellegrini would fancy a reunion with one of his star players from City's title-winning 2013-14 season?
FC Barcelona
This is a long shot, but Barcelona find themselves in need of new players and it is said that their transfer budget will be limited, so why not one of the more impressive performers in La Liga this season? Xavi is gone, Andrés Iniesta is almost 33 and in serious decline, and André Gomes has been nothing short of a disaster so far.
Barça do still have plenty of talent, but the team is more reliant on the MSN (Messi, Suárez, Neymar) than ever before and need to improve the rest of the squad. In Nasri, they would, for a quite reasonable fee, be getting a player who fits La Liga like a glove, suits their passing game, and has adjusted to Spanish football without any problems.
City and Barcelona have not been on the best of terms in recent years, but Sandro Rosell is gone and relations between his replacement, Josep Maria Bartomeu, and City's ex-Barça men, Ferran Soriano and Txiki Begiristain, are sure to be more cordial.
Nasri to Barcelona? It may be a long shot, but it makes sense on several levels.
Who else?
There is so much money in the Premier League now that most of the clubs could afford Samir Nasri and offer a competitive salary, meaning that the likes of Spurs, Liverpool, even West Ham or Everton, could be an option for the 29-year-old. If City are so determined to cash in on Nasri, then they might welcome a big offer from a domestic club over a loan-to-buy or structured deal from abroad.
Serie A clubs, despite being frugal in nature, have creative ways of bringing in big names, such as bonus-driven salaries. With sporting director Monchi leaving Sevilla for Roma in the summer, could he try to take Samir with him and set up a reunion with Edin Džeko? Elsewhere, both Milan clubs have or are in the process of coming into Chinese money and might consider Nasri the sort of marquee signing to lift them closer to their former heights.
And having proven his quality in La Liga, perhaps Atlético Madrid might fancy adding him to their ranks. Other than Barça and Real Madrid, Atléti might be the only Spanish club able to put together a financial package that could satisfy all parties.