Recent reports coming out from the Monaco game are suggesting that, despite being fully fit for three weeks now, Vincent Kompany was omitted from the 18-man squad. In light of this news his future at the club has been seriously thrown into doubt as for the first time its not his fitness thats keeping him from playing, but his ability.
This season has been rife with defensive calamities and in a perfect world a fully fit Vincent Kompany at his peak would surely have walked into this team. This is not a perfect world though and fans are now being faced with the possibility that – fit or not – Vincent Kompany may not have a spot in Pep's team. Guardiola is very clear with what he expects from his defenders, with the key ingredient being confidence with the ball in high pressure situations. Someone who knows when to run forward with the ball, play a composed pass under pressure from the opposing strikers or when to simply get rid and is decisive in doing so.
With one club icon already castaway in Torino, Pep has shown that no matter who you are if you can't play how he needs you to then there's no room for you at the club.
Would he be making the right decision in getting rid of Kompany?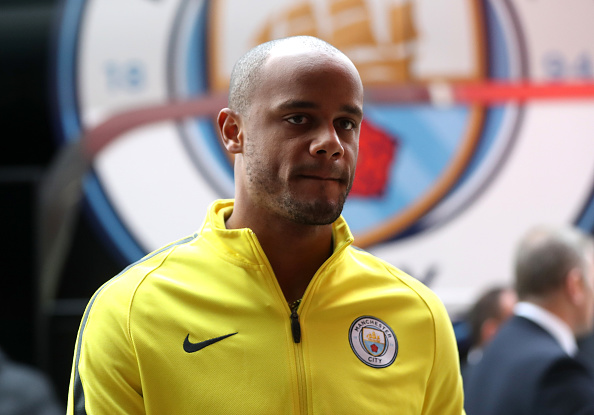 The most evident reason for this decision has to be Kompany's recent injury record which has seen him miss an incredible 479 days and 85 games since the beginning of the 14/15 season. A truly abysmal record. It's become so regular that I don't regard him as being an injured player that we're waiting on to return but more a permanent absentee on the everlasting road to recovery.
Injuries have become an inevitability for him and it is an increasingly heart-breaking sight for the fans who have to watch him beat a groin strain only to damage his hamstring a week later. The all too familiar sight of him handing the captain's armband over and limping off with the same old look on his face of a man whose body is letting him down. Each time everyone wonders, "is this the end for him?".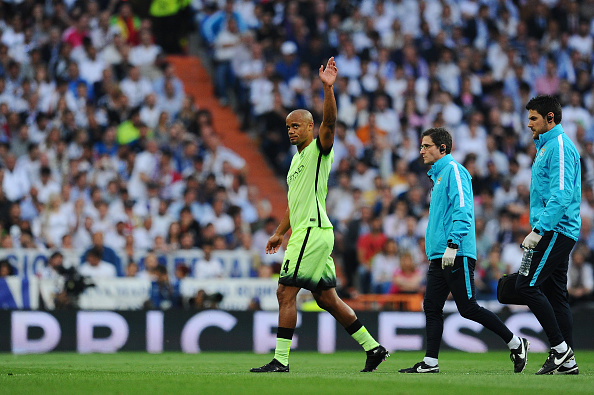 It hasn't always been like this, obviously. The reason that this is such a tragic conversation to be having for fans is because of everything this man has done for us. He was regarded as one of the world's greatest centre-backs at his peak and provided a consistently solid figure in defence that in all honesty we haven't really seen since in a City shirt. An integral part of the 'spine' of our first title winning side which also saw him score the decisive goal against United along the way then celebrate right in front of where I was sitting. This man is a true modern legend for the club and I highly doubt that we would have as many trophies as we do now without him.
It's not just what he does on the pitch for the club though, he is our leader, our captain. An example to the youth – and even senior – players of how to behave on and off the field. He seems an intelligent and genuinely likeable character that must be such an asset to the club in the dressing room and at training. He is perhaps the most suitable candidate to be groomed for a future managerial position as we look to life post-Pep and aim to establish our own style of play on the world of football.
That's something I would love to see.
The reason that I am writing this though is that everything Kompany has done on the pitch for this club are now just fond memories. Memories that are ever distancing themselves from the present and as a progressive club we can't be too tied to things that happened in the past as we aim to build for the future. In my opinion, I think that we've been very loyal to Vinnie and even after a year of consistent injuries we stuck by him and got him the best medical attention we could in order to restore him to the player he once was. We've not tried to sell him or replace him entirely and every time he's come back he's always received the best of welcomes with a hope that he's put it all behind him finally.
Having said that, it's now coming up to three years of a player who'll struggle to make fifteen appearances in a season. At this level we have to ask if we can afford to be carrying someone like that. Would we be in the same situation defensively if we had a centre-back that could actually play for us this season instead of Kompany? Would our defence be under as much scrutiny as it is now if we had another option?
In my opinion things could have gone a lot differently for us this year.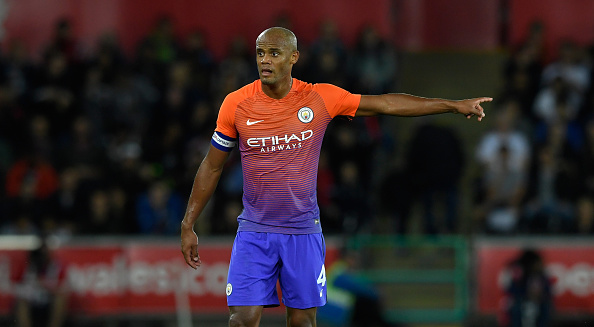 The key factor in the reports coming out after the Monaco game is that Kompany has actually been fit but simply not selected. So injury record aside, it seems that Pep just doesn't fancy him right now.
I'm not surprised by this in all honesty. As much as I love the guy, when he has played in recent times he's been sloppy with the ball and wasteful with possession, not to mention I wince every time he stretches to make a challenge. The reason for this is pretty obvious, he doesn't trust his body anymore. It must have a huge mental effect knowing that every challenge, lunge or jump could end with three months of recovery watching from the stands – and for it to happen that so regularly to him is crushing. Everything that he's been through in the past has had an adverse effect on him as a player and I'm doubtful that he can ever get back to his best.
In his most recent press-conference Guardiola confirmed that Kompany has been fit and training for two weeks but stated that "it was a risk" to play him against Monaco or Middlesbrough. He said that he wants to reintroduce Kompany as gradually as possible to avoid further injury. He went on to state that he is so happy Kompany is fit again and it was his desire to play him from the beginning of the season. I can believe that it was a risk to play Kompany in either of the cup games but whether he actually wants this player is still to be seen. Pep spoke similar of Hart earlier in the season in front of the press and refused to answer direct questions about his future before he was briskly shown the exit door on transfer deadline day. It's anyone's guess what Pep actually thinks of Kompany but my money is that he'd prefer to have someone else fill that spot in the squad.
Kompany is a fighter. He has a never say die mentality and I'm not sure that he is ready to quit on his playing career just yet – but sometimes a fighter doesn't know when to give up and maybe it's time someone throws the towel in for him.
I think that this is going to be his last season in a City shirt. I honestly love the guy for everything that he's done for us and I know there will always be a place for him in a coaching capacity here if he wishes. However, both he and the club need to move on now. If he wants to continue his playing career then surely a less competitive league with regular playing time would be the best move for him.
He'll always be a legend though and I hope that he'll return to the club one day.